House Of The Dragon's Emma D'Arcy And Olivia Cooke Pull Back The Curtain On The Auditioning Process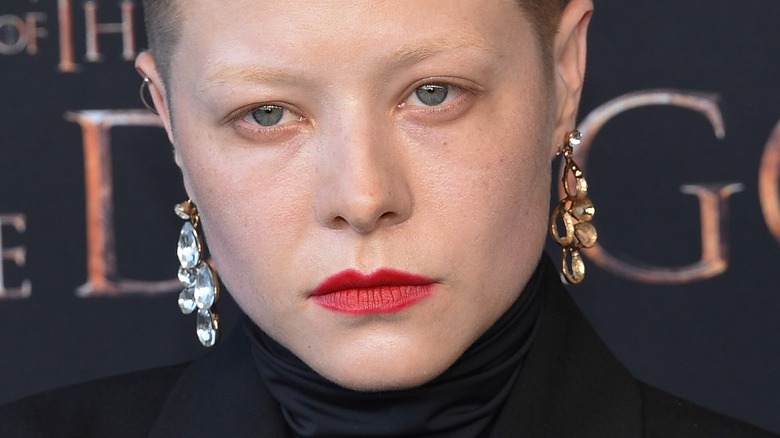 DFree/Shutterstock
Emma D'Arcy and Olivia Cooke have revealed what it was like auditioning for the "Game of Thrones" spin-off "House of the Dragon." The actors respectively portray Princess Rhaenyra Targaryen and Queen Alicent Hightower in the HBO prequel series, picking up the roles in Season 1, Episode 6 after their characters' younger counterparts were played by Milly Alcock and Emily Carey for the first five episodes.
The princess and the queen are both bitter rivals and best friends throughout the series. Former childhood companions, Rhaenyra and Alicent are wrenched apart by family drama and duty and forced to navigate the patriarchal world that is the Seven Kingdoms. Season 1 details their friends-to-enemies relationship as they oppose each other for dominion of the Iron Throne — Rhaenyra for herself as King Viserys' (Paddy Considine) named heir, and Alicent for her son Aegon (Tom Glynn-Carney), the firstborn son of the king.
In an interview with The Hollywood Reporter, Emma D'Arcy and Olivia Cooke shed some light on the auditioning process for "House of the Dragon," learning to speak High Valyrian, as well as how they prepared for their roles as two of the most influential women in Westeros.
It was a long and grueling auditioning process to play Rhaenyra and Alicent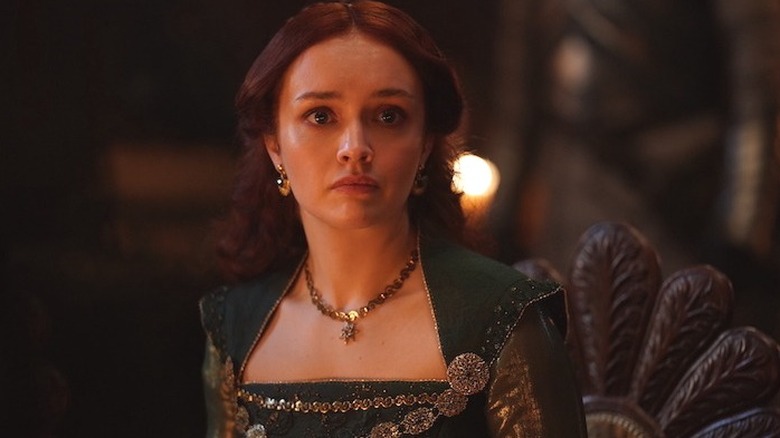 Ollie Upton/HBO
For Emma D'Arcy, auditioning for Rhaenyra took three months of preparation as well as several yes's — and a few no's — before finally bagging the role. "My partner and I cobbled together a wig out of literally a bag of hair and then after three months of doing that, I was invited for a four- or five-hour in-person audition," D'Arcy said. "Then I was told it was probably not going my way. And I thought, "Wow, it's a real shame." I went to the countryside, just for the weekend, to start metabolizing, and at the end of that weekend I had about 14 missed calls from my agent."
Olivia Cooke faced a similar challenge while auditioning to play both Rhaenyra and Alicent, before eventually being cast as the Hightower queen. "I had a meeting with [co-showrunners] Ryan [Condal] and Miguel [Sapochnik] about my tapes and how they saw Alicent," Cooke revealed. "And it felt good. But then they put me on hold for two weeks."
The arduous path was worthwhile, however, as "House of the Dragon" shattered viewership records and cemented D'Arcy and Cooke as "Game of Thrones" stars. Part of the challenge for D'Arcy included learning to speak High Valyrian, the native language of House Targaryen. "My phrasebook would need to be close at hand," they admitted. "But I can do the basics."
The actors shared their most challenging scenes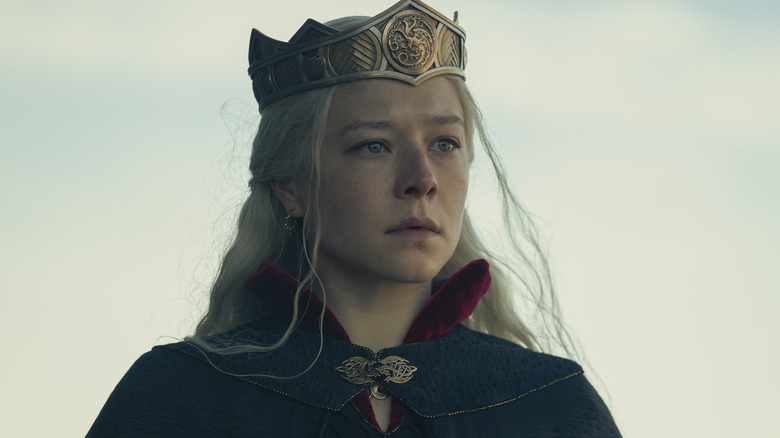 Ollie Upton/HBO
Olivia Cooke and Emma D'Arcy prepared for their roles by reading author George R.R. Martin's Targaryen history compendium "Fire and Blood," which "House of the Dragon" is based on, as well as delving into the sprawling world of "Game of Thrones." Still, some scenes proved challenging to film. For D'Arcy, one particular scene took place in Episode 10, "The Black Queen," and saw Rhaenyra Targaryen give birth to a stillborn daughter after learning of her father's death and Aegon's usurpation of the Iron Throne.
"That was challenging for a number of reasons: One of them is just a practical concern, which is that the character has already done a birth in the series, and you're trying to find differentiation between these things," D'Arcy explained to The Hollywood Reporter. "Simultaneously, this is no straightforward delivery; the child is delivered stillborn. That event really marks the collision of two historic fears for Rhaenyra."
Meanwhile, when asked about her most challenging scene to film from Season 1, Cooke answered with the altercation between Alicent and Dyana (Maddie Evans) in Episode 8, "The Lord of the Tides," where the queen learns her son Aegon has assaulted the servant girl. "In episode eight, the scene with Dyana where she tells me that my son raped her ... and then also, I had to hit Tom [Glynn-Carney] really hard in the scene," Cooke revealed.