Puss In Boots: The Last Wish Director Joel Crawford Gets Candid About Another Possible Sequel
2022 has been a fantastic year for animation. From Netflix's "The Sea Beast" to its most recent offering of Guillermo del Toro's "Pinocchio," there has been plenty for viewers of all ages to enjoy. And the year is closing out in style thanks to the theatrical release of one of the most highly anticipated sequels to come out this year — "Puss in Boots: The Last Wish."
A sequel to a spinoff, "Puss in Boots: The Last Wish" sees the titular feline realize he only has one life left to give in the name of adventuring. However, Puss soon learns of a Wishing Star that can restore all nine of his lives, and he can continue getting into grand expeditions. It's an extraordinary film that's clearly resonated with audiences, seeing how it's earned 96% from critics on the Tomatometer and 94% from general audiences. 
With that kind of success, one has to wonder if it will take another 11 years for more Puss in Boots to reach our screens. Fortunately, director Joel Crawford shed some light on the scenario and whether people can expect more cat-themed adventures in the future.
Joel Crawford definitely thinks there are more stories to tell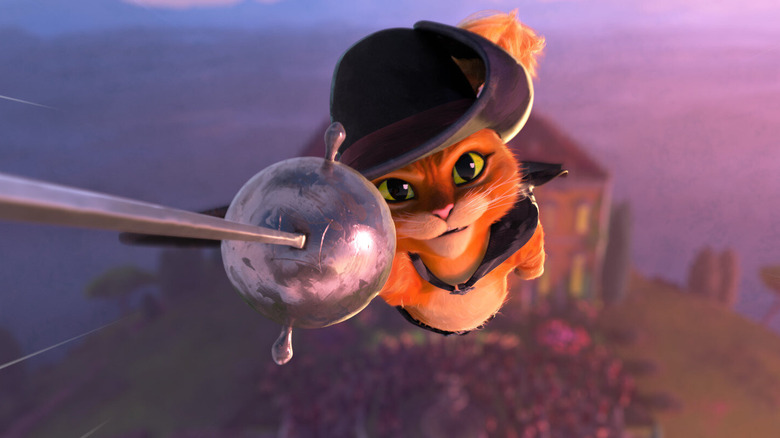 Universal Pictures
It's been 11 years since the first "Puss in Boots" movie and 12 years since the last "Shrek" movie with "Shrek Forever After." However, the success of "Puss in Boots: The Last Wish" proves there's still an appetite for these characters and their stories. Joel Crawford was asked by Discussing Film about the potential for more "Puss in Boots" or "Shrek" films down the line, and he seemed enthusiastic about the idea. 
He explained, "I hope there are more opportunities to tell more stories with Puss in Boots, Kitty Softpaws, Perrito, and even Goldilocks and the Three Bears. When you're directing these movies, you live with the characters and there are so many times when you go, 'I wish we had time for that!' There's just so much story to tell." Between the "Shrek" franchise and now the "Puss in Boots" movies, there are a ton of characters that can spin off into their own stories. It's highly unlikely Universal would allow such valuable characters to lay to the wayside when there's so much potential within there. 
Crawford goes on to say, "I also love that we've broken out of things that don't have to look all the same CG-wise, now we're letting the story dictate where the style goes. And to me, that's just so exciting to be in the unknown of it all." The animation style has been a big selling point of "Puss in Boots: The Last Wish," to the point where the characters feel fresh for the first time in a long time. Hopefully, it's not the last time we see them.