Solo: A Star Wars Story Writer Jonathan Kasdan Wants To Fix A Plot Hole
"Solo: A Star Wars Story" tried to bring the "Star Wars" franchise to a new corner of the galaxy where the series could explore standalone movies focusing on individual characters. The film was, at the time, just the latest in numerous efforts by George Lucas to give his favorite smuggler the spotlight. First, he began developing a young Han Solo movie, hiring Lawrence Kasdan ("The Empire Strikes Back") to write the script. After Lucas sold Lucasfilm to Disney, Kasdan shifted focus to writing "The Force Awakens," and the studio brought in his son, Jonathan Kasdan, to finish. Unfortunately, after numerous behind-the-scenes production difficulties, "Solo: A Star Wars Story" hit theaters and fairly quickly bombed. It was a surprising turn of events for the "Star Wars" franchise, which hadn't ever failed at the box office before.
It wasn't for lack of trying, though. "Solo" introduced many interesting plot points for Lucasfilm and Disney to explore in future installments. The young versions of fan-favorite characters like Han Solo and Lando Calrissian could have led to any potential sequels. Also, the established criminal underworld brought a unique aspect to the universe. The movie even brought back Darth Maul, a character not seen in live-action since "A Phantom Menace." Sadly, given its lackluster box-office performance, a "Solo" sequel is highly unlikely. 
While it probably won't happen, "Solo" writer Jonathan Kasdan holds on to hope that he can return to the characters one day. In fact, if he were ever to pen a sequel, one specific plot hole has bugged him since the movie was released, and he would immediately right his previous wrongs.
Kasdan may never get the chance to retcon the plot hole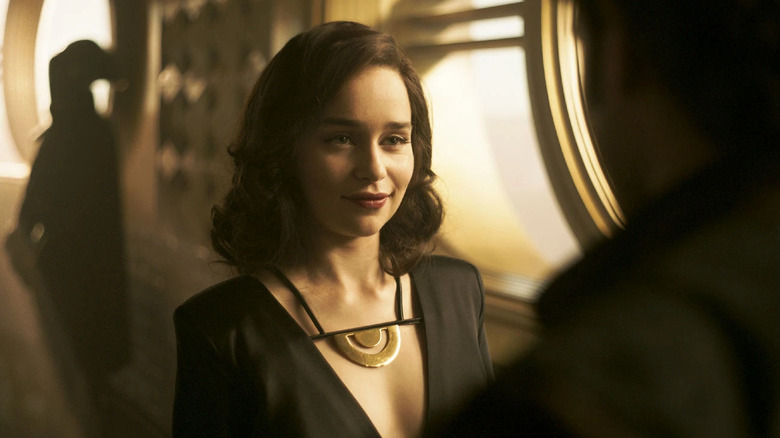 Lucasfilm
"Solo: A Star Wars Story" introduces a slew of new characters to the "Star Wars" universe. One is Qi'ra (Emilia Clarke), Han's love interest and a high-ranking lieutenant for Dryden Vos (Paul Bettany) and the Crimson Dawn crime syndicate. When Vos sends our heroes on a mission to steal coaxium, he sends Qi'ra with Han and Chewbacca. "Solo" establishes that the Crimson Dawn works in the shadows, so why would Vos send practically his second in command on such a high-profile heist? This plot hole hasn't left writer Jonathan Kasdan's mind since the movie hit theaters.
"I'm going to reveal the writer's nightmare right now," he told The Hollywood Reporter. "If Dryden Vos is so concerned about exposing his gang in the [Kessel] heist, why does he send his most trusted aid [Qi'ra] to be the most visible member of the team that steals the coaxium? It seems to me that he's going to have to kill her almost immediately just to separate himself from that job. So it always drove me crazy, and it was a problem that I was eager to retcon in a sequel."
When asked in the same interview if Lucasfilm had plans to return to the "Solo" world, potentially on Disney+, Kasdan said, "I don't honestly know." While he would love to continue those stories, the decision is entirely up to Kathleen Kennedy and the studio. However, he did say that exploring the Special Presentation format that Marvel Studios popularized would be an exciting way for Lucasfilm to move forward.