Bob Odenkirk Didn't See The Better Call Saul Ending Coming At All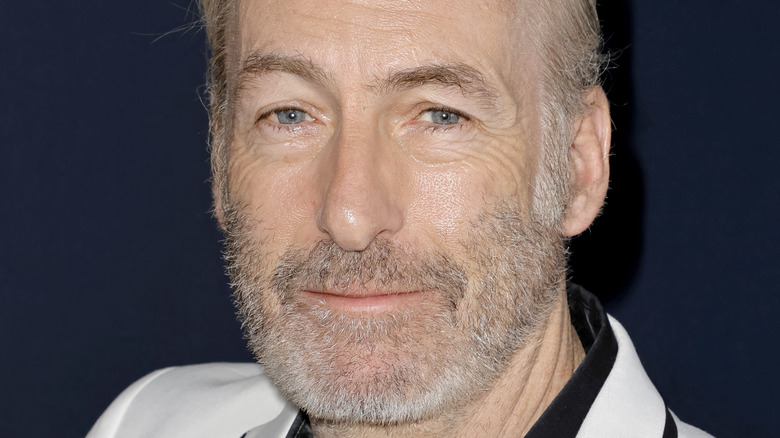 Kevin Winter/Getty Images
This year marked the end for numerous legendary TV shows, including "black-ish," "The Walking Dead," and the illustrious "Better Call Saul." The "Breaking Bad" spin-off series put everyone's favorite sleazy lawyer front and center, expanding on his character with an interesting backstory and revealing his life post-Walter White.
Throughout the show's flashbacks, Saul (Bob Odenkirk), aka Jimmy, battles with himself as part of him tries to become a renowned lawyer. At the same time, the other part wants nothing more than to continue scamming people for personal gain. The series brings in an incredible cast of characters to play opposite Saul, including Kim Wexler (Rhea Seehorn), Howard Hamlin (Patrick Fabian), Nacho Varga (Michael Mando), and Lalo Salamance (Tony Dalton). In typical "Breaking Bad" fashion, many of the characters meet their end before credits rolled on the Season 6 finale, but "Better Call Saul" forgoes the expected massive climax that comes with most endings, choosing instead to round out its grounded story perfectly.
Saul's present-day storyline wraps up with Marion (Carol Burnett) piecing together that he, then known as Gene, is the infamous lawyer of drug lord Heisenberg. After his arrest, Saul forgoes a plea deal, choosing to live out the rest of his days in prison. In a surprisingly charming ending, Saul manages to reconnect with Kim, possibly rekindling the love they once shared. There's not much to dislike about the finale of "Better Call Saul," and Odenkirk agrees, revealing the decision to end the series on a relaxed yet emotional note surprised even him.
Bob Odenkirk couldn't be happier with Better Call Saul's ending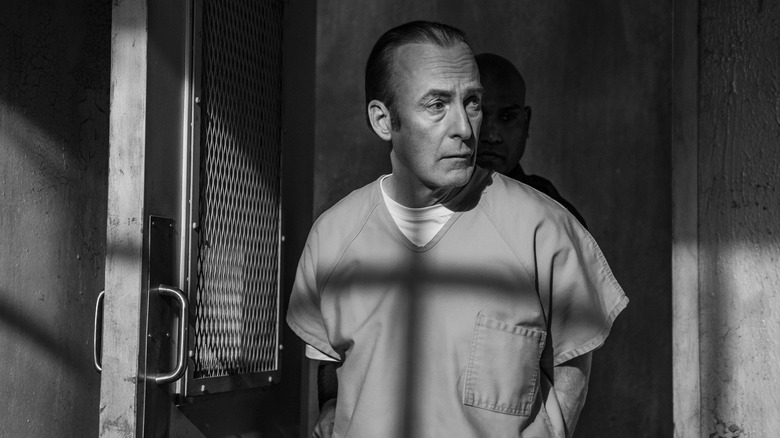 Greg Lewis/AMC/Sony Pictures Television
Vince Gilligan and Peter Gould's decision to end "Better Call Saul" with a whisper rather than a bang was a perfect choice, but a surprising one to most fans. Even series star Bob Odenkirk was surprised to learn that the show wouldn't have more of an explosive conclusion. "I would not have predicted it," Odenkirk told Empire. "I would have predicted an ending with more explosions. I'm so glad there weren't ... One of the struggles I had, and Rhea had this too, is that the characters were very emotionally intelligent about almost everybody they interacted with, and yet had these blind spots regarding their own behavior. And in the end the writers granted these characters the self-knowledge that I felt they always had. I thought it was beautiful. When I read it, I was like, 'Yes, exactly, that's what should happen.'"
If you look at the show's predecessor, "Breaking Bad" had one of the most climactic ends in TV history, with Walter White using a self-made automatic turret to take on Jack's gang. Bullets completely take over the scene, with everyone, including Water, succumbing to his chaotic creation. For "Better Call Saul," Gilligan and Gould chose to go in a completely different direction, opting for a character-driven finale instead. However, both endings work perfectly for the respective shows.
The only way for "Better Call Saul" to have a better ending would be for Odenkirk to receive a Golden Globe for his portrayal of Saul Goodman. He recently received a nomination for next year's ceremony, and it could be his final time to secure the award that's eluded him four times already.