Broker Review: A Lost And Found Family Film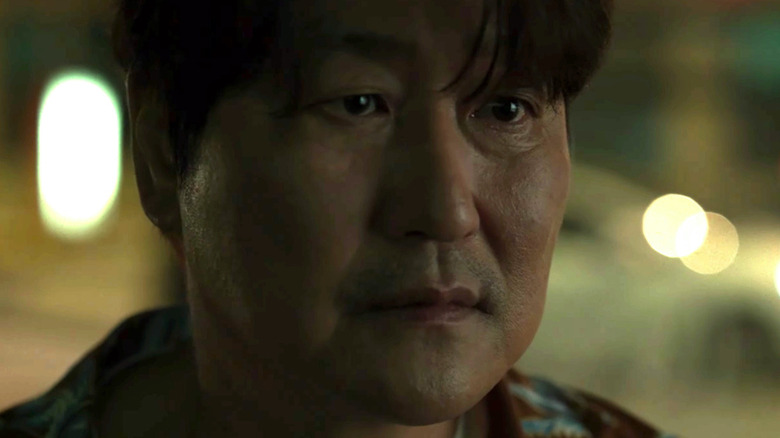 Neon
Since winning the Palme D'or at Cannes and an Oscar nomination for best foreign language film for his 2018 hit "Shoplifters," Japanese filmmaker Hirokazu Kore-eda has been traveling the world, bringing his particular style of subtle slice-of-life dramas into different cultural settings. He went to France for 2019's "The Truth," and now he's gone to South Korea for his new movie "Broker." This film is a collaboration with several members of the team that worked on Bong Joon Ho's critically-acclaimed Korean blockbuster "Parasite," including actor Song Kang-ho (who won the best actor prize at this year's Cannes), cinematographer Hong Kyung-pyo, and composer Jung Jae-il.
Like "Shoplifters," "Broker" is about a group of criminals, some of whom are holding onto dark secrets about their past, who become a found family. Some may dismiss this as Kore-eda repeating himself, but plenty of great directors have made repeated variations on the same concepts. The big difference is that the crime of choice in "Shoplifters" was petty theft, whilst the shady business in "Broker" is one that garners more intense emotional reactions: the trafficking of infants on the black market. The subject matter is much more loaded this time around, which gives it an urgency and heft beyond its basic formula even if it doesn't always address all its varied thematic threads with the most clarity and effectiveness.
The story's baby-stealing protagonists, Ha Sang-hyeon (Song Kang-ho) and Dong-soo (Gang Dong-won), are basically bad guys. Moon So-young (Lee Ji-eun), the mother who gives up her baby, Woo-sung (Park Ji-yong, who performs K-pop under the name IU), at the church Sang-hyeon and Dong-soo steal from, is someone who many would judge harshly. That the bond between these three seemingly unsympathetic characters ends up somehow making for a such a sweet and emotionally involving movie is a testament to both the skill of Kore-eda's direction and the depth of empathy he extends to society's outcasts.
A road trip with complicated characters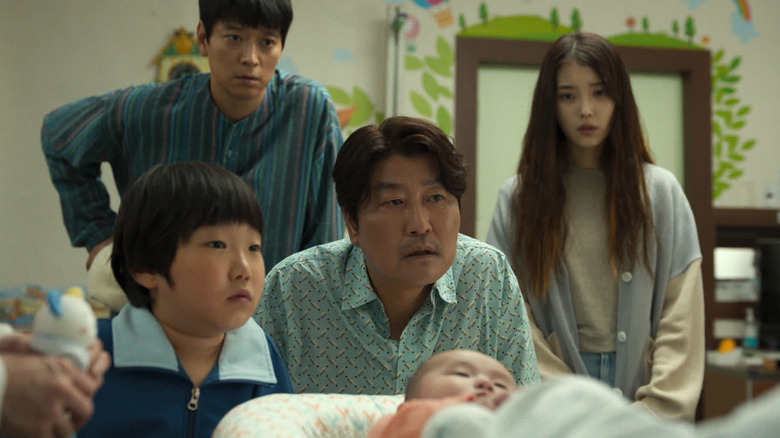 Neon
When So-young gives up her son at the church baby box at the beginning of the movie, she leaves with him a note promising that she'll eventually return. Sang-hyeon and Dong-soo know that mothers who leave such notes almost never follow through, however, so they're shocked when So-young does track them down to find her stolen baby. The two brokers aren't going to give Woo-sung back, but they promise the mother that her child will be given to a loving family and offer her a portion of the money they'll make from the sale. So-young ends up agreeing to this scheme on the condition that she gets to meet the new parents herself.
Thus begins an unconventional road trip, wherein the main characters travel in search of the ideal adoption deal and become something of an odd family unit along the way. They're joined in this journey by a preteen orphan boy, Hae-jin (Im Seung-soo), and trailed by two police detectives trying to get the group arrested, Soo-jin (Bae Doona from "Sense8") and Lee (Lee Joo-young). Along the way, they cross paths with various prospective adoptive families who fail to get So-young's approval, ranging from the laughably shallow to the suspiciously unprepared.
Though the story borders on sentimental at times, Kore-eda's direction is impressive in its restraint. He keeps the movie feeling honest and avoids the manipulative elements you'd expect from even other good directors. The cinematography is naturalistic and doesn't show off, while the score is used judiciously so as to never overwhelm the emotions the scene has already established. You'll be surprised how much suspense some scenes manage to deliver without any big filmmaking tricks or even any music, just the solid presentation of tense situations with characters you've come to care about. Even the most conceptually syrupy moment towards the end of the movie is framed in a way that feels real.
One part is sure to cause controversy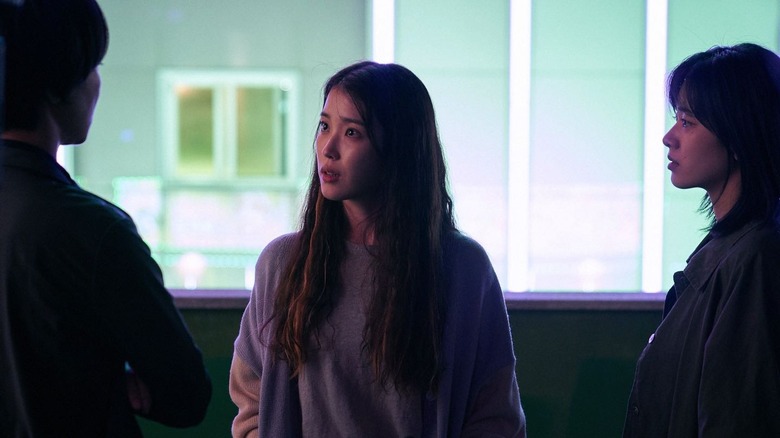 Neon
Warning: Mild spoiler for "Broker" ahead.
Throughout the first two-thirds of "Broker," So-young avoids the subject of discussing the circumstances of her pregnancy and her child's father. When the answers to our questions about this do eventually get revealed, it further shifts our understanding of the characters similar to how the third-act reveals in "Shoplifters" did. One relatively minor answer So-young gives while answering questions about her backstory, however, might end up being more controversial with audiences than the more dramatic and sensational reveals are.
When asked why she didn't abort the pregnancy, So-young states in no uncertain terms she considers that to be a sin. Having a character take an anti-abortion stance doesn't mean the filmmakers are taking such a stance, especially when the character is an extremely flawed figure to the extent that her objecting to "sin" is almost ironic. It's also worth acknowledging the different cultural backgrounds; abortion was only just decriminalized in South Korea in 2021. But some of the rhetoric in the film's later scenes seems way too easy for anti-abortion activists to latch onto, and given the current tension over the matter in the United States, there is sure to be a ton of debate over what the intended message is.
Perhaps better to focus on the points "Broker" is much more emphatically clear on. The biggest takeaway from So-young's character arc is a powerful illustration of just how hard it is to be a mother who is unable to care for her child, and just how emotionally fraught making any decisions about who should care for such a child must be. The moral ambiguities leave a lot for audiences to think about, and the film offers both joys and tragedies, ending on a note that can best be described as bittersweet. While its mildly derivative aspects and the aforementioned moments of awkward messaging hold it back from surpassing "Shoplifters," those who have loved Kore-eda's previous work will find plenty of things to enjoy and appreciate in this dark and affecting drama about found families and tough choices.
"Broker" opens in a limited theatrical release on December 26.