Stanley Tucci's Elusive Dream Role As Groucho Marx Is Perfect For Him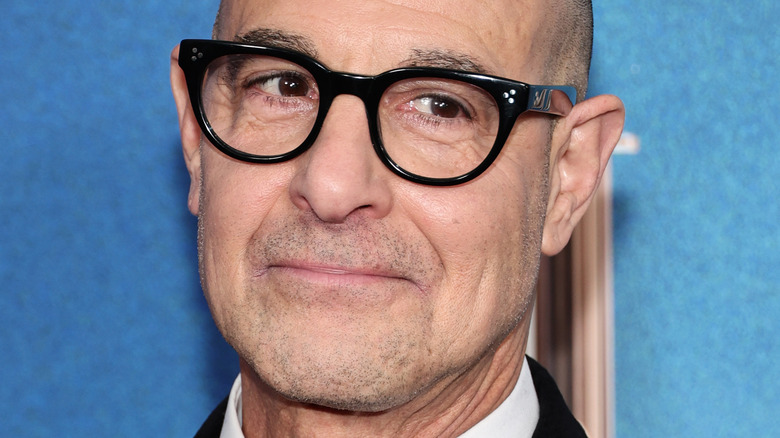 Jamie Mccarthy/Getty Images
Stanley Tucci might just be one of the most underrated actors working today. He consistently churns out one exceptional performance after the next, and he's one of those actors where if he's in a movie, you know it's going to be just a little bit better by his presence. 
He's worked consistently since the 1980s and has appeared in the likes of "Road to Perdition," "The Devil Wears Prada," and "The Hunger Games" franchise. His latest project sees him take on the role of Clive Davis in the Whitney Houston biopic "I Wanna Dance With Somebody." Tucci earned rave reviews for his part as the record producer, with Variety saying how he's "nailing the Arista mogul's bone-dry dictator-mensch savoir faire."
It's clear Tucci has delivered yet another outstanding performance, and the actor can truly do no wrong. But there's one part that continues to elude the phenomenal actor. While promoting the movie on "Good Morning America," Tucci talked about the one role he wants to play above all others — that of Groucho Marx.
Stanley Tucci wants to play one of the most interesting people in show business
Stanley Tucci has pretty much done everything from comedies to serious dramas. His characters inhabit various points in that spectrum, so it's no wonder he wants to put his comedic chops to good use by portraying Groucho Marx on screen. 
When asked if there's any role he's dying to play, Tucci doesn't hesitate. He says, "Yes, I want to play Groucho Marx." He goes on to elaborate, "Groucho Marx of the Marx Brothers completely changed our sense of humor. Groucho Marx, to me, is one of the most interesting people in show business."
There actually is a Groucho Marx movie in the works, but sadly for Tucci, he wasn't cast as the legendary comedian. The film, titled "Raised Eyebrows," will see Geoffrey Rush play an older version of the actor (via Deadline). The movie will tell the story of a young man, played by Charlie Plummer, who begins working for the aging comedian during a tumultuous period of his life where his professional and personal life was taken over by his girlfriend/manager Erin Fleming (Sienna Miller). Deadline describes the picture as a "comedy of horrors" where numerous themes intersect. 
It sounds like a riveting film, and hopefully, it won't be the last movie to include the legendary Groucho Marx.