Why Tara Chambler From The Walking Dead Looks So Familiar
There are endless characters on AMC's "The Walking Dead." There has to be because, in a world ravaged by zombies, people die every day. There's also always another group of survivors or a new leader with a different philosophy of how to stay alive in the post-apocalyptic world. Plenty of villains and victims to get attached to, in other words. 
One character that left a stamp during her time on the show was Tara Chambler. Tara Chambler was a character on the show from 2013 until her horrific death in 2019 at the hands of the Whisperers. For those who don't watch the show, the Whisperers are a group of people who masquerade as zombies by whispering (which easily sounds like zombies grunting) and harvesting the skin of dead zombies to craft into masks to wear in order to blend in with the undead.
Before this horrific death, Tara was known for being the first LGBT character on the show, falling in love with Dr. Denise Cloyd (Merritt Wever). Tara was introduced as a part of one of The Governor's (David Morrissey) groups before she realized how psychotic he was. Tara's actor, Alanna Masterson, even had a fan point this out, as she revealed during an interview with People. "The fan said, 'I don't like you because you were friends with the Governor,'" Masterson laughed. 
While Masterson breathed life into Tara before her character lost her head (literally), she's had her fair share of roles outside of "The Walking Dead." Here's why she looks so familiar.
She was a teen mom in the family favorite comedy Malcolm in the Middle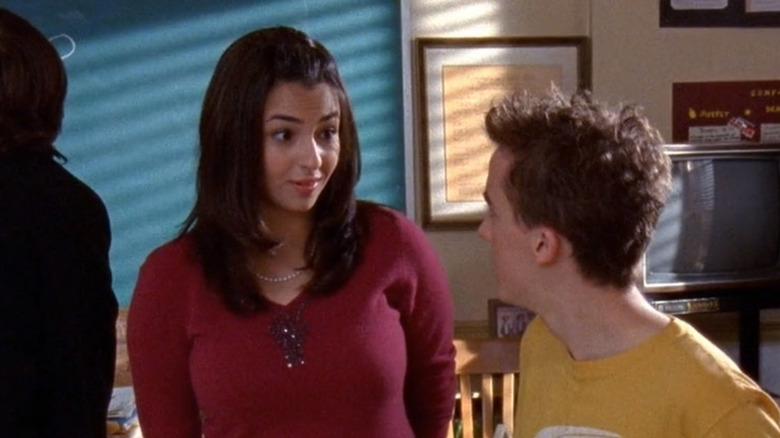 Fox
Alanna Masterson's half-brother Christopher Masterson starred as oldest brother Francis on the family comedy "Malcolm in the Middle," and Alanna was present for her own episode, where she played a teen mom.
Masterson's part is pretty minor in Season 7 Episode 10 "Malcolm's Money," with lots of hijinks going on all around. Malcolm (Frankie Muniz) for one, has just won a $10,000 grant but he doesn't know about it just yet because Hal (Bryan Cranston) and Lois (Jane Kaczmarek) find out first and find the money too alluring to share. It can fix their broken pipes after all! Or buy them a boat, as far as Hal is concerned. Also in the episode, Reese (Justin Berfield) has too much fun at a senior living home while Dewey (Erik Per Sullivan) is whining about a Rolex watch. 
Masterson arrives at the beginning of the episode as a student waiting to get her senior portrait just right. Malcolm doesn't care, showing up in a grody t-shirt, a grimace on his lips, and overall nonchalance. Masterson's character Heidi schools him about the importance of these photos, leading him to develop an obsession to land the perfect photo by the end of the episode. 
"It's like a time capsule. Our children will look and see how we used to be," Heidi says cheerfully, before turning and bending around to coo to a baby in a bassinet and saying "Right, sweetie?"
Alanna Masterson portrayed a know-it-all patient on Grey's Anatomy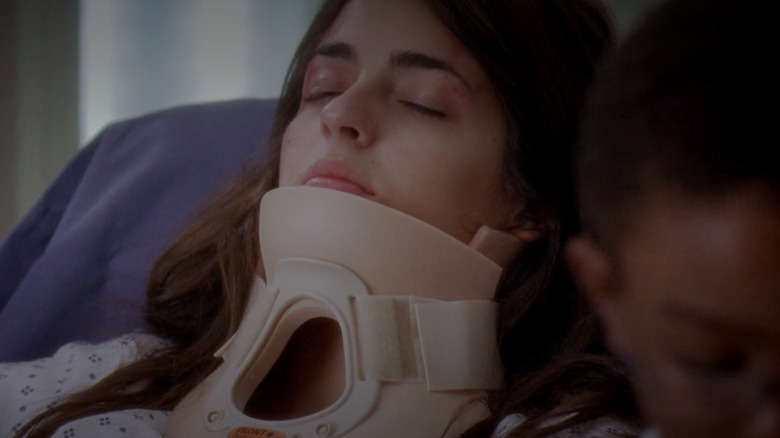 ABC
A few years later, Alanna Masterson joined the popular medical drama "Grey's Anatomy" for the episode "Invest in Love" as a patient. Her character Hillary Boyd suffered a pretty painful injury; she fell off a roof and ended up breaking 50 bones. Hillary appears to be the perfect daughter, with perfect grades and extracurriculars, and even describes herself as "every parent's dream." She's sassy and leaves her parents speechless when they realize she was high on shrooms when she fell off the roof, which was why she climbed up there in the first place anyway.
Luckily, Dr. Owen Hunt (Kevin McKidd) and Callie Torres (Sara Ramirez) successfully operate on her. That's not the last time Hillary goes under the knife though. During another surgery, she experiences heart complications influenced by her recent habit of getting high. Dr. Cristina Yang (Sandra Oh) creates some friction between her fellow surgeon/current boyfriend when she goes against Dr. Hunt's advice and takes care of Hillary's heart problem. Yang is stubborn and thinks she did the right thing, refusing to step down.
However, Yang ends up giving Hillary some hard advice when she hears Hillary asking her drug dealer for more shrooms. Yang tells Hillary to "grow up" and warns her that she won't always get lucky or what she wants — a lesson Hunt was trying to teach Yang that episode.
Masterson joined ABC's Mistresses soap opera as Dr. Kim's nanny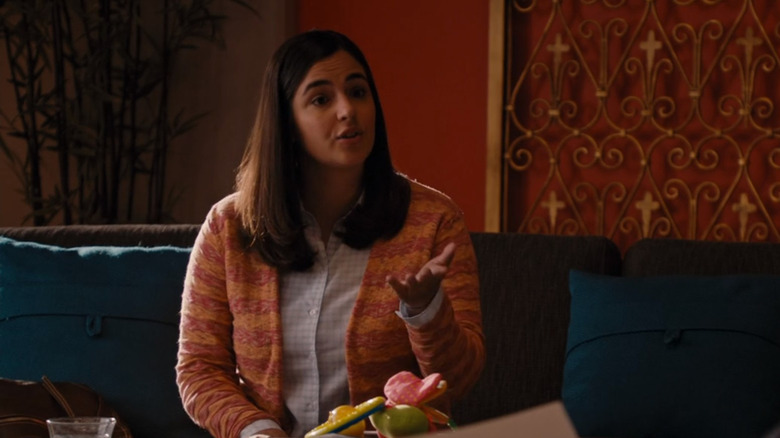 ABC
It's been a few years since the show's final season, but many audiences enjoyed "Mistresses," which follows four women and their experiences with romance. There are plenty of ups and downs, and audiences never know what to expect from Savi (Alyssa Milano), April (Rochelle Aytes), Karen (Yunjin Kim), or Joss (Jes Macallan).
Alanna Masterson arrived in the fourth and final season of the show as Lydia, a nanny to Karen's daughter Vivian. Her first appearance on screen is pretty uncomfortable; Alec (Ed Quinn), the father of Karen's baby, has just gotten back in town and asks to sit through the nanny screening. While Lydia herself does nothing wrong, Alec and Karen start arguing when he realizes that Karen was sleeping with the previous nanny. All Lydia can do is helplessly sip her water. 
While Masterson is undoubtedly most recognized from her time on "The Walking Dead," she has also been in the 2018 Netflix film "Irreplaceable You," the horror movie "Afraid," and has made appearances in the TV show "Younger." Audiences are sure to stick with the talented Masterson as her filmography continues to grow.