Amazon Polled Thousands Of Rings Of Power Viewers Every Time A New Episode Aired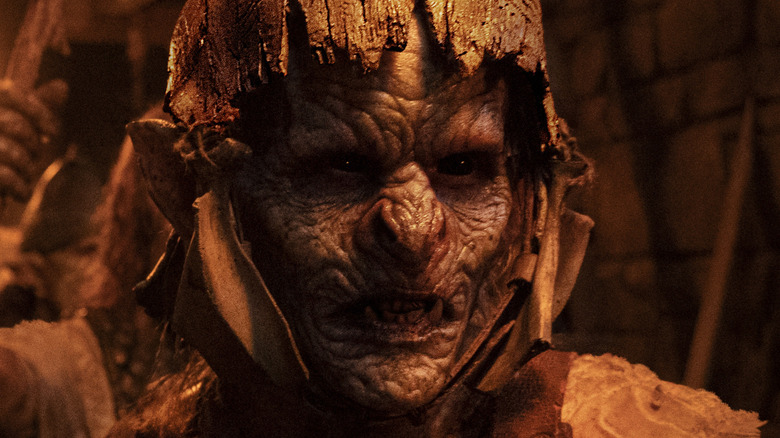 Amazon Studios
"The Lord of the Rings: The Rings of Power" has been a polarizing show for many viewers. Die-hard Tolkienites were particularly loud as they voiced their concerns about changes to the source material, questionable in-story decisions, and everything in between. Other fans voiced concerns not about the show's lack of accuracy but rather the opposite. For instance, in the lead-up to the premiere, some fans expressed the fear that the book-focused inspiration for characters like Morfydd Clark's Galadriel (as opposed to Cate Blanchett's iconic rendition) could cause viewers overly familiar with Peter Jackson's films to consider the new adaptation unfaithful.
Whether it's showing support or criticism, there has been no lack of feedback for Amazon's Middle-earth-based tentpole series. The question is: Has the studio listened to the responses? Based on the showrunners, the answer is decidedly unclear — and leans toward a full-on "no" at the moment, at least as far as Season 2 is concerned. In an interview with Vanity Fair shortly after the Season 1 finale, showrunner J.D. Payne clarified that most of Season 2 was written before fan feedback started to arrive. Even so, the creator added that they were still tweaking the scripts, and while they didn't overcorrect, "We're certainly listening to people's responses."
Earlier in the same interview, Payne referenced the fact that Amazon has "a very complex way that they measure how viewership impacts the platform, and what their goals are, and all those things." In a recent interview with Comicbook.com, Amazon exec Vernon Sanders pulled the curtain back a bit on this complex feedback loop, and let's just say that the studio is doing its homework when it comes to gauging consumer sentiment for its Middle-earth series.
Amazon Studios wanted to understand fan reactions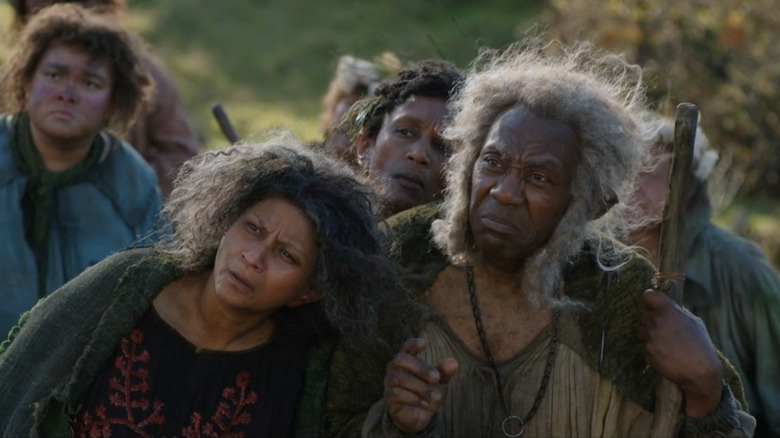 Amazon Studios
In a mid-December interview with Comicbook.com, Amazon Studios' Head of Global Television, Vernon Sanders, provided a description of how the studio vetted audience feedback as "The Rings of Power" Season 1 was airing. "We set up our own study with thousands of people, among them thousands of 'The Lord of the Rings' fans," Sanders said, adding that the objective was "to really have a conversation with them as each episode dropped to just understand how they were reacting. We were doing as much of a 360 comprehensive look to really understand it. And I think we got a lot of those 'The Lord of the Rings' fans, both fans of the books and fans of the movies."
Sanders went on to elaborate that the studio expected there to be pushback from fans: "We also know that there were some fans who had issues or didn't feel like this was what they were expecting or done in the way that they expected, and that's natural ... Whenever you take on something that's so beloved, you're going to have probably a strong reaction for and have some people who just aren't on board."
Sanders' comments are certainly valid; it's impossible to please all parties at all points. Even Tolkien pointed this out in his foreword to "The Fellowship of the Ring" by saying, "It is perhaps not possible in a long tale to please everybody at all points, nor to displease everybody at the same points." While some resistance is natural, the still unanswered question is how Amazon is implementing this voluminous quantity of live feedback for Season 2, especially if, based on J.D. Payne's comments, "The cake was kind of baked before the audience response came in." Only time will tell.