What Stephen Lang Was Really Like On Avatar 2's Set, According To The Young Stars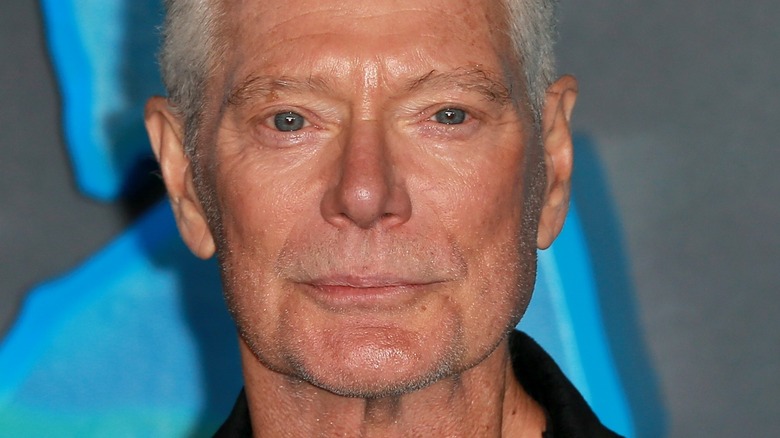 Fred Duval/Shutterstock
Protecting your home, your family, and nature. They're central themes in James Cameron's "Avatar." The 2009 film follows the Resources Development Administration, which forces its way into Pandora in order to take control of a valuable mineral known as Unobtainium. Their strategy is to place team members into the bodies of avatars that look like the Na'vi who inhabit Pandora. While team member Jake Sully (Sam Worthington) is working his way into the tribe, he meets Neytiri (Zoe Saldaña) and realizes that there is much more to this planet than Unobtainium. And while his new perspective ultimately helps to save Pandora, it's not a perspective that everyone is on board with. And that includes Colonel Miles Quaritch (Stephen Lang), the leader of the Resources Development Administration's operation. The end of "Avatar" depicts an epic showdown between Colonel Quaritch's team and the Na'vi, who ultimately win the battle for their home. It's during this battle that Colonel Quaritch is killed by Neytiri, but death is apparently not stopping this big bad from returning to Pandora.
In "Avatar: The Way of Water," Colonel Quaritch is back from the dead and ready to wage war. And while Lang channels a tough-as-nails attitude when portraying this villain, some of his young co-stars have shared what Lang is really like on set.
The young stars of Avatar: The Way of Water say Lang's attitude is different from his character's
"Avatar: The Way of Water" brings back plenty of characters from the first film, but it also ushers in a new generation. In this second movie of the "Avatar" franchise, Colonel Miles Quaritch returns as a Recombinant, meaning that his intellectual traits and DNA have been transferred from his former body to a Na'vi avatar. He's out for revenge, which leads Jake Sully and his family to run to Pandora's coast. It's been more than a decade since audiences watched Jake and Neytiri's budding romance. Now, the couple are parents to Kiri (Sigourney Weaver), Neteyam (Jamie Flatters), Lo'ak (Britain Dalton), and Tuk (Trinity Jo-Li Bliss). They also take care of Spider (Jack Champion), a human child who is the son of Colonel Quaritch.
And while Quaritch's presence causes the Sully family to run, the actors who portray the Sully children said they had a great time working with Stephen Lang. When asked by MTV UK as to which cast member gives the best life advice, Champion said Lang, calling him "Slang" — presumably a mashup of the actor's first initial and last name. "He's the nicest guy you'll ever meet unless he's in character," added Bliss. "That's true," said Bailey Bass, who plays Tsireya, the daughter of Metkayina clan leaders Ronal (Kate Winslet) and Tonowari (Cliff Curtis). Bass added that they got to work with Lang for a year and a half.
Lang is reportedly returning to Pandora for more Avatar sequels
Stephen Lang is no stranger to the role of tough guy or villain, as his long list of credits includes playing Ike Clanton in "Tombstone," Shrike in "Mortal Engines," and even playing a fantasy villain in the Sandra Bullock rom-com "Lost City." But his return to Pandora was a surprise to him, according to his recent chat with Collider. "It was kind of out of left field," he said. "He was so big and bad in the first one, and the death seemed so definitive. It was just thrilling the idea of him being reconstituted and coming back, and developing, too, because there'd be no point in bringing him back if he was the same thing..." 
There will be more of Colonel Quaritch in the future, and that could potentially mean more time for Lang to work alongside his young castmates from "The Way of Water" — if they return for the sequels. According to The Hollywood Reporter, Lang will be in "Avatar 3," and work is already underway on "Avatar 4." And filming multiple scenes for multiple movies requires a lot of organization, according to the actor. "We jumped back and forth often. We rarely, if ever, shot in sequence," he said. "So it was pretty important to keep your post-it notes in order so you knew exactly where you were in terms of the story."
"Avatar: The Way of Water" is currently playing in theaters.