Stranger Things' Matthew Modine Believes Dr. Brenner Just Wanted To Be A Father To Eleven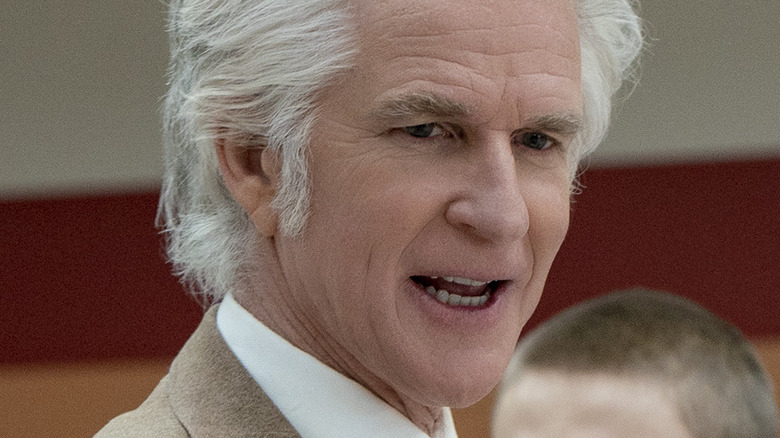 Tina Rowden/Netflix
When Season 4 of Netflix's "Stranger Things" was released, audiences were holding their collective breaths. Fans were eager after having done their homework by rewatching the first three seasons to be ready for another installment in Hawkins. It was finally time to return, to see what had happened to Eleven (Millie Bobby Brown), Mike (Finn Wolfhard), Dustin (Gaten Matarazzo), Will (Noah Schnapp), Lucas (Caleb McLaughlin), and the rest of the gang.
While audiences weren't sure what to expect, most didn't have the return of Dr. Martin Brenner (Matthew Modine), Eleven's surrogate "papa," on their "Stranger Things" Season 4 bingo cards. The last time we all saw him, it appeared that he'd been attacked by a Demogorgon who was enjoying him as dinner during the Season 1 finale. A comeuppance, if you will.
While a trailer for Season 4 showed audiences Dr. Brenner would be present at least through a particularly suspenseful flashback, it wasn't until fans had their hands on the season that they learned the true implications of his return. And when Eleven struts into the Nina Project in Chapter 5, only to run upon seeing Dr. Brenner, the audience shared her sentiment. But Modine thinks his character is misunderstood.
Everything Dr. Brenner did was for the children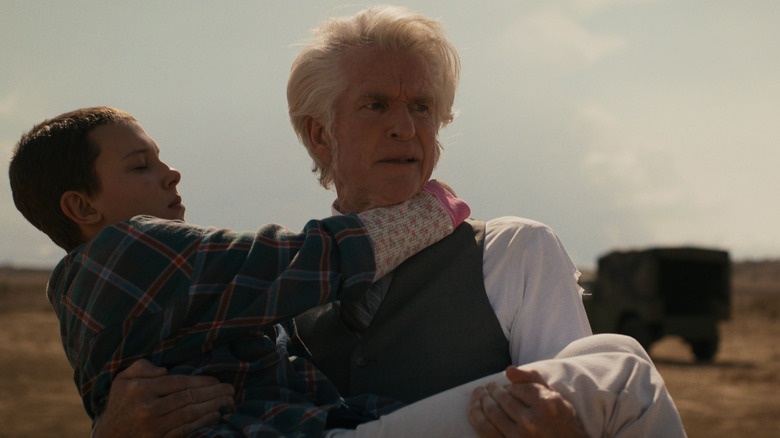 Netflix
During an interview with Vulture, Matthew Modine got deep about why he thinks Dr. Brenner might be one of the good guys, at least from his point of view. The first thing the actor expressed about his character is his love for the children who make up his test subjects at Hawkins Lab. Audiences could think that's true, especially when they see Eleven's crayon stick figure drawings of her and Papa on her cell wall.
Modine's belief comes from how the creators informed him of his character: "[The Duffer brothers] never presented him to me as a diabolical character. They never said I was going to be responsible for the kidnapping or torture of a child." So Modine developed his own backstory for Dr. Brenner: "The way I chose to portray him was as somebody who believed what he was doing had some benefit." This might not sit well with fans who remember watching Eleven's mother, who is now trapped inside her mind, getting electric shock treatment. Where was the benefit in that?
But Modine insists that Dr. Brenner wanted nothing more than to help Eleven and her brothers and sisters: "I believe the powers the children [have] exist within those children. It sometimes takes a person like Dr. Brenner to extract those abilities and knowledge."
In an interview with the Daily News, Modine expressed, "Brenner is a fascinating character. I'd like to explore the character more deeply. I believe there's so much more to understand." Time will tell if he returns in Season 5.