Edge Of Tomorrow Forced Emily Blunt To Tap Into Aggression She Never Even Realized She Had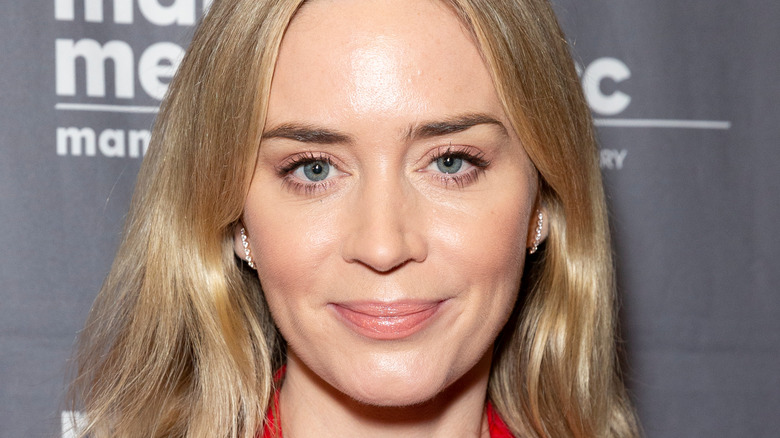 lev radin/Shutterstock
Actors can learn a lot about themselves while on the job. Having to star in so many roles may almost feel like living multiple lifetimes, which not only helps keeps the job fresh and interesting over the years but lets actors also learn about themselves. 
Emily Blunt is a talented actress known for many roles. She starred as magical nanny Mary Poppins in "Mary Poppins Returns," and some might recognize her breakout role in "The Devil Wears Prada" as Miranda's (Meryl Streep) butt-kissing assistant, Emily. Nowadays, Blunt has been in other projects such as the horror-thriller films "A Quiet Place I" and "A Quiet Place II," written and directed by her husband, "The Office" actor John Krasinski.
Blunt's latest roles have required more independence and grit, and a good place to watch that transition start is her performance in "Edge of Tomorrow" where she starred alongside Tom Cruise in a futuristic war genre film involving aliens plotting to take over the world. Major William Cage (Cruise) finds himself stuck in a time loop and turns to Rita Vrataski (Blunt) for help since she also has lived through the time loop experience. Rita trains Cage to make him the best weapon he can be against their alien foes, while the aliens turn time back to get ready for the attacks of their human adversaries.
The rigorous training for the role required Blunt to unlock something in herself that she'd never known before.
Emily Blunt turned herself into a war machine
Donning an 85-pound metal suit forced Emily Blunt to dive deep into herself to help bring her character to life. In an interview with Entertainment Weekly, Blunt got real about her experience on the set of "Edge of Tomorrow," where she starred as Sergeant Rita Vrataski, who teams up with Tom Cruise's character Major William Cage.
To find that aggression, Blunt was asked to study Krav Maga, an Israeli martial art. "They wanted me to be as aggressive as possible," Blunt explained. "Maybe they thought I was just going to look like a pansy in the movie." Blunt surprised everyone, however, especially her husband, John Krasinski. "He works out at the same gym, and he would walk in and see me kneeing a bag repeatedly, as if I were kneeing someone in the balls," she added, with innocent giggles at the end. 
Despite those laughs, making herself the best weapon didn't come cheap. Blunt nearly broke her nose on-set, and also suffered injuries to her ribs and collarbone, via People. Her hard work was all worth it and paid off, and she and Cruise were able to deliver performances that crowds enjoyed. In the end, they were able to pull it off as "Edge of Tomorrow" is considered to be one of the best sci-fi films of the 2010s.