The Most Poorly Acted Scenes In Television History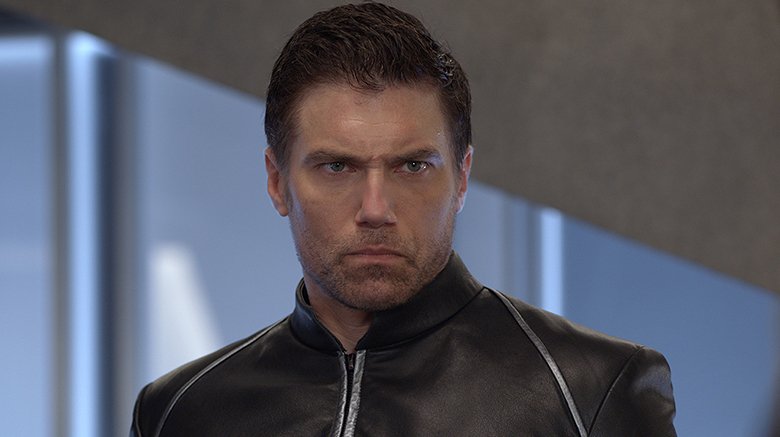 Thanks to the modern-day magic of YouTube, poorly acted scenes in Hollywood movies can be found with just a few clicks of a mouse. Questionable acting chops by television stars, on the other hand, can be a little more obscure. But fear not, fans of the small screen — we've dug deep and screened through through more than 50 years of TV history to put together this special retrospective of cringe-worthy clips.
Were the directors and showrunners comatose on the set during shooting, or were the actors just mailing it in to earn an easy buck? These scenes might make you wonder — and as we go under the microscope to explore terrible moments of television programming, no genre is spared. Sketchy science fiction, pathetic police detective drama, silly situation comedy, tragic teen television, and crummy comic book creations have all been taken to task. If bad acting is your bailiwick, we guarantee your gratification from these painfully poor performances.
A regrettable earful
Legendary television screenwriter and producer Gene Roddenberry created one of the most memorable shows in history with the futuristic science fiction series Star Trek. The acting, unfortunately, wasn't always quite as compelling as the stories the show set out to tell — such as in this scene, featuring lead actor William Shatner playing USS Enterprise Captain James T. Kirk. Shatner's a sci-fi icon for a lot of great reasons, but he set genre acting back eons with this painful-to-watch fight sequence.
Captain Kirk should have had Scotty beam him back up before going one-on-one with the hissing, humanoid reptilian extraterrestrial called the Gorn in this wretchedly choreographed hand-to-hand combat sequence from the 1967 "Arena" episode. Stunt actor Bobby Clark, playing the Gorn, was additionally plagued by a stiff, ill-fitting costume limiting his movement and fighting capability. Even famed American astrophysicist Neil deGrasse Tyson weighed in on what's commonly referred to as the "worst fight scene ever." "My great disappointment with the Gorn fight," he told Slate, "is I thought even by then they could have been more creative in what they imagined an alien to look like."
Fortunately, this scene wasn't the space explorers' final frontier — the original series aired for three seasons on NBC, spinning off an assortment of television shows and popular movies. But as if the lumbering, boulder-throwing battle scene wasn't bad enough, while filming the episode, Shatner was permanently injured when he got too close to a stage prop explosion. The excessively loud noise triggered tinnitus in the actor's left ear that's lasted for the duration of his career.
The nose knows bad acting
Sticking with fight scenes leaving you feeling queasy, martial arts maverick Chuck Norris and a trio of bumbling foes dialed up a stomach-curdling doozie from this 1994 episode of CBS's Walker, Texas Ranger.
The show was known for its awful brawls, but all of those surely bow down to this black belt champion clash. All the cheesy Chuck Norris jokes aside, horrendous dialogue and tone-deaf acting during this three-on-one front porch frenzy turned his primetime drama, and the villain's nose, into pure comedy gold.
Playing Sergeant Cordell Walker (and even singing the show's theme song "Eyes of the Ranger"), the tough-talking and butt-kicking Texas lawman, Norris burnished an action career that had already turned him into an American icon. He put the Lone Star State's baddest of bad guys away for eight full seasons, and his signature show has been broadcast in over 100 countries. Just remember: this might be one of the most poorly acted scenes in television history, but before the boogeyman goes to bed, he still always checks in his closet for Chuck Norris.
Singing boys in blue
From Chuck Norris's campy law enforcement turn in Texas, we're turning to take a look at another show that also flashed its badge on pathetically poor police acting: ABC's Cop Rock. The jury is still out on how this expensive 1990 television musical drama about crooning LAPD cops was ever got greenlighted by network executives.
Famed television executive producer Steven Bochco, creator of a list of TV classics that includes the multiple Emmy award-winning Hill Street Blues, put his impressive credentials on the line with this risky program about singing and dancing southern California police. But the show failed miserably — in 2002, TV Guide ranked it number 8 in its Top 50 list of all-time worst television shows.
This stunningly sappy scene and accompanying silly song "Let's Be Careful Out There" (a commonly referenced phrase by Hill Street Blues character Sergeant Phil Esterhaus, played by actor Michael Conrad) epitomized the show's painful premise. Using the police lieutenant's lectern for a piano probably didn't help matters, either. The program lasted for only 11 episodes, and was yanked from the network's primetime schedule before completing its first full season. Not only was the show a critical disaster, it was a financial bomb for ABC. Because of the extensive editing necessary for mixing both music and dialogue tracks, each episode cost the network a then-staggering $1 million plus per show.
Baby on board
Talking about painful, there's no other way to describe the tragically lifeless first foray into acting made by Bristol Palin, daughter of former Alaska governor and vice-presidential candidate Sarah Palin. If you look closely, you might even see her cue cards.
Bristol Palin made national headlines in 2008 when her unmarried teen pregnancy was revealed during her mother's unsuccessful bid for the nation's number two job as the running mate for presidential candidate John McCain. Two years later, allegedly channeling her own personal saga, Bristol got the acting bug appearing in an episode of ABC Family's series The Secret Life of the American Teenager. Palin played the role of a teen mom lending her friendly support to fellow pregnant teen Amy Juergens, played by Golden Globe-nominated Shailene Woodley (The Descendants, Divergent, Insurgent). As surprising as it sounds, Palin was not nominated for her work.
Palin's awkward cameo apparently was a one-time acting gig; as she told E! Online, "I'm not an actress. I'll leave that up to the experts, but I had a great time here. I don't think I'll be doing any more acting in the future." Palin exacted some self-respecting television revenge when she and professional dancer Mark Ballas finished in third place during the fall 2010 season of ABC's Dancing with the Stars.
Good night sweet kitty
In this example of one of the most poorly acted scenes in television history, it turns out not to even be humans doing the dirty work. This time, ferocious felines took their faulty starring turn on an episode of NBC's short-lived 1983 series Manimal. Yes, an actual show about a man solving crimes by morphing into animals. What could go wrong?
This epic scene features a leopard, lion, and tiger all sharing the acting spotlight with the program's leading man... or manimal. Here the big cats stare down star Simon MacCorkindale's character, Dr. Jonathan Chase, as he transforms into a black panther right before their eyes. But the cats cower and turn to kittens when the good doctor's formidable transformation is complete. Viewers of Manimal, on the other hand, made a change too. To another channel.
The assumption here is NBC thought fans would be floored by the program's "special" effects and forget that dialogue is typically a key component to a successful show. The weekly wizardry behind Manimal's shapeshifting was placed in the creative hands of four-time Academy Award winning make-up artist Stan Winston (Terminator, Jurassic Park, Alien). Audiences didn't bite, and Manimal was one of the most infamous TV flops of the decade.
Powerless punch
Even before principal shooting began, controversy brewed when comic fans got wind that a white actor instead of an Asian-American would win the title role of a kung fu master in Marvel's 2017 Netflix series Iron Fist. But bad acting, racially insensitive plotlines, and largely uninspired fighting scenes gave critics enough ammo to give "the Fist's" first season a resounding thumbs down.
Game of Thrones veteran Finn Jones played Iron Fist's lead as the conflicted martial arts expert Danny Rand. In this scene from episode three of the 13-part first season, Rand assumes the role of disciplinarian in trying to teach young, mischievous martial arts students respect to the dojo. Their respect is hard to come by when the overacting sensei belittles them with cheesy lines and clueless, slow-paced kung fu moves.
Despite abysmal reviews for its first run, loyal Marvel comics fans will get more of the man with the glowing right hand — Iron Fist started filming its second season in December 2017.
Another Marvel misstep
Originally intended for a late 2018 movie release, in April 2016 Marvel's Inhumans franchise was instead hastily rushed into television production. Showrunner Scott Buck, coming right over from his fledgling Netflix series Iron Fist, signed on to lead what turned out to be another Marvel dud.
Despite show elements being shot in IMAX on location in Hawaii, and a much-ballyhooed theatrical premiere, the show couldn't survive negative buzz generated from its totally lackluster trailer. Fans weren't impressed with the clip — and neither was the director of the first two episodes, Roel Reiné. "When I watched the first trailer I was like 'ooosh,'" he told Metro. "The trailer was made by other people, so I was really nervous about it when I saw it. So I was like, 'Oh, guys, maybe we should hold off,' but it was too late because it was already out in the open."
As this scene shows, acting throughout the series didn't fare much better. When your lead character Black Bolt (Anson Mount) is mute and only communicates with abbreviated sign language, head nods, and eye rolls, dramatic scenes are prone to painfully silent pauses and static camera shots. Critics also panned the superheroes' bland costumes, incoherent storylines, and questionable CGI. The Daily Beast summed it up succinctly, writing, "This is, simply put, the worst thing to debut on TV this fall and the worst disaster that merry Marvel has managed to cook up."
Silence isn't always golden
The 1990s were a fertile breeding ground for ensemble sitcoms. One of the most popular was clearly Friends, an NBC classic about the misadventures of six 20-something professional pals living in Manhattan. The show was never short on its main characters' personal and professional follies, childish humor, and frequently politically incorrect plots.
During the show's ten-year, 236-episode run, many a scene could be put up for a bad acting nomination. You could go with Ross Geller's (David Schwimmer) annoying sniveling and snobbery, Phoebe Buffay's (Lisa Kudrow) flighty eccentricities, or Joey Tribbiani's (Matt LeBlanc) sophomoric, slapstick silliness. The envelope, please ... nope, it's Chandler Bing.
In this episode from the show's inaugural season, Matthew Perry gave an overacting tour de force when during a New York City blackout, Chandler gets stuck inside an ATM vestibule with an attractive woman. Not just any attractive woman, mind you: He finds himself locked in with Victoria's Secret supermodel Jill Goodacre. The majority of the scene, one Perry picked as his personal Friends favorite in an interview with People's Choice, finds Chandler silently acting out his narrated thoughts — thoughts directly intended to impress the goddess Goodacre. Perry took the acting challenge and ran, laying the physical dramatics and smarmy faces on thick.
Stick to your dancing
When as a child you tap-danced on Broadway, and then at age 13 moonwalked alongside the legendary Michael Jackson in a famous Pepsi commercial, it's safe to say you can hold yourself out as an accomplished dancer. But when Alfonso Ribeiro made his transition into television acting, critics might say he had two left feet.
Ribeiro was first cast as the best buddy to childhood star Ricky Schroder on NBC's 1984 sitcom Silver Spoons. After brief stints on other network shows, Ribeiro landed his signature role in 1990 playing Will Smith's rich conservative cousin Carlton Banks on NBC's The Fresh Prince of Bel-Air. He had his share of intentionally funny moments — but in this melodramatic scene, Ribeiro took Carlton's character over the top like few actors ever have.
Luckily for television viewers, Ribeiro returned to his dance roots (and his famous "Carlton" routine), winning the 19th season of Dancing with the Stars — and not without an assist from an old friend. Smith encouraged his millions of Facebook followers to call in votes for his former co-star, helping Ribeiro and dance partner Witney Carson make it into the show's Mirrorball finals.
She's so excited
Whether giving us silver screen sludge in Showgirls or screaming away on the small screen, Saved by the Bell veteran Elizabeth Berkley has proven she sits alone atop the pitiful performer throne.
In playing the role of straight-A student Jessie Spano on Bell, Berkley always wore her crown with pride. But in this season 2 episode entitled "Jessie's Song," she put her reign in the record books once and for all with an epic, maxed-out meltdown. Allegedly suffering from severe anxiety and a budding addiction to caffeine pills, Spano went full-on freakout into the arms of faithful friend Zack Morris (Mark-Paul Gosselaar).
This scene stands out as the most memorable in the Saved by the Bell's run, yet the episode and Berkley's over-the-top theatrics were almost left on the cutting room floor. The original script called for Jessie to actually get addicted to speed, but according to the show's executive producer Peter Engel, "Standards and Practices, the censorial department of NBC, vetoed it, saying speed was too serious for Saturday mornings." After discussions with the show's producers, execs okayed Spano's storyline to switch from speed to a caffeine pills addiction, and the "Jessie's Song" episode and Berkeley's infamous scene lived on.