The Big Bang Theory's Ping Pong Episode Stemmed From The Cast's Love Of The Game Behind The Scenes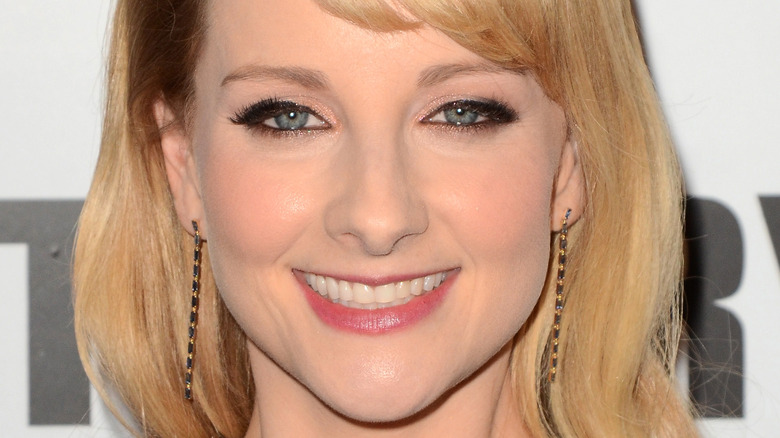 Kathy Hutchins/Shutterstock
The careers of Sheldon Cooper (Jim Parsons) and friends might center around proving intricate scientific theories, but in their personal lives, they know how to have fun. Throughout the 12 seasons of "The Big Bang Theory," the group participates in costume contests, attends Comic Con, and embarks on an intense scavenger hunt.
They're also not immune from getting competitive when it comes to sports, whether it's basketball or ping pong. Regarding the latter, this was part of the main plotline in Season 8, Episode 19 ("The Skywalker Incursion"), which sees everyone except Sheldon and Leonard Hofstadter (Johnny Galecki) at the childhood home of Howard Wolowitz (Simon Helberg) to help ready items for a garage sale.
While Bernadette Rostenkowski (Melissa Rauch) wants to sell Howard's TARDIS replica from "Doctor Who," he's not exactly ready to part ways with the prop. To settle the matter, they each choose a champion to compete in a ping pong battle. If Penny (Kaley Cuoco) wins, the TARDIS goes. If Raj Koothrappali (Kunal Nayyar) wins, it stays. It's an intense competition, especially when Amy Farrah Fowler (Mayim Bialik) steps in with her mean serve and Bernadette begins bribing the players.
For the ping pong tournament, stunt doubles weren't brought in to play. Rather, it's perfectly clear that Cuoco, Nayyar, and Bialik are the ones serving the ball across the table. In fact, according to Rauch, "The Skywalker Incursion" was inspired by the cast's real-life passion for the game.
Kaley Cuoco and Kunal Nayyar are great ping pong players
In an interview with Gold Derby, Melissa Rauch revealed that, behind the scenes, the cast of "The Big Bang Theory" could often be found playing ping pong. She hailed Kaley Cuoco and Kunal Nayyar as being especially good.
"When I first started, I would just watch tournaments," Rauch said. "We would have blood tournaments against other TV shows. I'm terrible at it, so I was very happy that they didn't write me playing because it would have been horrible. But we have some very talented ping pong players on set, so they were really going for it as we were shooting it. And I love the dynamic of these friends coming together to help clean out Mrs. Wolowitz's (Carol Ann Susi) house while also just getting into their own bag of fun."
Nayyar elaborated on the cast's ping-pong passion during an interview with Parade. The Raj actor shared that, after a while, the competition became so intense that they had to stop playing. He said, "We had to shut down ping pong this past year because people started getting injured. Not badly, but knees were getting sore, and shoulders and wrists."
Despite some bruises, the game is something that cast members, including Cuoco, still partake in. The actress revealed to People that, while filming the tumultuous second season of "The Flight Attendant," she needed to find ways to separate herself from her work. She said, "We bought ping pong tables. I was playing ping pong."
Hopefully, if there's ever a "The Big Bang Theory" reunion, fans will get to witness a rematch between Cuoco and Nayyar, the latter of whom described himself to Glamour as the best ping pong player on set.