Nancy Cartwright Was Impressed By Anne Hathaway's A Capella Table Read For The Simpsons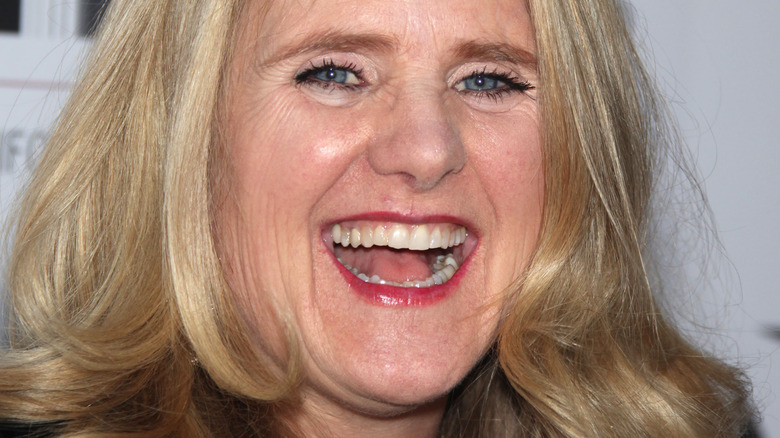 DFree/Shutterstock
Over the course of its impressive 34-season-and-counting run, "The Simpsons" has welcomed countless A-list celebrities to voice an array of special guest characters. From "Star Trek" actor Leonard Nimoy and singer Johnny Cash to top actresses Meryl Streep and Glenn Close (via IMDb), the list goes on and on.
Some, like "The Princess Diaries" and "The Devil Wears Prada" star Anne Hathaway, appear in the land of Springfield numerous times. Hathaway can first be heard on "The Simpsons" in Season 20, Episode 17, which is titled "The Good, the Sad, and the Drugly." In it, she voices Jenny, the new girlfriend of Bart (Nancy Cartwright). This relationship causes much friction between Bart and his best friend Milhouse (Pamela Hayden). Hathaway returns as Jenny for Season 24, Episode 1, titled "Moonshine River," which sees Bart attempting to reconnect with ex-girlfriends.
For Season 21, Episode 10 — titled "Once Upon a Time in Springfield" — Hathaway takes on another role: Princess Penelope. In order to attract a stronger female viewership, Krusty the Clown (Dan Castellaneta) is begrudgingly forced to add Penelope to the cast of "The Krusty the Clown Show." Despite his initial resentment, the pair end up falling for each other, though he eventually comes to the conclusion that she deserves someone better. The episode ends with Penelope walking along a bridge in Paris singing "Moon River," after which she's unexpectedly reunited with Krusty in the water.
It may be a decade since Hathaway has lent her voice to "The Simpsons," but her time on the show has not been forgotten by the cast, especially the voice behind one of her characters' love interests.
Nancy Cartwright says Anne Hathaway is an amazing, multitalented artist
In an interview with Liam McEwan, Nancy Cartwright, who voices Bart Simpson, Ralph Wiggum, Nelson Muntz, and other characters, revealed that "The Simpsons" has welcomed well over 400 celebrity guest stars. When asked to choose one in particular that stood out, she didn't hesitate to provide an answer. For Cartwright, Anne Hathaway was a standout.
"I think she's an amazing artist. She does comedy, she does drama, she appeals to the youth, she does dramatic stuff," said Cartwright. "She had to sing [in 'Once Upon a Time in Springfield']. She played Krusty the Clown's assistant and she had to sing this song ['Moon River']. She knew she was gonna have to learn the song, but she shows up at the table read and just a capella, just starts belting out any tune."
Cartwright wasn't the only one who felt Hathaway's performances on "The Simpsons," especially in "Once Upon a Time in Springfield," were top-notch. In 2010, Hathaway took home the Emmy for outstanding voice-over performance for her portrayal of Princess Penelope. This wasn't the only time that Hathaway was recognized for her vocal talents. In 2013, she took home the Academy Award for best supporting actress for her role of Fantine in "Les Misérables," which sees her sing a chilling version of "I Dreamed a Dream." Then, in early 2022, Hathaway shocked Kelly Clarkson on the "American Idol" winner's talk show when she guessed — and belted out — "Since U Been Gone" before the host (and original performer of the song).
As Cartwright said, Hathaway can certainly do it all.