Nick Jonas Said He Learned To Laugh At South Park's Jonas Brothers Parody Episode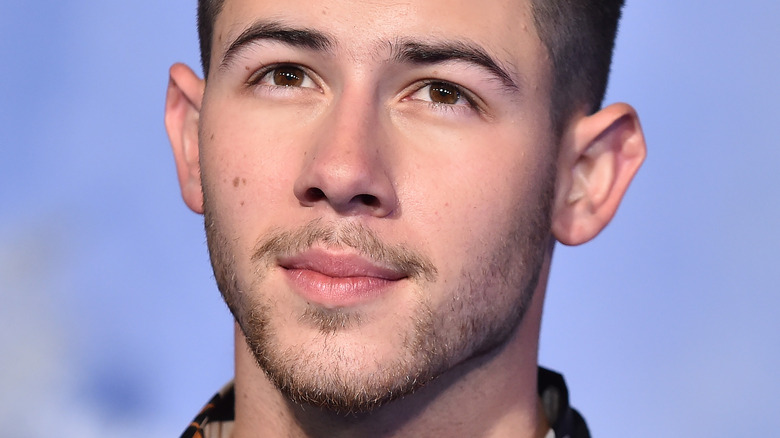 DFree/Shutterstock
It's no secret that "South Park" creators Trey Parker and Matt Stone have a tendency to paint celebrities in a not-so-flattering light. From the late Michael Jackson's nose falling off to the repulsive Snooki monster, nobody is safe from this duo.
The list of parodied Hollywood personalities is endless, but out of everyone to make an unwitting appearance on "South Park," the Jonas Brothers might be one of the most unforgettable. Season 13, Episode 1 ("The Ring") sees Kenny (Stone) bring his new girlfriend, Tammy Warner (Mickey Ramos), to the trio's concert. He does this after learning she hooked up with another boy in the T.G.I. Friday's parking lot following another of their shows.
However, things don't go as planned for Kenny when Nick, Joe, and Kevin inspire Tammy and many other fans to wear purity rings –- a symbol that they'll remain chaste until marriage. This is right in line with the brothers' real-life decision to sport the rings until 2013 (via In Touch). 
This isn't the only thing that Parker and Stone drew from reality. For a number of years, the Jonas Brothers were heavily associated with Disney, having appeared in the "Camp Rock" films and "Jonas" TV series. Throughout "The Ring," they are repeatedly bullied and beaten up by "the boss," who is none other than Mickey Mouse (Parker). The melodies of songs performed in the episode, such as one featuring the lyrics, "I've got a ring on my finger to remind me what I cannot do...," sound eerily like the band's actual songs, like 2007's "S.O.S." The cartoon depictions also bear an uncanny resemblance, with Stone and Parker even including Kevin's signature neck bandana.
How did the brothers react to their "South Park" portrayal? Let's take a look at how Nick Jonas' opinion has changed over the years.
Nick Jonas can now find humor in South Park's parody of his band's purity rings
In a Reddit AMA thread, one fan asked Nick Jonas his thoughts on "The Ring," released in 2009, and its emphasis on the band's purity rings. Jonas admitted that, upon the show's release, he didn't see much humor in it.
"When it first came out I didn't think it was funny to be honest, but probably because I was actually living all of that in real time and so it just made it harder to come and live your life as a young person and have all that going on," he responded. "But years later and once the purity rings were no longer around, it was very funny to me and I've actually watched the episode a few times."
Jonas also provided some context to the purity rings in response to another question. He grew up in a very religious home and his father was a pastor at their church, where a member demanded that all youth wear the rings. At the time, Jonas didn't fully comprehend what he was promising to do. As he got older and started dating, he began making his own choices, and, eventually, the ring was taken off. "... it [sex] shouldn't be taboo. It's a big part of who we are and what makes us human, and if we can't address these things head on, then I think that it can really be challenging," he said.
The youngest Jonas Brothers member admitted during an interview on "The Late Late Show with James Corden" (via W Magazine) that he cringes while watching old interviews from the purity ring days. Jonas said he sounded "like a robot" whenever discussing them, which, of course, Matt Stone and Trey Parker didn't fail to include.