Top Gun: Maverick's Sound Crew Developed Costume-Disguised Mic Packs To Capture The Film's Roaring Sounds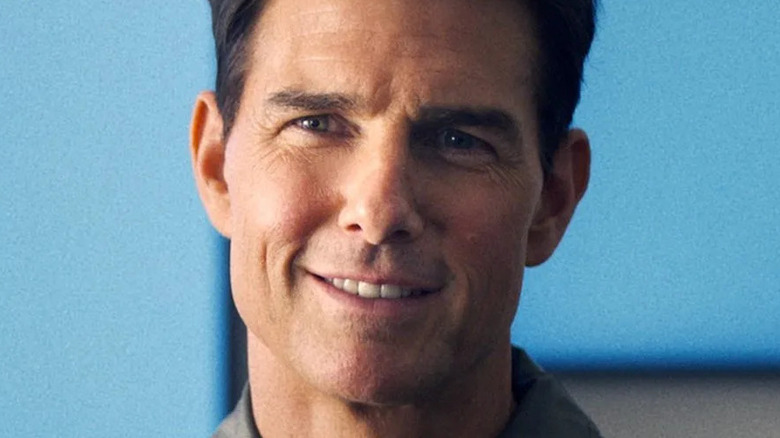 Paramount Pictures
I feel the need ... the need for awesome sound! And the team behind "Top Gun: Maverick" got creative when it came to capturing those high-flying jet noises and in-flight dialogue. 
"Top Gun: Maverick" is the highly anticipated sequel to the 1980s classic "Top Gun." The 1986 film follows pilot Pete "Maverick" Mitchell (Tom Cruise) and his best friend Goose (Anthony Edwards) as they enter the Navy Strike Fighter Tactics Instructor program, better known as TOPGUN. Fast-forward three decades and Captain Mitchell is back in "Top Gun: Maverick." But this time, the student has become the teacher, and Maverick is now preparing a team of TOPGUN graduates to take on a dangerous mission. The film includes plenty of callbacks to the original, including the return of Tom "Iceman" Kazansky (Val Kilmer), a lively rendition of "Great Balls of Fire," and a reunion between Maverick and Goose's son, Lieutenant Bradley "Rooster" Bradshaw (Miles Teller).
While the characters truly bring these films to life, it's the high-flying stunts and fighter jets that are the icing on the cake. And some very stealth sound recordings helped to capture the cockpit conversations during the sequel.
The sound team went to great lengths to capture the best audio for Top Gun: Maverick
Paramount Pictures
According to Variety, sound effects editor Ben Burtt and supervising sound editor Al Nelson captured every noise they could think of during a week aboard the aircraft carrier USS Abraham Lincoln. "The thumps, the purges and the mechanics. It was a week of getting into every nook and cranny we could to record and record and record," Nelson told Variety.
The actors themselves took to the skies with U.S. Navy pilots when filming flight scenes (via The New York Times). Of course, those scenes make up a good portion of "Top Gun: Maverick." So how does a sound team capture that crucial in-flight dialogue that will help push the story forward? Production mixer Mark Wein-garten told Variety that they built a contained mic pack for actors flying in the F-18s. "Tom [Cruise] wanted to be able to start and stop the cameras with a single push button. And they wanted to be able to start and stop the sound recorder with the same push button," Wein-garten explained. The special mic pack was hidden under the actor's costumes in order to discreetly capture the audio. 
Their hard work certainly helped fans reenter the danger zone, adding plenty of realism to this high-flying sequel.