How House Of The Dragon's Olivia Cooke And Emma D'Arcy Really Felt About Aemond Losing An Eye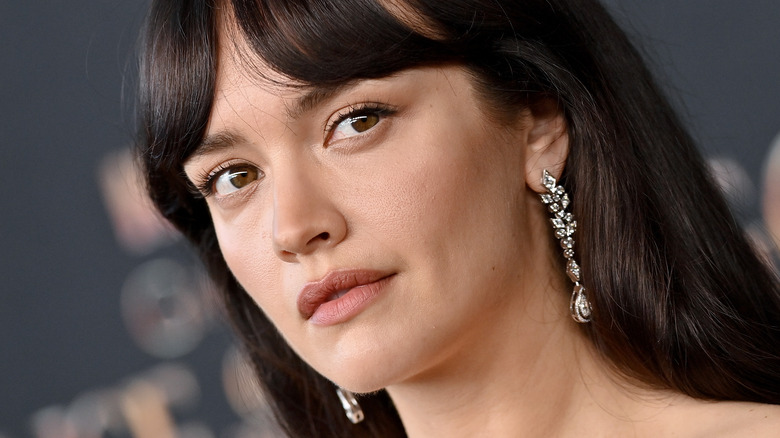 Axelle/bauer-griffin/Getty Images
"House of the Dragon" brought the world of Westeros back to television in a big way. Serving as a prequel to "Game of Thrones," and based on George R.R. Martin's "Fire & Blood" novel, the first season of "House of the Dragon" was a big hit for HBO and reinvigorated fan interest after the divisive response to the final season of "Game of Thrones." As of this writing, Season 1 sits at a pretty stellar 93% on Rotten Tomatoes, which is quite a bit higher than the 55% Tomatometer for Season 8 of "Game of Thrones."
"House of the Dragon" spans many years and details the beginning of the fall of the Targaryen House as a civil war breaks out, which will eventually be dubbed the Dance of the Dragons. Two of the main characters that this war centers around are Rhaenyra Targaryen and Alicent Hightower, whose older counterparts are played by Emma D'Arcy and Olivia Cooke respectively. One of the key scenes in Season 1 that builds up the animosity between Rhaenyra and Alicent is when the former's son Lucerys slashes the latter's son Aemond across the face, resulting in him losing his eye. And as it turns out, both Cooke and D'Arcy have their own feelings about that incident.
Both Cooke and D'Arcy believe that Alicent's anger was justified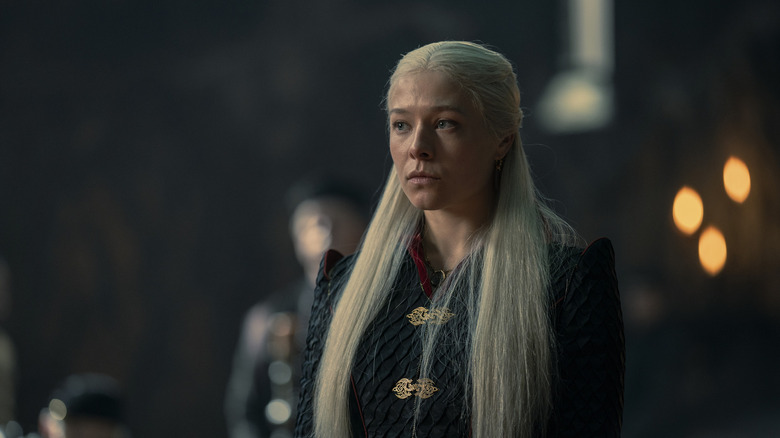 Ollie Upton/HBO
During an interview with Vulture in October of 2022, Emma D'Arcy and Olivia Cooke talked about the development of their characters, Rhaenyra and Alicent. Specifically, they talked about the incident where Aemond lost an eye in a violent confrontation with Rhaenyra's children, which further resulted in a big standoff between the two powerful women. And it appears that they both agree that Alicent was actually sort of justified in her anger, considering the loss of her son's eye.
"It's such an interesting scene, right? My sympathy is fully with Alicent," D'Arcy said. "On the page I was like, Well, she's f***ing right. Someone's lost an eye! I'm so amazed every time Paddy basically tells you to let it go. Simultaneously, Rhaenyra is playing quite a basic game: Lie hard, do not back down, and weaponize this word 'treason.'" 
Cooke agreed with this, adding, "Alicent's being gaslit massively and she f***ing explodes. In friendships or relationships, when it gets to the point where you feel you're going mad, there's no route out other than complete volcanic annihilation."
It's definitely a powerful moment in the show's first season and really showcases how the once-close friends reach a point of no return in their souring relationship as they also draw battle lines for the future civil war that will erupt between them after the death of Viserys. Whether or not Alicent was actually justified in demanding the removal of Lucerys' eye as punishment is perhaps a little more complex, but her anger in the moment definitely makes a lot of sense. And it's refreshing to see that both D'Arcy and Cooke agree on this point, even if their characters obviously do not.