Blue Bloods Showrunner Kevin Wade Teases Unfinished Business Between Erin And Her Ex-Husband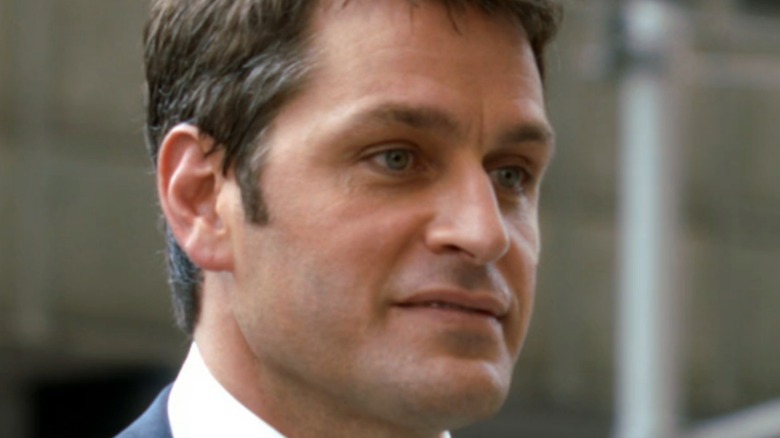 CBS
Coming from a family of police officers can probably make relationships a little more interesting, mainly because of their investigative skills and discerning eye. Of course, when one is also a district attorney like Erin Reagan (Bridget Moynahan) in "Blue Bloods," there is an entirely different layer to the equation. With a father like police commissioner Frank Reagan (Tom Selleck), a detective brother like Danny Reagan (Donnie Wahlberg), and a beat cop brother like Jamie Reagan (Will Estes), meeting Erin's family at the Reagan family dinner requires a certain amount of honesty, truth, and integrity.
Although this hasn't been an issue thus far in the hit show, Erin's original relationship with Jack Boyle (Peter Hermann) is. Jack tends to pop up from time to time in "Blue Bloods" because of his and Erin's daughter Nicky Reagan-Boyle (Sami Gayle). Jack's first appearance in the series is in the Season 3 episode "Old Wounds," because Nicky is having a birthday party and because of his opposition to Erin in court since he is a defense lawyer and she is a district attorney. Again, this makes their relationship tempestuous even at the best of times, though they still have feelings for each other.
Jack will still continue to pop up throughout Blue Bloods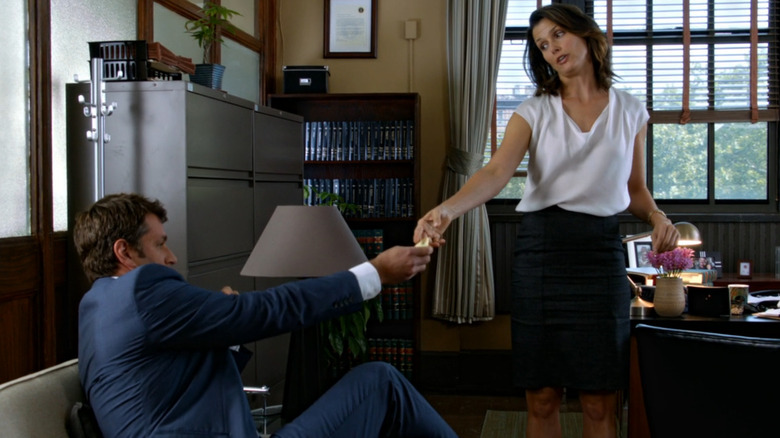 CBS
Jack Boyle continues to weave in and out of episodes of "Blue Bloods," often when a Reagan family member needs a lawyer, or when both Jack and Erin get their daughter tickets to the same show, or when he and Erin are on opposite ends of the same case and get held hostage at the same time. In other words, although Jack isn't in every episode, it tends to have an impact when he is. As mentioned earlier, Erin and Jack still have feelings for each other and have acted on them throughout "Blue Bloods," though Erin soon realizes that these entanglements are never a good idea and breaks them off. This is even more apparent throughout Season 13, where Jack and his associates appear in the first episode to offer support for Erin's official run for district attorney, which keeps him in Erin's periphery going forward.
Speaking with TV Line, showrunner Kevin Wade teased Jack still isn't done with Erin and "Blue Bloods," and said, "We brought back Peter Hermann in the season premiere. We always enjoy that complex relationship of divorced parents with a grown child. They've got some unfinished business, so I imagine he'll appear a few more times." Considering Jack's relationship with Erin and their shared child, this on-again-off-again relationship will still mark Erin's personal stories in the future, at least according to the showrunner.