Donnie Wahlberg Has A Specific Strategy For Handcuffing Actors On Blue Bloods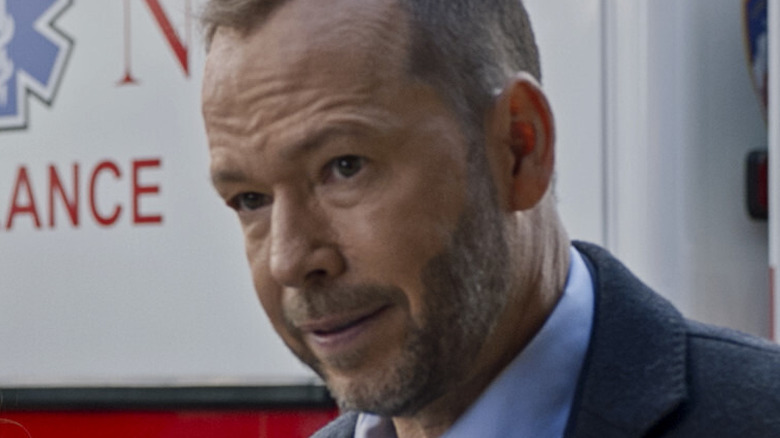 CBS
While the famous dinner scenes may be the most iconic parts, and many fans' favorite part, of "Blue Bloods," there's certainly lots of other things that happen in CBS's long-running cop procedural. It would be hard to imagine a cop show with only dinner scenes and without any arrests — as much as some fans would love a whole episode centered around a classic "Blue Bloods" Reagan Family Dinner.
The show features plenty of law enforcement situations, courtroom scenes, and arrests, the latter particularly from the oldest Reagan son, Danny (Donnie Wahlberg). The series follows the Reagan family, a close-knit group whose members are all involved with law enforcement in New York City. Tom Selleck plays the patriarch Frank Reagan, who serves as NYPD commissioner. His father, Henry (Broadway legend Len Cariou) was commissioner previously. Frank's youngest son Jamie (Will Estes) pursued law at Harvard but opted to become a beat cop instead; his sister Erin (Bridget Moynahan) serves as assistant to the district attorney; and older brother Danny is an NYPD detective. 
Danny sometimes uses questionable means when investigating perpetrators, something the show has been criticized for. Danny has made plenty of arrests on the show. But the actor, Donnie Wahlberg, always tries to exercise caution while "handcuffing" a fellow actor in a scene. This is how he does it.
Donnie Wahlberg doesn't like putting cuffs on anyone
While the character Danny Reagan arrests lots of people, Donnie Wahlberg never actually handcuffs anyone. When AOL Build interviewed Wahlberg and his wife, Jenny McCarthy — for their then-forthcoming reality show "Donnie Loves Jenny," Wahlberg explained his technique for putting a fellow actor in restraints.
"I basically take an actor, and I'll tell them before, and I say, 'look, I'm not cuffing you,'" Wahlberg explains, standing up to demonstrate. "I'm gonna put one handcuff in this hand, and I'm gonna put the other hoop in this hand because to really handcuff someone, it's hard. ... I'm not there to, like, break actors' wrists, you know, I'm there to just look authentic." Wahlberg also added, "In truth, handcuffing someone is not a lot of fun, and it's even worse to have them put on you, so I just try to never put myself in that position." 
After the 2020 protests of the murder of George Floyd by police, "Blue Bloods," like many other series, needed to reconsider how they approached cop behavior on the show. TV Insider asked Wahlberg if the series paints too rosy a picture of law enforcement. "I'm not sure how rosy it is," Wahlberg responded. "I think 'Blue Bloods' has very realistic conversations, and we're going to have more. I look forward to being part of the change and being part of these conversations."