Avatar: The Way Of Water Actors Had To Work Off Each Other To Make The Filming Smooth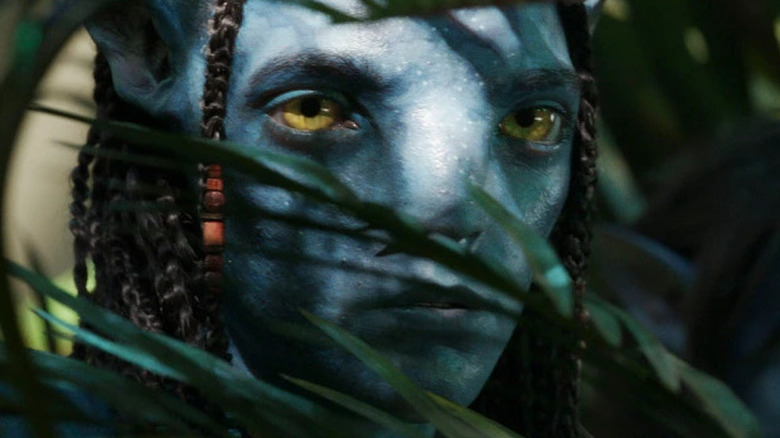 20th Century Studios
"Avatar: The Way of Water" is set to hit theaters worldwide on December 16, putting a finish on a journey that spanned many years for director James Cameron and his production crew. Variety reported that the process of creating "Avatar: The Way of Water" took over 10 years of time to mount, spanning from Cameron's 2010 announcement that he planned on creating a sequel to the second movie's 2022 release. 
In between, Cameron developed filmmaking techniques that would accurately portray the way the water in Pandora's oceans flows and ebbs, allowing him to fill underwater scenes with realistic visuals. His actors had to learn how to free dive so they could perform motion capture scenes for their characters in diving tanks. The world of "Avatar" is so CGI-rich that, per NME, Cameron had to develop an entirely different sort of motion capture technology just to make sure the imagery onscreen matched the visuals in his head. 
Naturally, all that CGI in "Avatar: The Way of Water" required its actors to perform beside each other wearing mocap suits instead of lavish outfits, to deliver their dialogue in front of a green screen instead of in a lush green forest, and to pretend that puppet-related armatures were actually living, breathing animals. In fact, the film's actors had to rely on each other to achieve the best possible performance on film.
The film's heavy CGI required the film's actors to use their imagination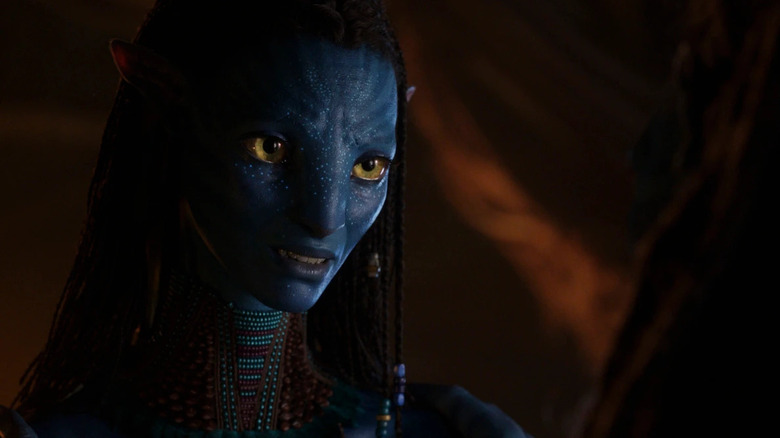 20th Century Studios
Speaking to fellow director Robert Rodriguez for Variety, James Cameron explained how his actors were required to rely upon each other to create proper performances for the camera. Due to the set's lack of scenery and even makeup for their actors, they were often required to lean on each other's work to make the film sing.
"There's not much there physically for the actors to work with, but I think that's kind of overrated. What's there for them to work with are the other actors," Cameron explained. Adding that they did have props and sometimes costumes to work with, Cameron noted that even in a film with a less CGI-heavy movie set, what you see on screen is not necessarily what you get in real life. "But if you think about a film set, there's a grip with his butt crack hanging out up on a ladder. [...] You're not really going to be in the rainforest or the Library of Congress or wherever the hell you're supposed to be shooting, anyway, visually. The actors rely on each other, and they have that in spades," he said.
Cameron's admiration for the actors who have committed themselves to the "Avatar" world was clear — he went on to explain that those who have never gone through the process of working in mainly mocap-driven parts tend to be reluctant to do so. 
Zoe Saldaña and Sam Worthington have spoken about the filming process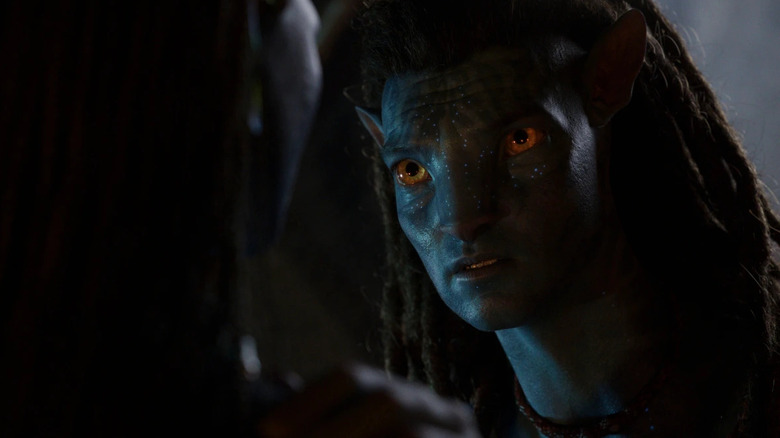 20th Century Studios
Sam Worthington, who plays Jake Sully in the "Avatar" franchise, has previously spoken about what it's like to act in the visually complicated film series. "No one had tried it before to the level that we were doing it. And you know that you're going to be guinea pigs again with Jim [Cameron]. He's always going to push it," Worthington told Yahoo! Movies earlier in December of the experience he had filming the original "Avatar." He then compared his "Avatar" experience to what he and the other actors went through while filming "Avatar: The Way of Water." "The technology for us doesn't change. The environment changed because where we filmed called the Volume was now underwater." 
Meanwhile, Neytiri actress Zoe Saldaña praised Cameron for his leadership skills and had good things to say about the filming process. "We get to relate to peers and colleagues that we truly respect and we're growing alongside them," she told Yahoo! Movies. "That becomes an adventure."
Worthington later confirmed to ET Online Canada that he and the other actors firmly rely upon one another to get their performances in the can. "When you're doing it, you just rely on each other. That's what you rely on. The tech and the water goes away," he explained. "And it's about a father and a son or a mother and a daughter. And that's what you're trying to accomplish," he said.
Audiences will find out if they hit their mark — and if they like it as much as critics did — when "Avatar: The Way of Water" hits theatres on December 16.