The Office Showrunner Greg Daniels' Proposal To His Wife Had A Direct Effect On Jim And Pam's Big Scene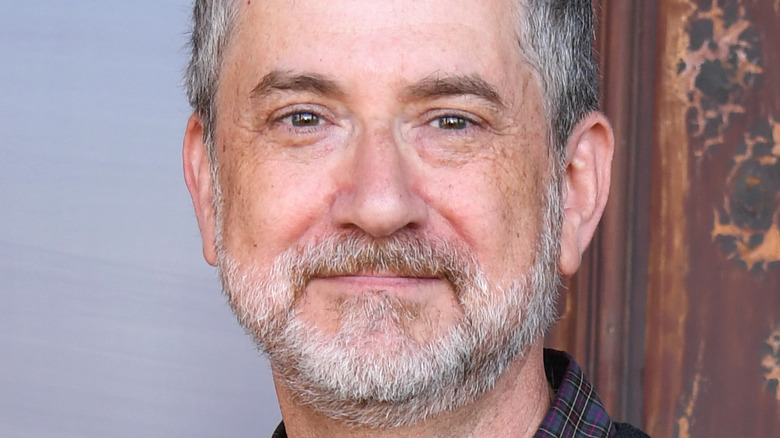 Jon Kopaloff/Getty Images
We may receive a commission on purchases made from links.
Despite concluding years ago, "The Office" is still widely remembered for many things. The classic gags, unforgettable characters, and endlessly quotable lines are among the most prominent, but when it comes to specific storylines, one stands out above all others: the love story between the occasionally terrible Jim Halpert (John Krasinski) and Pam Beesly (Jenna Fischer). From their respective desks at the Dunder Mifflin Paper Company office, the two lovebirds engaged in a will they-won't they relationship for some time before finally coming together as a romantic unit. However, their story was far from over there.
Once established as a couple, it was only a matter of time before Jim and Pam would get married. Of course, for this to happen, one of them would have to successfully propose to the other first, which happened in Season 5's "Weight Loss." In a knee-jerk decision, Jim invites Pam — who'd been off studying at New York's Pratt Institute — to a rest stop of all places. At this unlikely location, he popped the question, and she happily said yes. Overall, this was a heartwarming moment on a show that generally made comedy its top priority, but did you know it stemmed from a real-life occurrence?
"Office" showrunner Greg Daniels' proposal to his wife influenced how Jim's proposal to Pam played out. Here's how.
Daniels' proposal to his wife informed his feelings on an important creative choice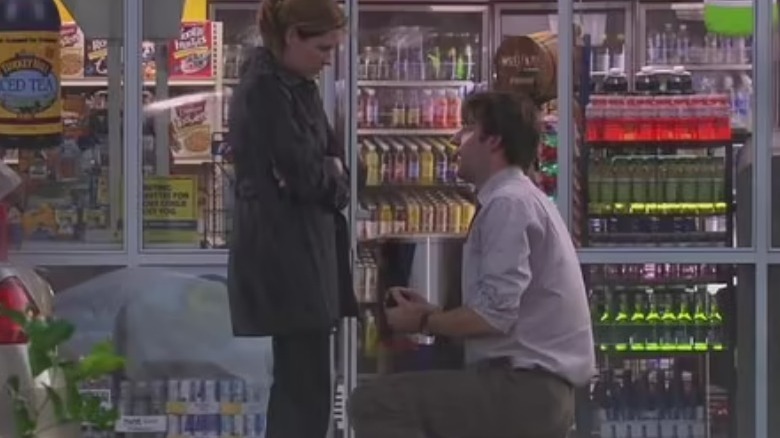 NBC
In the book "The Office: The Untold Story of the Greatest Sitcom of the 2000s" by Andy Greene, Jim and Pam's romantic moment is discussed in-depth by folks who were there. One such individual is editor Dean Holland, who recalled that Greg Daniels got quite emotional over how the scene should go down. Some felt it should lack dialog, while others believed hearing Jim speak was important — Daniels included. "I didn't say anything fancy. I didn't say anything special. If I could go back now, it was probably the lamest proposal ever. But that's what my wife and I will always remember," Daniels told Holland of his own proposal over the phone, tearing up while doing so.
With that, the cut that includes Jim and Pam's verbal exchange made it into "Weight Loss," and the rest is history. Of course, it's easy to make it sound so simple now, but at the time, the minds behind "The Office" were a bit stressed about the entire scene. As noted by Jenna Fischer in her and Angela Kinsey's book "The Office BFFs: Tales of The Office from Two Best Friends Who Were There," it was incredibly complicated and expensive. In just over a week, the crew had to design and construct the set — a fake gas station and a four-lane parkway with cars zooming past — within a budget of around $250,000. By some miracle, they pulled it off.
A lot of time, effort, planning, and personal investment went into Jim's proposal to Pam, and the preparation paid off. It remains one of the most iconic moments in "Office" history.