Why Sheriff Wilkins From Devil In Ohio Looks So Familiar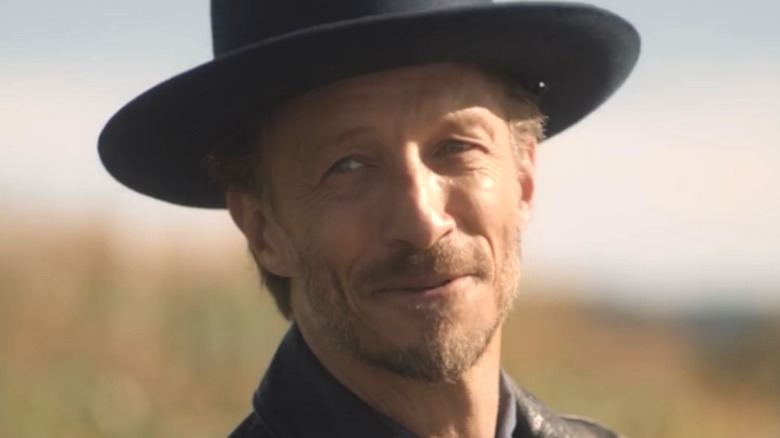 Netflix
When "Devil in Ohio" dropped on Netflix in September 2022, it caught the attention of audiences with a strong cast led by Emily Deschanel as Dr. Suzanne Mathis, a psychiatrist trying to solve the mystery of an injured teen (Madeleine Arthur) found in rural Ohio. Based on the book of the same name by Daria Polatin, the limited series delves deep into a devil-worshipping cult actively practicing in the countryside of modern America. During her investigation into the girl's history, Dr. Mathis encounters a mysterious but protective county sheriff who blocks many of her attempts to seek information. 
If Sheriff Wilkins looks familiar to viewers, it's with good reason. Actor Bradley Stryker has nearly 100 credits dating back to 2001, having appeared in numerous high-profile projects throughout his career. If you're wondering why the tall, lanky sheriff from "Devil in Ohio" looks so familiar, here are some of the roles you've probably caught him in.
He got his start in low-budget horror flicks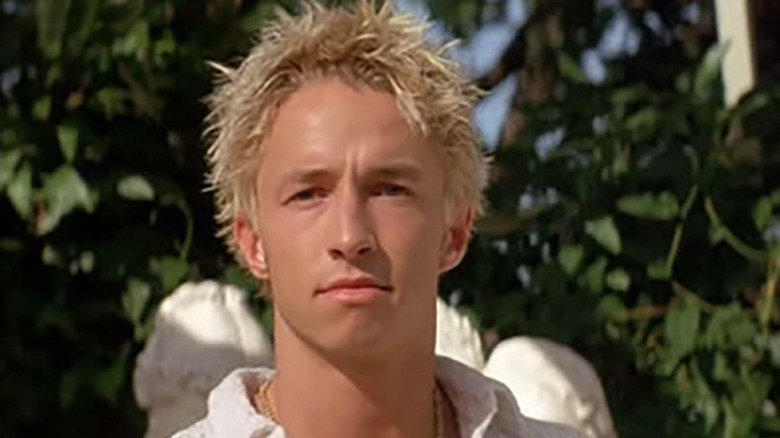 Regent Entertainment
Bradley Stryker got his start as an actor by landing one of the lead roles in the straight-to-video homoerotic horror film "The Brotherhood" in 2001. He played Devon, leader of an exclusive fraternity on a college campus who encourages freshman Chris — played by Hallmark movie favorite Sam Page — to join his entourage of sunglass-wearing, suave friends. Of course, it turns out the fraternity has found the secret to immortality, and is always looking for new members to join their coven of vampires. 
The movie was popular enough to spawn five sequels, though Stryker only appeared in the first one. The same year, he also appeared in the "Scream" ripoff "Final Stab," adding another straight-to-video entry to his resume. He had a smaller role in "Wolves of Wall Street," starring Eric Roberts as the leader of a pack of werewolves making their fortunes on — you guessed it — Wall Street. After a small role on "Angel" in 2003, Stryker veered away from horror and managed to start appearing in more mainstream media.
His biggest break came from The O.C.
Fans of "The O.C." will remember Trey Atwood, Ryan's older rebellious brother who went to prison after the two tried to steal a car in the pilot episode, only to be released and struggle not to fall into a life of crime and drugs. The role was originated by Bradley Stryker, who appeared in both the pilot episode and one other before being recast in the second season. When Trey left prison, he was played by Logan Marshall-Green — something only diehard fans of the show may realize. However, the popularity of the show at the time likely helped Stryker land guest spots on other hit shows, such as "Arrested Development," "Cold Case," and "Psych." While Stryker has since appeared on such shows as "Supernatural," "Arrow," and "iZombie," his largest parts were in the lesser known shows like "Damnation," which — ironically — starred Logan Marshall-Green as an ex-con hired by the Pinkerton National Detective Agency in 1931 to stop a strike organized by his brother.
Stryker also had recurring roles on "The Inmate" and "American Tourist: Nightmare in Thailand" before appearing in "Devil in Ohio." He's also picked up some writing and directing credits with episodes of "American Tourist: Nightmare in Thailand" and the horror film "Land of Smiles," among other projects.