Why Gibbs' Suit In NCIS Means More Than You Think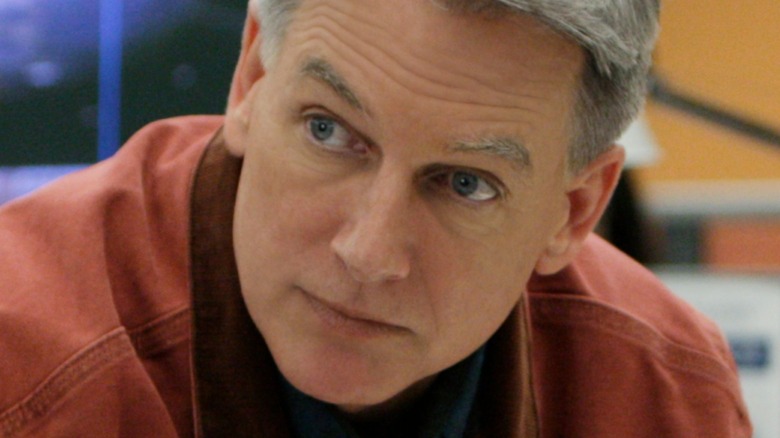 Cliff Lipson/CBS
Crime dramas are all over the television scene and have been for some time, but not all are created equal. A few have risen above the rest to become particularly beloved and recognized as some of the very best the genre has to offer. The occasionally questionable "NCIS" is one of these titles, earning such an impressive status in the years following its small screen debut in September 2003. This likely came due to a multitude of factors, ranging from its high TV production value to its gripping stories, as well as its cast of engaging characters.
Throughout its television run, "NCIS" has made the likes of Abby Sciuto (Pauley Perrette) and Tim McGee (Sean Murray) household names. However, just about everyone on the cast list pales in comparison to Mark Harmon's rule-spouting Leroy Gibbs, who most would agree is the face of the program. From Season 1 to Season 19, he bravely led the Naval Criminal Investigative Service while battling his own persistent personal demons. As a result, by the end of his tenure, he was one of the most popular and fleshed-out characters on the show.
Having spent so much time on "NCIS," it should come as no surprise that Gibbs is tied to a handful of the series' Easter eggs. This one, for example, pertains to the real-life relevance of one of his suits.
Gibbs' suit holds real-life significance to Mark Harmon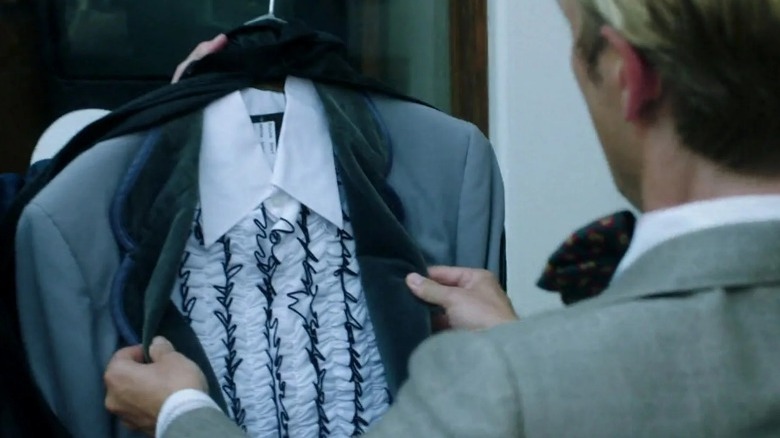 CBS
Season 18 of "NCIS" featured the episode "Everything Starts Somewhere," which explained how Gibbs and Donald "Ducky" Mallard (David McCallum) first came to work together. During one of these flashback sequences, we see a rather dated tuxedo — as shown above — that actually holds great significance. Reddit user u/thard1ster pointed out in a thread that this suit is incredibly similar to one Mark Harmon wore way back in 1973, as evidenced by a photo of him with his father, Tom Harmon, and Hollywood icon John Wayne. Easter eggs aren't much more deep-cut in nature than this.
Chances are, had you told the young Harmon that his suit would be referenced in one of the most popular shows of all time, he likely wouldn't believe you. Not only is such a claim detached from reality on its own, but way back when, Harmon wasn't even sure he'd make it as an actor. He told Men's Journal during an interview that when he was a shoe salesman in his younger years, he wasn't so sure about his future in entertainment. That all changed when he spoke with a man on a plane about careers. Harmon recalled, "He was miserable in his job, and he was trying to maintain the job for another 32 years. I went home, got in my car, drove out to the place where I worked, and gave my notice."
With that, Mark Harmon made it his mission to avoid a miserable life and instead succeed in Hollywood, and succeed he did. His name is now known the world over, and thanks to "NCIS," so is the tuxedo he wore back in the day.