Check Out 60 Images From The Avengers: Infinity War Trailer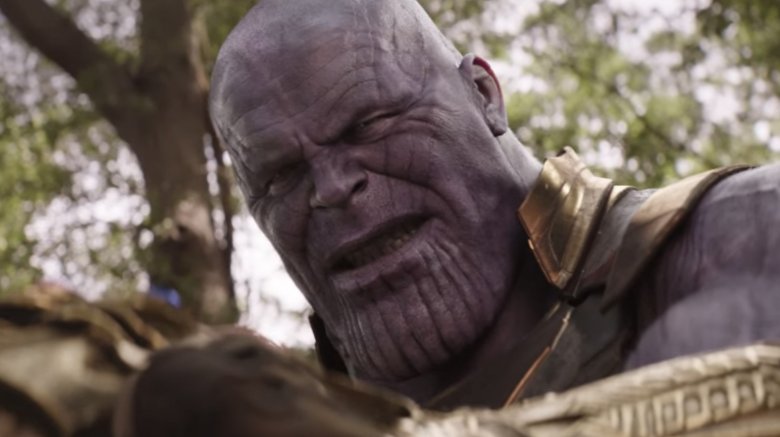 The final trailer for Avengers: Infinity War is here, and there's a lot to take in.
Just in case you were too excited to register all of the details, we've assembled dozens of images that showcase some of the most epic moments. From the arrival of Thanos (Josh Brolin) and his Black Order on Earth, to a meeting of the minds between Iron Man (Robert Downey Jr.) and Star-Lord (Chris Pratt), to what looks to be very bad days for Doctor Strange (Benedict Cumberbatch) and Captain America (Chris Evans), this thing looks incredible.
The trailer reveals that Thanos is well on his way to obtaining all of the Infinity Stones as he drops the blue Space Stone into the Infinity Gauntlet alongside the purple Power Stone. We know that Doctor Strange is in possession of the green Time Stone and Vision (Paul Bettany) has the yellow Mind Stone embedded in his forehead. That might be why Scarlet Witch (Elizabeth Olsen) looks so concerned.
We also get a glimpse at what looks to be a young Gamora (played as an adult by Zoe Saldana) taking the hand of Thanos near the beginning of their complicated adoptive father-daughter relationship. Thanos does have something like a heart after all — or, at least, he used to.
The trailer also shows the reunion of Captain America and Black Widow (Scarlett Johansson) with Black Panther (Chadwick Boseman) in Wakanda. They'll apparently put their differences aside and team up to take on the looming threat on the horizon. The trailer all comes down to an intense face-off between Captain America and Thanos, but the Mad Titan seems to have the upper hand. After all, this is a guy who can legitimately throw moons. 
Look for more clues in the images below and brace for Avengers: Infinity War to hit theaters on April 27.