The Only Cheers Characters To Appear In Every Episode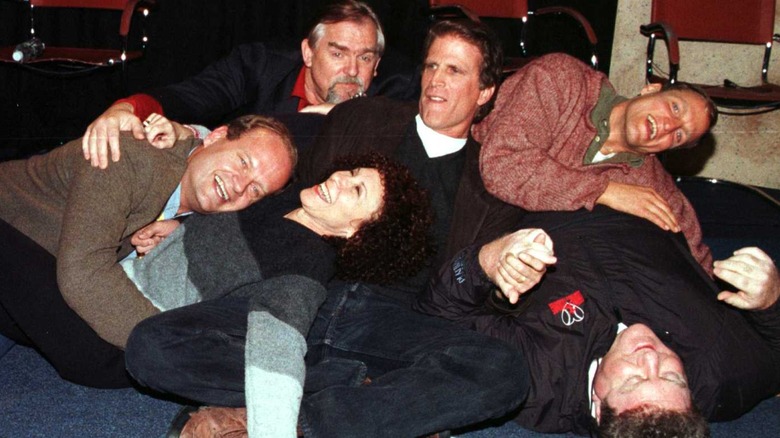 Andrew Shawaf/Getty Images
In the closing decades of the 20th century, there were many sitcoms that helped define what was brilliant about the format. "Seinfeld," "Friends," and "Frasier" were pop culture staples on television in the 1990s, but in the '80s, "Cheers" established the ability for a half-hour comedy to hold its poignant charm and caliber for 11 straight years on the air. The program went on to win 28 Primetime Emmy Awards, including the award for outstanding comedy series on four different occasions. But one of the defining aspects of the show was always its unforgettable cast of characters, which included mainstays both as series regulars and recurring players for the entire run of the sitcom.
Ted Danson led the show as Sam Malone, a former Boston Red Sox relief pitcher who went on to establish and run the title location. The rest of the cast was filled out by a wide range of supporting performers, including both Shelley Long and later Kirstie Alley as Diane Chambers and Rebecca Howe respectively, along with Rhea Perlman and George Wendt as Cheers mainstays Carla Tortelli and Norm Peterson. Kelsey Grammer (Dr. Frasier Crane), Woody Harrelson (Woody Boyd), and John Ratzenberger (Cliff Clavin) are also still ingrained in the memories of the show's fans. Interestingly enough, of this large cast, only three characters went on to appear in every single "Cheers" episode.
Sam, Norm, and Carla appeared in every episode of Cheers
"Cheers" ran for a grand total of 275 episodes from 1982 to 1993. It may be hard to believe due to the sheer longevity of the program, but three long-running characters appeared in every single installment — Ted Danson, Rhea Perlman, and George Wendt (via IMDb). In a 2022 interview with People, Perlman reflected on her longevity on the sitcom by stating, "I remember we were all going, 'Should we do another year? It's been 11 years?" She then revealed how George Wendt shared her love of the job and said to the "Matilda" actress, "If someone gives you a present every year, you're not going to take it the next year? Why not?"
Ted Danson has also shared his love of the show and character since its departure from the NBC lineup in 1993. In a 2022 interview with ET Online discussing the 40th anniversary of the TV comedy's premiere, he stated, "Unbelievable. I remember being 35 when I started, that's always a nice kind of memory." The star of "Pontiac Moon" then jokingly reminisced about how he had brown hair when the series started. Later in the interview, Danson shared, "The reason why we're talking, the reason why I'm sitting next to [Holly Hunter] is because of Cheers. Everything I do is because of the popularity of that show." After a grueling 11-year schedule and the passage of nearly 30 years, all three actors clearly enjoyed their experience on "Cheers."