Why Ed Sheeran Claims A South Park Episode Ruined His Life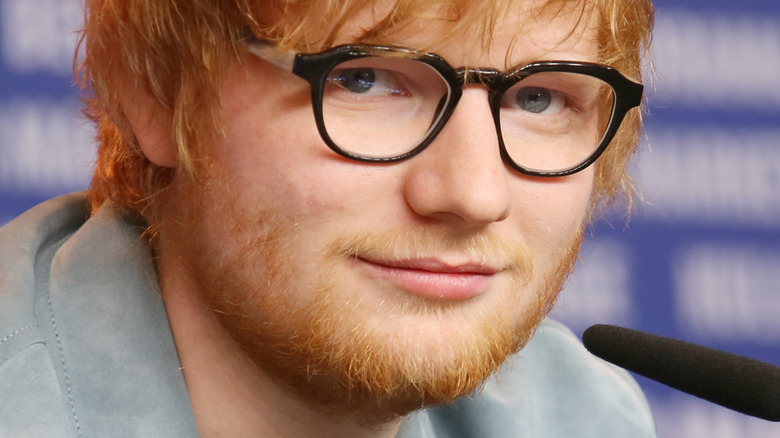 Denis Makarenko/Shutterstock
Internationally-acclaimed musician Ed Sheeran may be known for penning hit tracks like "Lego House" and "Shape of You," but there's another aspect of the singer-songwriter that regularly has fans and haters alike talking – the color of his hair.
From his early days in the spotlight, Sheeran's red locks made him stand out from the pack, though not always in the best way. In fact, according to his manager Stuart Camp (via the Straight Up podcast), Sheeran's previous management felt it would be detrimental to his career. Camp said, "The other management actually resigned from him because they said he wasn't going anywhere. He had to drop the looping pedal, dye his hair black and give up the rapping."
Needless to say, Sheeran's old management couldn't have been more wrong. Over the years, Sheeran has taken home four Grammy Awards, his first being in 2015 for "Thinking Out Loud," which earned Song of the Year and Pop Solo Performance. He's had top records on Billboard, collaborated with A-listers like Taylor Swift and Justin Bieber, and shared the stage with legends like Elton John.
Still, before achieving such star status, Sheeran's hair color preceded him. After being judged for his ginger strands in the U.K. growing up, it seemed as though America accepted and even adored his appearance. That is, until the release of a certain "South Park" episode, in which the potty-mouthed fourth-graders focus on "Gingervitus."
Ed Sheeran became associated with Cartman's made-up disease Gingervitis
In 2005, "South Park" creators Trey Parker and Matt Stone released Season 9, Episode 11 ("Ginger Kids"). Cartman shares in a class presentation his belief that those with red hair, pale skin and freckles have a disease called "Gingervitis." To prove him wrong, Kyle, Stan and Kenny sneak into Cartman's bedroom while he's asleep to bleach his skin, give him freckles and dye his hair red. Naturally, when his peers believe him to be cursed, Cartman doesn't take well to this accusation.
Prior to the episode's release, Sheeran had been experiencing a positive reception in America to his red locks – a stark contrast to his upbringing in the U.K. He told Slam Radio (via Metro), "Having red hair in England was always a thing that people took the p*** out of you for. But it was never something in America. People never knew what a ginger was in America." He added, "I was going to America and everyone was like, 'I love your hair dude.' And I was like, 'Oh my God, people like my hair?'"
However, "Ginger Kids" changed the public perception, with "South Park" viewers associating Sheeran with "Gingervitis." He said, "That episode of 'South Park' f****** ruined my life ... I remember that episode coming out and that was just it worldwide for the rest of my life."
Still, thanks to Sheeran and other redheads, such as "Lego House" music video and "Harry Potter" star Rupert Grint, those who Cartman views as cursed are perceived as more attractive than in the past (via Huffpost). Additionally, though "Ginger Kids" resulted in the controversial National Kick A Ginger Day, this has been rebranded to National Kiss A Ginger Day, with the next celebration set for January 12, 2023.