Everything Everywhere All At Once's Stephanie Hsu Was Nervous To Act In Front Of Michelle Yeoh For The First Time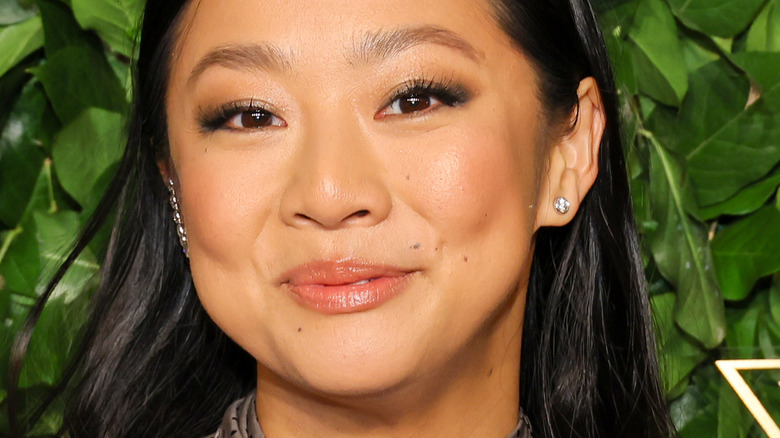 Mike Coppola/Getty Images
As the year comes to a close, it's the perfect time to reflect on the best movies of 2022. And when it comes to that subject, it's hard to have a conversation that doesn't include "Everything Everywhere All at Once," the latest absurdist comedy film from directing duo Daniel Kwan and Daniel Scheinert, aka the Daniels. The film, which stars Michelle Yeoh, Stephanie Hsu, and Ke Huy Quan, has been a big hit for studio A24. "Everything Everywhere All at Once" currently sits at 95% on Rotten Tomatoes and became something of a sleeper hit, grossing over $103 million at the worldwide box office (per Box Office Mojo).
The film explores the concept of a multiverse as well as Yeoh's Evelyn Wang and her attempt to stop her daughter Joy (Hsu) from destroying the multiverse. Along with critical and fan praise, the movie has also been nominated for several Golden Globes, including picking up the best motion picture – musical or comedy nod. Basically, when it comes to arthouse films for 2022, "Everything Everywhere All at Once" has been the breakout hit for that particular type of film, and a lot of its acclaim is due to its themes and the performances of its principal cast. However, it turns out that Hsu was initially quite nervous to perform in front of such a legendary actress like Yeoh.
Hsu was worried about being weird in front of Yeoh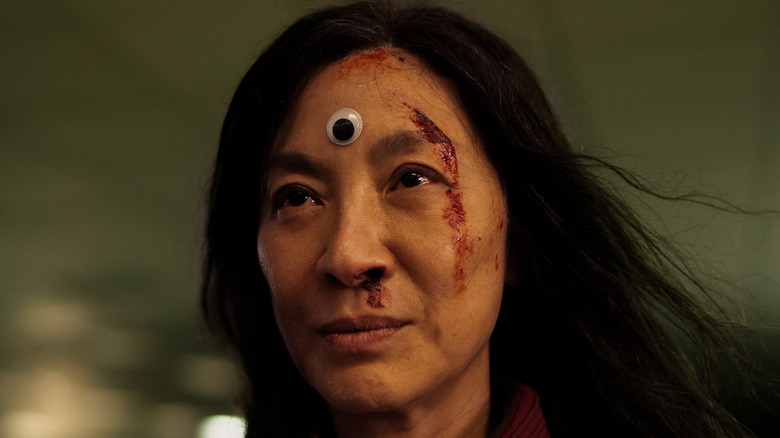 A24
During a recent interview with Deadline, Stephanie Hsu talked about her experiences working on "Everything Everywhere All at Once," and the amount of success it's seen. However, she also revealed that she was initially very nervous to act in front of Michelle Yeoh. Prior to her first scene with the Yeoh, Hsu had been developing her character with the Daniels and felt comfortable with her direction. That was, at least, until she went to shoot her very first scene with the legendary "Crouching Tiger, Hidden Dragon" star.
"The hallway scene was the first I shot with Michelle Yeoh, in the first week of the shoot," Hsu said. "The Daniels and I, we're good at throwing paint at the wall, and I trust them immensely. It'll be like, 'OK, the camera's here, now go wild.' So, we'd worked on Jobu together and went really ham with her. But in that moment in front of Michelle, it was like, 'Oh my God, wait, what?' I didn't realize it would ever be public. All of a sudden it dawned on me: 'I'm about to swing these nunchaku at Michelle Yeoh.' I was so nervous, because I was about to be a freak."
Luckily, Hsu soon discovered that Yeoh was just as down for the absurd silliness as she was, and everything went well. But it's completely understandable from Hsu's perspective to be fairly nervous for such an occasion, especially considering just how weird and strange some of the scenes in "Everything Everywhere All at Once" are. Still, it's hard to imagine that the film would have had the same impact without its particular brand of off-the-wall humor, and it's encouraging to know that both Hsu and Yeoh embraced it from day one.