John Boyega Calls The Woman King The Closest He'll Get To Starring In A Black Panther Movie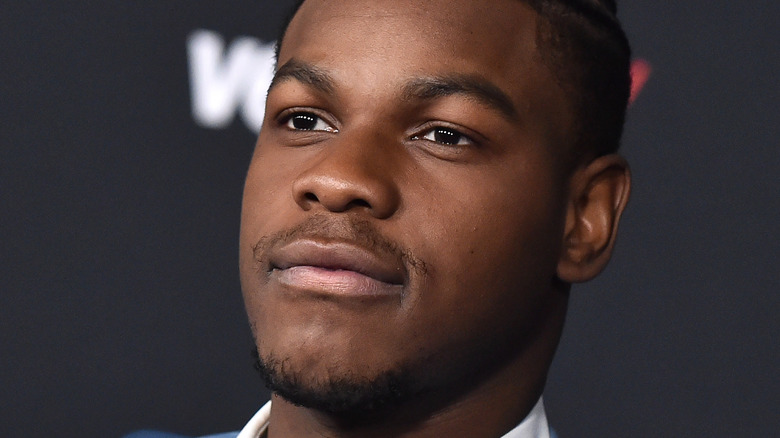 DFree/Shutterstock
"Star Wars" actor John Boyega has called his role in "The Woman King" the "closest [he'll] get" to Wakanda, drawing comparisons to Marvel's "Black Panther." Known for his portrayal of Finn in the "Star Wars" sequel trilogy, Boyega recently sat down with the MCU's Letitia Wright for an exclusive interview with Variety, where he gave some insight into their long-standing friendship and respective careers.
Boyega and Wright both attended the Identity School of Acting in London before starring together in Steve McQueen's "Small Axe" miniseries. During their Variety interview, the pair opened up about what it means to feature in blockbuster franchises like "Star Wars" and Marvel, as well as the significance of bringing Black characters to the forefront of Hollywood movies.
Boyega stars in director Gina Prince-Bythewood's 2022 theatrical release "The Woman King" as King Ghezo, alongside "How to Get Away With Murder" and "Suicide Squad" alumni Viola Davis. The actor expressed his enthusiasm for his role and how it connected him to the world of Wakanda.
John Boyega felt close to Black Panther while filming The Woman King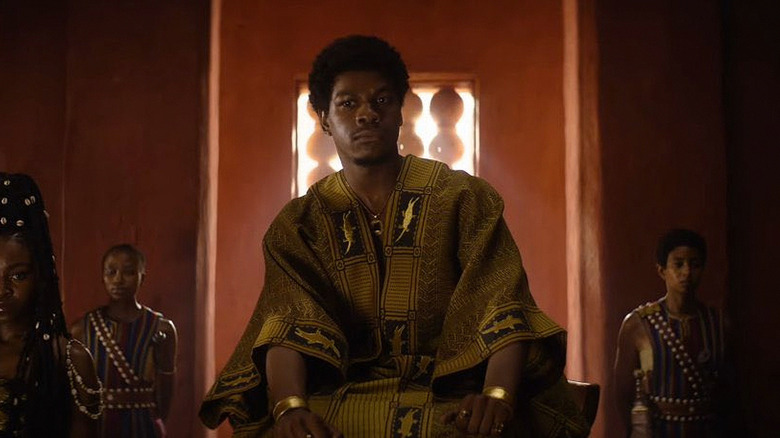 Sony Pictures
Playing King Ghezo gave John Boyega the chance to don traditional Nigerian robes, something the actor describes as a "fun element." Reading the script for "The Woman King" — which centers on the all-female Agojie warriors, on whom the Dora Milaje from "Black Panther" are based — also made Boyega feel "closer to Wakanda," something he discusses at length with "Black Panther: Wakanda Forever" star Letitia Wright.
Wright assumes the mantle of Black Panther following the tragic death of T'Challa actor Chadwick Boseman, who passed away in August 2020 from colon cancer. "Black Panther: Wakanda Forever" sees Shuri struggle to protect Wakanda from the wrath of Namor (Tenoch Huerta) while coming to terms with her brother's death.
"It's a hard pill to swallow," Wright said when asked about Boseman's death. "The day it happened, I can remember it like it was yesterday. If I could just go back and just rewind that day and just erase it ... Just being on set with my brother, I would give anything in the world just to have that."
Auditioning for Finn was a process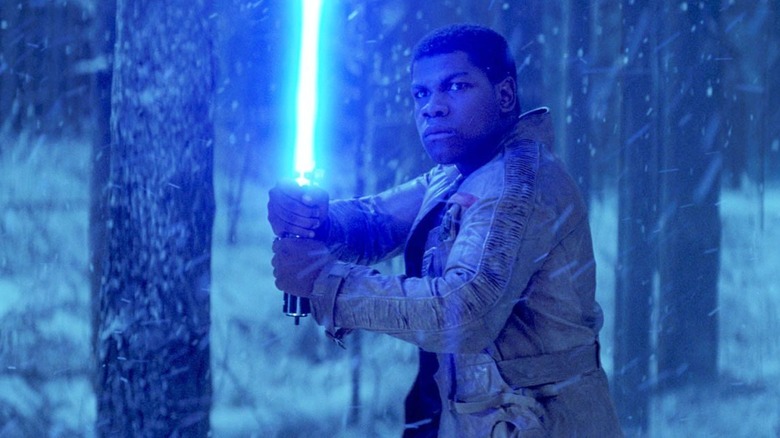 Disney/Lucasfilm
When questioned by Letitia Wright about his time on "Star Wars," John Boyega described it as a "good nine-month audition process" to land the role of Finn, a Stormtrooper who allies with Rey (Daisy Ridley) after escaping the First Order. "I was still staying with Mom and Dad," explained Boyega. "I'm going back home to the flat, and I'm stressing during this nine months, because I'm like, 'Is my life going to change or not?'"
Luckily for the actor, director J.J. Abrams was a "big confidant" who coached Boyega through the process. Boyega has since criticized Disney for its handling of Finn's story in the sequel trilogy. During a 2020 interview with GQ Magazine, the actor stated, "What I would say to Disney is do not bring out a Black character, market them to be much more important in the franchise than they are and then have them pushed to the side."
"The Woman King" is currently available for purchase on Amazon Prime, Google, AppleTV, and Vudu for $20. The entire "Star Wars" and (most of the) Marvel franchise can be streamed on Disney+ for $7.99 per month.