What Happens If The Stars Of American Pickers Get Injured?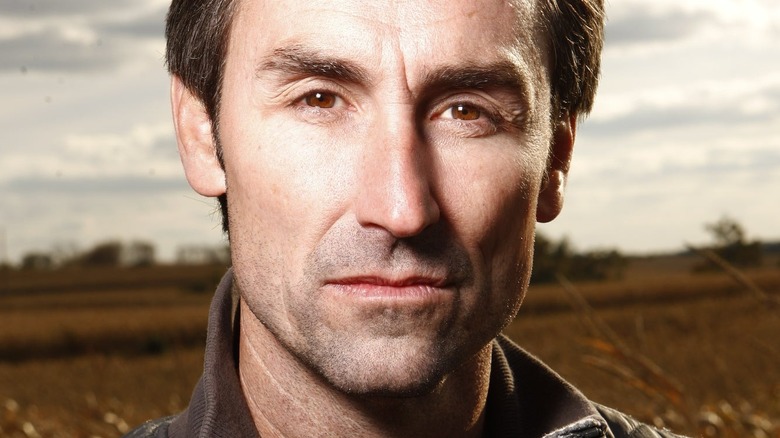 History
The stars of History's "American Pickers" have made a living out of embracing the phrase "one man's trash is another man's treasure" — traveling across the United States in search of valuable nicknacks and antiques that could be collecting dust in somebody's basement. The backbone of the series is the exploration of these forgotten treasure troves, in which Mike Wolfe and company dig deep into the stock of eccentric collectors across America. Wolfe and his team always hope to strike gold or find some discarded relic that they can sell for double the price.
That said, there are plenty of times throughout the series where the search for discarded valuables takes the team into some less-than-safe structures. There are times when the Pickers discover massive stockpiles of antique goods hidden in dirty, unkempt scrap yards, half-collapsed basements, or barns that look like they're one strong breeze away from caving in on their owners. The inherent danger of these structures has not been lost on History either, as there is even a protocol in place should Wolfe or his co-stars wind up injured while exploring one of these neglected buildings.
Because the stars have their own insurance, the property owners are never liable for injury
While speaking to FamousInterview.com about her role within "American Pickers," Danielle Colby was asked whether the property owners are expected to pay if Mike Wolfe or former co-host Frank Fritz happened to get injured on their property. "No, absolutely not," replied Colby. "They're covered by their own insurance. The property owner has no liability towards Mike or Frank or anyone."
Considering just how unsafe some of these structures seem, this policy seems like a blessing for the numerous collectors who have appeared in the series — as their participation in the show can offer them immense publicity at no risk to themselves. Although we've luckily never seen this policy play out on the series, Wolfe did once suffer a serious injury while "picking" in Upstate New York.
While participating in a meet and greet at Barnes & Noble in Paramus, New Jersey, Wolfe confessed that he was sleeping in his van while picking on somebody's property. Wolfe went on to say that he severely injured his knee when leaving the van one morning (via YouTube). Although this particular incident seems more like a fluke than anything related to the property itself, it's still important to note that all injuries are covered by Wolfe's own insurance — leaving the property owners completely free of liability.