Why Detective Grace Muncy From Law & Order: SVU Looks So Familiar
Fans of NBC's "Law & Order: SVU" were introduced to a new character and team player with the addition of Detective Grace Muncy. In Season 24, Episode 2, "The One You Feed," Captain Olivia Benson (Mariska Hargitay) and the SVU are in charge of investigating a sad case involving a teenage rape victim who also loses her father. Benson and her team make space for Captain Mike Duarte (Maurice Compte) and Detective Muncy of the Bronx Gang Unit, who arrive to assist.
While Benson isn't Duarte's biggest fan, she takes a shine to Muncy, who tactfully comforts the victim when she breaks down after identifying her assailant. Using her own life experience of losing her mom, Muncy reminds the teen that her father is still always with her. Her kind nature leads Benson to ask her to stay on board with the team.
In a later episode, there's a conflict with Muncy's wardrobe, which results in her going shopping with fellow detective Joe Velasco (Octavio Pisano). Audiences learn more about Muncy, such as the fact that she's color-blind.
Audiences will no doubt become more acquainted with her, as well as her real-life counterpart, Molly Burnett, as her character becomes a regular. But Burnett has been in plenty of television shows before arriving on "Law & Order: SVU." Here's where else to see her.
Molly Burnett joined the cast of Days of Our Lives for nearly 700 episodes
For those who have binged "Days of Our Lives" from the beginning or those who just tuned in every day before binging TV became a thing, you may recall Molly Burnett's presence on the dramatic soap opera as troublemaker and party gal Melanie Jonas. Not only does Melanie love to party, but she is also a fan of pickpocketing, having stolen a teacher's wallet in elementary school.
Melanie was an interesting character who had a few large life-changing events during her 700-episode run on the popular soap. For one, Melanie discovers that her father, Trent Robbins (Roscoe Born), actually adopted her; her biological father is Dr. Daniel Jonas (Shawn Christian), and her biological mother is Dr. Carly Manning (Crystal Chappell), who were having an affair. Audiences later see her reunite with her birth father, whom she is eager to get to know. Melanie also has a strong relationship with her half brother Max Brady (Darin Brooks).
In an interview with Hollywood Teen'Zine, Burnett answered some fan questions, including her favorite plotline for her character, which is Melanie learning who her true parents are. She also stated that she wished her character could settle down and "be happy with just one guy."
She appeared as PJ's cheating girlfriend on Good Luck Charlie and as a childhood bully on Jessie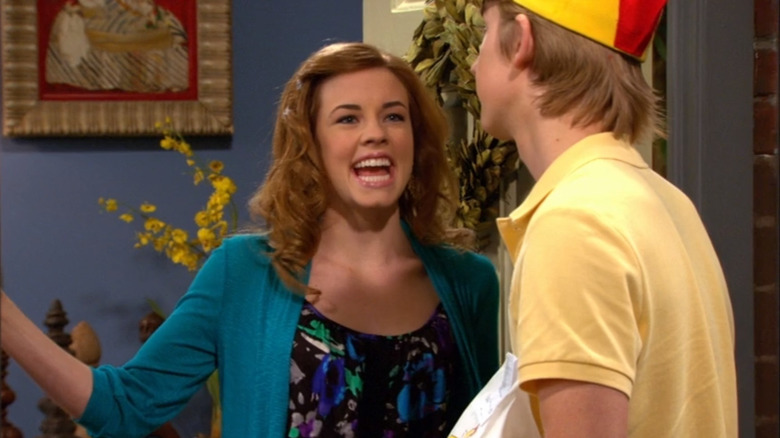 Disney Channel
Young Disney kids who enjoyed following the foibles of the Duncans on "Good Luck Charlie" might remember when sweet, though sometimes awkward, PJ (Jason Dolley) meets the girl of his dreams while delivering chicken for fast food restaurant Kwikki Chikki in Season 1. "I think I was just grilled with love," PJ remarks after Madison, Molly Burnett's character, answers the door and the audience is treated to a montage of PJ imagining a life with her.
PJ knocks on the door again to ask Madison out, she says yes after he removes his dorky chicken hat, and they go on to have a perfect relationship. Sort of. It doesn't help that PJ begins ignoring his best friend, Emmett (Micah Williams), to spend time with her, while Bob Duncan (Eric Allan Kramer) becomes uncomfortable with the knowledge that his son's girlfriend's mom was his last girlfriend before Amy (Leigh-Allyn Baker). Luckily for Emmett and Bob, the relationship ends when PJ catches Madison cheating with a pizza delivery guy.
Burnett returned to the Disney scene later on "Jessie," which follows Jessie Prescott (Debby Ryan), an aspiring actor who moves to New York and in the meantime becomes a nanny for the Ross children: Emma (Peyton List), Luke (Cameron Boyce), Ravi (Karan Brar), and Zuri (Skai Jackson). Burnett arrives in Season 2 as Darla, Jessie's childhood rival who becomes Jessie's stepsister after her mother marries Jessie's father.
Burnett portrayed one of Teresa Mendoza's most trusted confidants on Queen of the South
One of Molly Burnett's better-known roles is that on "Queen of the South," a series based on the novel by Spanish author Arturo Pérez-Reverte. Burnett joined the cast in Season 2, starring as Kelly Anne Van Awken, the lawyer and friend of the main protagonist, Teresa Mendoza (Alice Braga).
Since both women suffer in a male-dominated world, they stick together for the betterment of each other. Kelly is being abused mercilessly by her husband, Cole (Brett Cullen), and later struggles with an intense cocaine addiction while Teresa is swallowed up in the cruel world of drug cartels after her lover is murdered. However, Kelly Anne finally receives some happiness by the end, when she's reunited with her boyfriend, Pote Galvez (Hemky Madera).
In an interview with French Fries just before the end of Season 5, Burnett reflected on why she felt called to the character: "Kelly Anne jumped off the page for me. She was sassy and funny. At first glance her character appears to be your standard underestimated 'trophy wife', but I knew there was more to her."
In the same interview, Burnett reflected on her relationship with her fellow castmates: "For such a serious show, we are all pretty big goofballs." It's good to know that the impressive and disciplined cast of "Queen of the South" knew how to act serious while also cutting loose and enjoying each other's company.