Looper Asks: What's Your Favorite Law & Order Cameo? - Exclusive Survey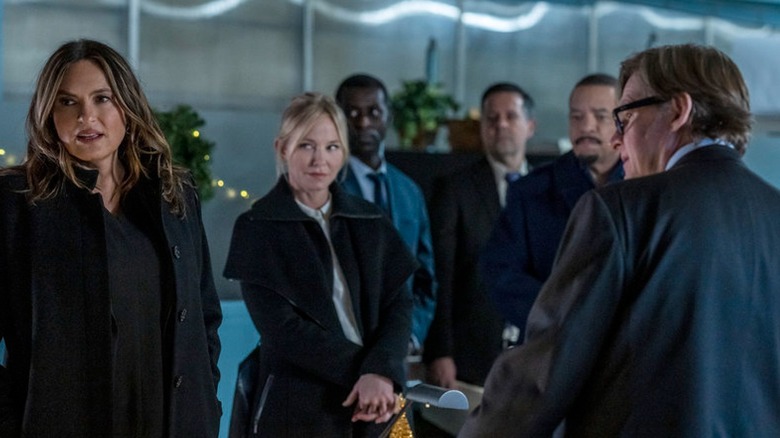 Zach Dilgard/NBC
"Law & Order" continues to dominate the airwaves. One of the most prominent pop culture fixtures of all time, the franchise boasts fans from across the world who tune in weekly to see the highs and lows of the justice system. And with 22 seasons under its belt over 30 years, the NBC procedural shows no signs of stopping. Created by Dick Wolf, "Law & Order" has taken on a life of its own, becoming its own behemoth franchise featuring spin-offs like "Special Victims Unit," "Organized Crime," and the now off-air "Criminal Intent." 
Since "Law & Order's" humble beginnings in the '90s, the franchise has become a great outlet for rising stars to obtain early credits. Stars like Adam Driver, Sebastian Stan, and Sarah Paulson all received their big break by appearing in the franchise. On the opposite end, appearing on any "Law & Order" is practically a bucket-list item for well-recognized stars. Countless established actors, singers, and personalities have appeared in the various "Law & Order" shows over the years, becoming a small part of one of the world's biggest franchises.
With so many celebrity appearances, Looper was curious to know which "Law & Order: Special Victims Unit" cameo fans love the most.
Robin Williams stands out as the best Law & Order cameo
Looper surveyed 607 "Law & Order" fans in the United States, asking them to pick their favorite cameo from "Special Victims Unit." 22.90% of fans voted for Robin Williams' memorable cameo in Season 9, Episode 17 of "Special Victims Unit," titled "Authority." The 2008 episode features the late funnyman playing a police impersonator who compels unsuspecting victims to commit crimes. Williams received considerable praise for playing the episode's villain, receiving an Emmy nod for his performance.
Ranking behind Williams is "Party of Five" standout Jennifer Love Hewitt, who received 21.42% of votes. The actress lent her talents to an early Season 12 episode, titled "Behave," an appearance which netted positive remarks from Entertainment Weekly. Over 15% of "Law & Order" fans voted for James Van Der Beek's cameo in Season 13 as their favorite. Just behind the "Dawnson's Creek" lead is "Full House" alum John Stamos with 14.83% of the vote.
Second to last in the poll is comedian Kathy Griffin, who popped up in Season 11, Episode 13 of the spin-off series, titled "P.C." Griffin found the role of playing a lesbian activist challenging, discussing how she rarely takes on non-comedic roles with The News. "With [the cast and the crew] watching you, and the pressure is on, when you mess up a line, you don't want to do it again," she told the outlet. "My whole life is looking for the joke, but this was no joke." 
Cynthia Nixon ultimately received 12.03% of the vote, leaving her as the least favorite celebrity cameo in "Special Victims Unit." This is surprising consider the star walked away with an Emmy win for her appearance in the "Law & Order" series in 2007.