Fans Are Glad Gold Rush's Fred Lewis Put His Military Training To Use In Season 13 Episode 11
Faithful viewers of Discovery's hit reality series "Gold Rush" are no doubt aware of crew leader Fred Lewis' military background. The former Green Beret doesn't hesitate to mention it at every opportunity, but except when his fearless nature allows him to comfortably and quickly do something dangerous to keep the operation going, there is rarely a chance for his skills and experience to serve either the team's mining operations or the show's entertainment goals. But in Season 13, Episode 11, "Tony's Golden Nights," Fred finally had a chance to put his elite military training to good use. 
So, what specific part of his experience did Fred have to rely on to help one of his miners? Were they pinned down by enemy fire from a rival mining company, or did angry bears surround them and force Fred to come up with a tactical plan to help his team escape danger? While not quite that dramatic or unexpected, the situation was certainly very serious and Fred's quick thinking and instinctive use of his expertise certainly helped minimize the damage from a potentially very dangerous situation. To top it all off, fans of the show on Reddit were pleased to see some of Lewis' much-talked-about military training being put to good use.
Fred's quick thinking helped minimize the danger after an accident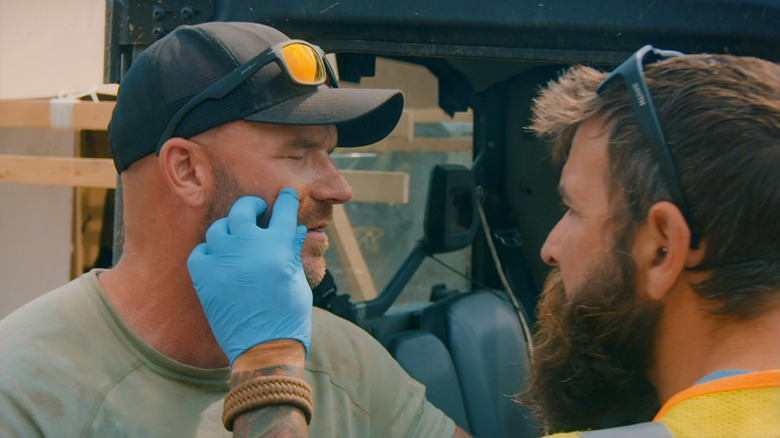 Discovery
Facing crunch time in an attempt to help reach the team's 500-ounce goal for the season, Tony Beets hired some new truck drivers for a night shift and worked quickly to get them up to speed so they could haul the necessary 15 loads per night each. When a track pin broke on heavy equipment operator Stuart McKenzie's bucket loader and mechanic John "JB" Mayer was welding the pin back on, a piece of metal shrapnel got lodged in Stuart's face. Fred Lewis stepped in quickly and calmly to remove the piece of metal and close Stuart's wound. McKenzie, a former Army Scout sniper himself, remained equally as calm and patient while Lewis plucked the hot metal from his cheek and fixed him up faster than you can say "Get back to work."  
On the show's subreddit, u/JazzFan619 wrote, "Luckily, there is a former Army Green Beret medic on site when there is an injury." And despite criticizing Lewis' seemingly simple role in his own mining operation, u/DFWPunk did admit, "I did notice he got to be a medic. It was very impressive."
Without Fred Lewis' quick thinking and action, McKenzie likely would have been headed for the nearest hospital, further delaying an operation that was already critically behind schedule. Mining can be dangerous in a myriad of ways, but shrapnel to the face is not a common danger, and Fred's unique training as a Green Beret medic certainly came in handy here.