The Devastating Death Of Parks And Recreation Star Helen Slayton-Hughes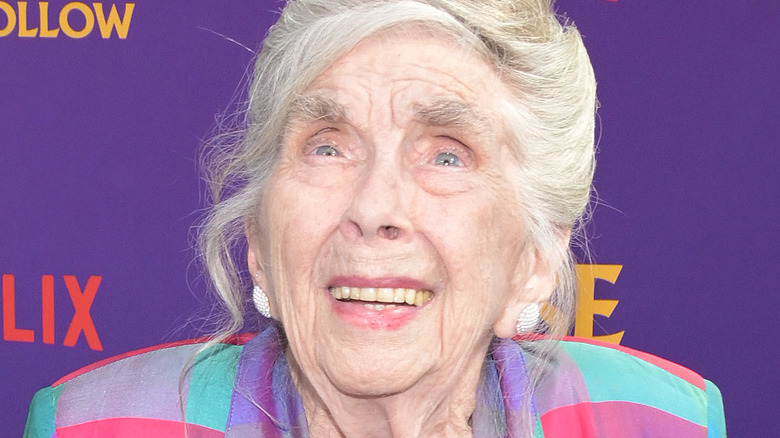 Michael Tullberg/Getty Images
Helen Slayton-Hughes has died at the age of 92. Slayton-Hughes is perhaps best known for playing Ethel Beavers, Pawnee's most ornery bureaucrat, on NBC's "Parks and Recreation."
Slayton-Hughes' family relayed the news on Facebook on December 8. "To the friends and fans of our beloved Helen," the post reads, "Helen passed away last night. Her pain has ended but her fierce spirit lives on. Thank you for the love and support of her and her work. Rest sweet one. With love: The Hughes family." The family also shared a video memorializing Slayton-Hughes, featuring a cheeky quote from the star herself: "I love doing drama but I'm always hired to do comedy."
The memorial video features photos of Slayton-Hughes in character as Ethel Beavers. Beavers worked as the court stenographer in Pawnee, though her duties seemed to extend beyond the parameters of the courtroom — whether it was chaperoning government workers around city hall or eulogizing the late mayor, her lover Walter Gunderson (Bill Murray). She also serves as April (Aubrey Plaza) and Andy's (Chris Pratt) unofficial grandma. Slayton-Hughes only appeared in 11 episodes of "Parks and Recreation," but her dry, deeply funny performance made Ethel Beavers one of Pawnee's stand-out characters.
Helen Slayton-Hughes had an impressive resume beyond Ethel Beavers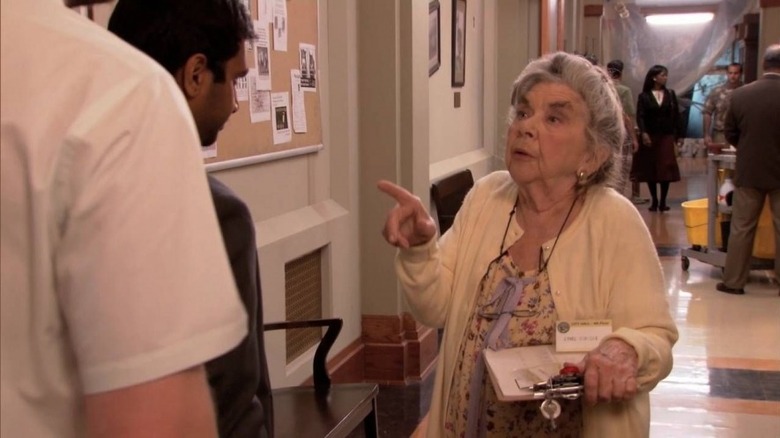 NBC
Helen Slayton-Hughes was born in 1930. She had her first on-screen appearance in the 1980 film "Mafia on the Bounty," but her career really flourished in the aughts (per IMDb).
She had roles in countless television series, including "Nash Bridges," "The West Wing," "Malcolm in the Middle," "That's So Raven," "Arrested Development," "True Blood," "Brooklyn Nine-Nine," "Parenthood," and "New Girl." One of her longer-lasting roles was in "Burning Love," a hysterical spoof of reality dating shows, where she played characters named Agnes and Virginia for a total of 18 episodes. Slayton-Hughes also appeared in the 2005 Oscar-nominated film "Good Night, and Good Luck." Since "Parks and Recreation" ended in 2015, Slayton-Hughes had reunited with some of her former colleagues. She appeared in an episode of Michael Schur's "Rutherford Falls," as well as Amy Poehler's feature "Moxie." Her final on-screen appearance was in the horror comedy film "The Curse of Bridge Hollow."
Slayton-Hughes will undoubtedly be missed by her colleagues and family alike. Her memorial video on Facebook reads: "To our beloved Helen ... you always made us laugh. Thank you for the love and laughter. You inspired us all by living your dream until the end. Rest now, our sweet Helen. We know the laughter will continue wherever you are."