Why Dr. Dupre From Chicago Med Looks So Familiar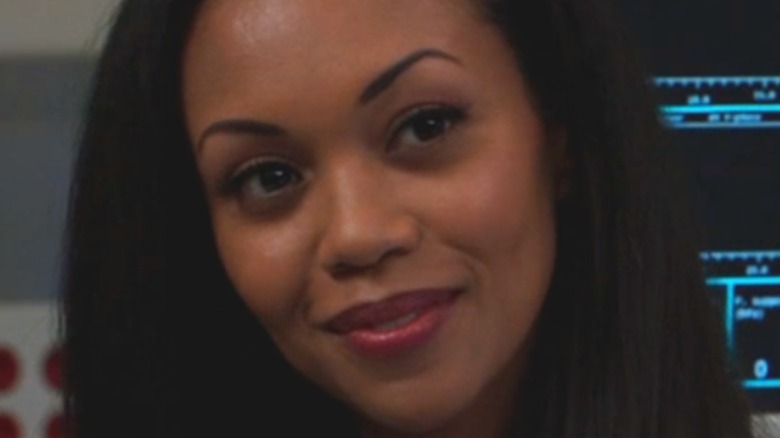 NBC
Season 8 of "Chicago Med" is certainly a roller-coaster of emotions, tense scenes involving split-second decisions, and new improvements to the Gaffney Chicago Medical Center. Major events thus far have seen a long-gestating relationship between April Sexton (Yaya DaCosta) and Ethan Choi (Brian Tee) finally come to fruition, supply chain issues that have caused the doctors of "Chicago Med" to run into some serious problems, and of course a brand new operating room with a brand new doctor, Dr. Petra Dupre (Mishael Morgan).
Dupre's new operating room is a technological marvel, complete with advanced robotics and adaptive artificial intelligence. Of course when a show wheels out some impressive array of equipment in a medical setting, it will almost immediately be put to use. Both Dupre and Dr. Crockett Marcel (Dominic Rains) are put to the test with a live audience and a dangerous and high-risk pancreatic surgery to remove a dangerous and supposedly inoperable tumor. Unfortunately, the technology of this brand-new operating room isn't as impressive as it is made out to be, and Marcel is forced to make some quick decisions while Dupre adjusts the calibration of the sophisticated equipment. Luckily, the fast actions of Marcel and Dupre are enough to save the day, and Dupre acknowledges that she had set the parameters of the computers a bit too low, resulting in the previous emergency. Some fans may find themselves asking — who is playing this new character, and why does she look so familiar?
Morgan acts as love interest in a sequel to You Got Served
Perhaps the first place viewers may have gotten a chance to spot Mishael Morgan is in 2011's "You Got Served: Beat The World." This direct-to-video movie is a tenuous sequel to the original "You Got Served," and both films feature impressive displays of dance moves and choreography. As where the first movie has a laser focus on dance troupes in California, "You Got Served: Beat The World" takes the ambition to the next level and is about a global competition that sees teams from all across the world compete against each other.
The major stars of "Beat The World" are Tyrone Brown as Yuson and Mishael Morgan as Maya. Yuson wants to incorporate parkour into his crew's dance routine in order to bring a little razzle-dazzle to the world stage, while at the same time attempting to solve relationship woes with Maya. However, he still cares for her, and his primary motivation is to win her back. While Yuson is focused on impressing Maya with his moves, Maya is focused on growth and college. The trailer for "You Got Served: Beat The World" on YouTube highlights what the movie is all about, which includes drama, dance, and cross-cultural conflict.
Morgan plays a medical student in the Canadian comedy drama Republic of Doyle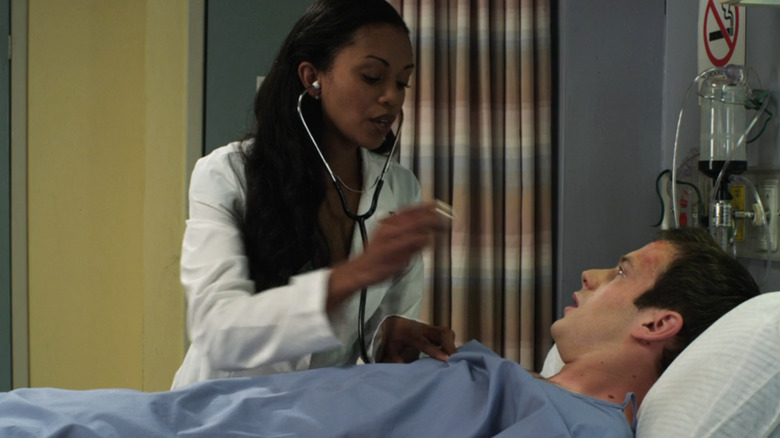 CBS Television
The next notable endeavor in Mishael Morgan's career is in Season 3 of the Canadian television show "Republic of Doyle." This show proved to be popular enough to spawn six seasons, and it predominately follows the exploits of the Doyle family, a group of former police officers and investigators that create their own private investigation firm. Of course, when you have a family of investigators, there is some potential for comedy, and "Republic of Doyle" certainly leans into this aspect.
Appearing in five episodes of Season 3, starting in Episode 2, Morgan plays the role of Chandra O'Neill. Chandra is a medical student who gets romantically involved with Desmond Courtney (Mark O'Brien), a family friend and technology-focused co-worker of the Doyles. Unfortunately, this relationship doesn't work out, and Chandra departs the series in Episode 7 of Season 3, titled "High School Confidential." As reported by Shifter, Morgan was born in Trinidad and Tobago, and her family eventually moved to Toronto, which explains why one of her earliest roles was in a Canadian show. Morgan paid homage to her multicultural background during a recent Daytime Emmys acceptance speech, and said, "I was born on a tiny island in the Caribbean, and I'm now standing on an international stage and I am being honored regardless of the color of my skin, regardless of my passport, for being the best at what I do. Now there are little girls around the world and no matter what the industry, the vocation...they can strive to be the best" (via Wio News).
Morgan helped fight demons in Dark Rising: Warrior of Worlds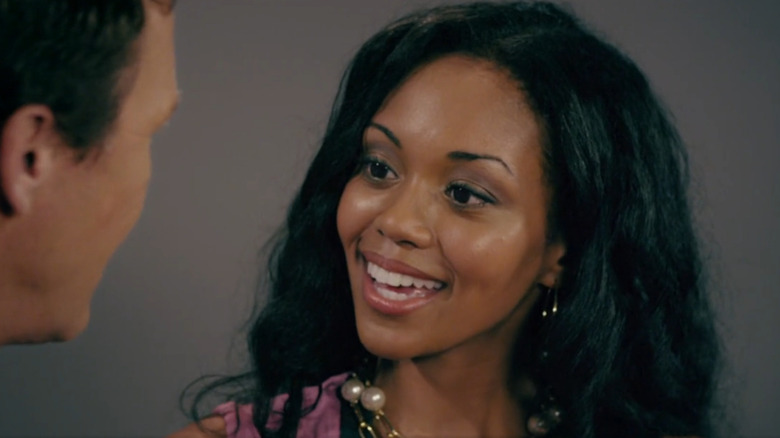 Black Walk/Defiant Empire
Keeping with the Canadian theme, the next major outing of Mishael Morgan is in the 2014 miniseries "Dark Rising: Warrior of Worlds." This miniseries is actually part of a "Dark Rising" franchise, with also consists of movies. The fulcrum in which the world of "Dark Rising" spins is that there are actually two worlds — ours and a dark reflection that was created by a powerful mage during the Roman era. Magic and mystery are very much real in this franchise, and the main character is Summer Vale (Brigitte Kingsley), a half-human and half-demon who has access to fantastic powers and is essentially a super soldier.
Appearing in all five episodes of "Dark Rising: Warrior of Worlds," Morgan is Nancy Leighton, a supporting character who aids in the battle between our world and the demonic version. Nancy is actually first introduced as a co-host of the news before becoming entangled in the potentially world-ending conflict, and she is inquisitive and helpful. "Warrior of Worlds" actually wrapped up the series, acting as a capstone to the "Dark Rising" franchise. However, Morgan's next role is probably her biggest and most prolific.
Morgan became famous and earned acclaim for her efforts in The Young and the Restless
According to IMDb, Mishael Morgan pops up in a staggering amount of episodes of the daytime soap opera "The Young and the Restless," numbering 787 appearances as Hilary Curtis. Considering the drama format of "The Young and the Restless," Hilary's introduction originally establishes her as a foil for the Winters family, whom she blames for the death of her movie. Eventually, she begins to understand the events that led to her mother's death, and she begs for forgiveness, though she still upsets many dynamics in the show on account of her affair with Devon (Bryton James). However, Morgan's professional acumen eventually earned her consecutive Daytime Emmy nominations for outstanding supporting actress in a drama series, winning in 2022 — the first Black woman to do so.
Speaking with Soap Central, Morgan was asked about how she felt after finding out that she was nominated for these awards, and she replied, "I was shell-shocked! I honestly couldn't believe it — because of that same reason, that no matter how long you've been on the show, this show has such a history, and it goes back so long, it's scary to step into the idea of, 'I'm a lead on the number one soap that's been on TV since before I was born!' It's intimidating stepping into that category, so, I was shocked that I was being honored in that category. But I'm also very grateful." Although Morgan's career started in 2011, chances are viewers will be seeing much more of her in the future — anybody who can appear in over 700 episodes of anything certainly has a fantastic work ethic, and we look forward to hopefully seeing more of her on "Chicago Med."