A Background Puppet Was Almost The Main Villain In Guillermo Del Toro's Pinocchio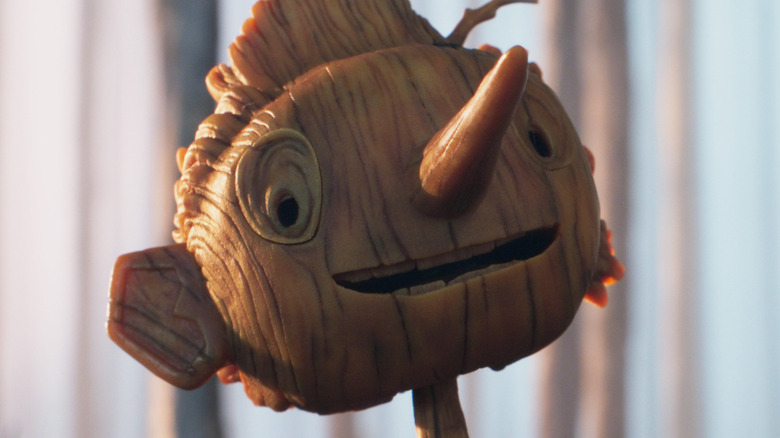 Netflix
Sometimes directors, even the most revered ones, have to make the tough calls that can send a curveball into whatever project their working on. In the case of Guillermo del Toro's "Pinocchio," however, a curveball can be big enough to wreck a significant chunk of the production, given the nature of the animation used for it. The latest adaptation of Carlo Collodi's classic story is a joint effort from both del Toro and first-time feature film director Mark Gustafson and uses incredible stop-motion artistry to bring the story to life. But when minute-long one shots can take up to three months to shoot, what happens when the brains behind "Pan's Labyrinth" and Oscar-winning "The Shape of Water" (via IMDb) decides to do away with the film's main villain and replace him with another? That wouldn't be as much of an issue had they not already made one.
Given del Toro's effortlessly warm nature he always manages to present, it's probably hard to say no anyway. Thankfully, the crew behind his latest film found a way to meet his demands and bring in a new meanie to replace the old one. Even more impressive, though, is that they found a space for the antagonist's understudy elsewhere in the story, even if he's a particularly larger-than-life character.
Pinocchio's original bad guy is hiding in plain sight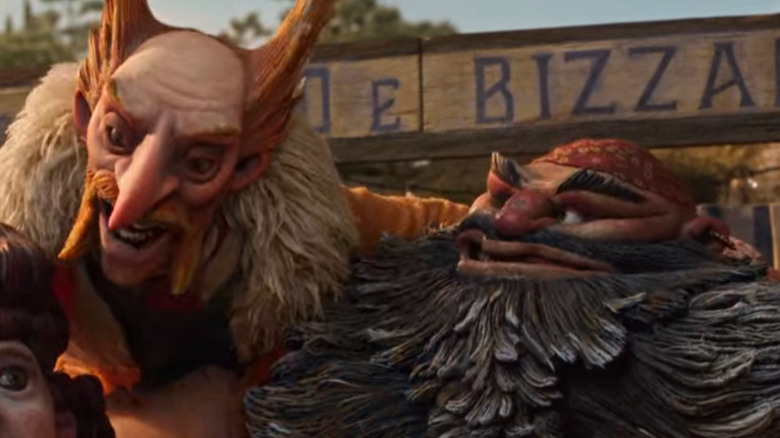 Netflix
Revealed in Netflix's wonderful documentary accompanying the new film, "Pinocchio: Handcrafted Cinema," details that the original antagonist to our heroic wooden boy was Mangiafuoco, the puppet master of the theatre that ropes Pinocchio in as his main attraction. Unfortunately, the bad guy didn't sit right with del Toro upon review. "I didn't like it; I thought it was very much a cliche," explained the director, which led his first assistant director and his team to mix things up a bit. Jared Bumgarner explained, "He looked at us, and he said, 'Hey guys, I think our main villain is crap, and I wanna change it.'" Now with talk of what would eventually become Count Volpe (Christoph Waltz), Bumgarner couldn't ignore del Toro's observation. "It was one of those moments that once you see it, you can't unsee it, and you work with the amazing team to figure it out."
Figure it out they did, and impressively so. With Volpe taking the spot, Mangiafuoco became a noticeable but downplayed character in the background, appearing in the final film. "There was a lot of time that was spent designing Mangiafuoco with this huge beard," recalled character art & technical director Georgina Hayns. "This puppet, we finished making him, and he's now a background character for the circus." Just like our favorite wooden boy, the pieces fit into place perfectly, ensuring that the story was never impacted. See that, kids? Real magic.