Will Estes Says The Blue Bloods Cast Has A Running Gag If A Dinner Scene Line Is Messed Up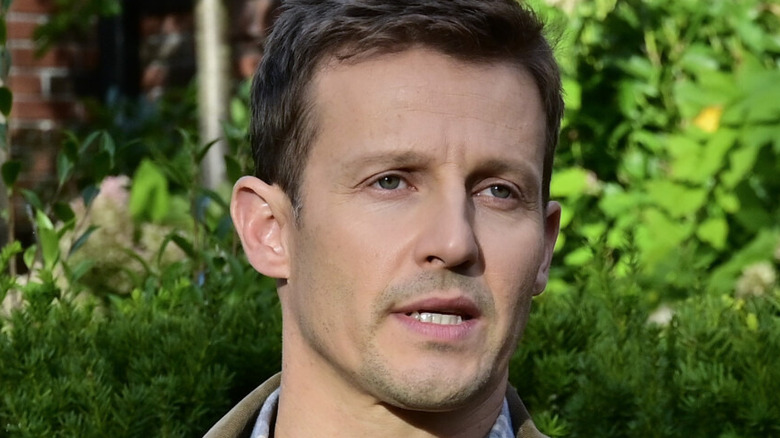 John Paul Filo/CBS
You don't have to be a fan of "Blue Bloods" to know it's all about family. The long-running CBS police procedural, currently in its 13th Season, regularly espouses the idea of family in its plots and themes — even in its basic premise. And nowhere is this idea established more firmly than in the regular Reagan family Sunday dinners.
"Blue Bloods" follows a family (there's that word again) of law enforcement officers of all types. Patriarch Frank Reagan (Tom Selleck) is the New York City Police commissioner who frequently gets advice from his retired commissioner father, Henry Reagan (the brilliant Broadway performer and original Sweeney Todd, Len Cariou). Frank's older son Danny (Donnie Wahlberg) is a rough (sometimes too rough) and tumble NYPD detective, daughter Erin (Bridget Moynahan) is New York's assistant district attorney, and youngest son Jamie (Will Estes) graduated from Harvard Law but decided instead to become a cop like dear old dad.
Part of what keeps the tight-knit family so tight, besides similar jobs and similar outlooks, is the presence of their family dinners. Nearly every episode of the more than 260 episodes so far has had a family dinner scene. The scene often carries the moral lesson of the episode, and a big profound statement is often made, which bothers some fans. They can also be quite difficult to film, resulting in goofs. According to Estes, the cast has a running gag they do if a mistake is made during a dinner scene.
Some people snore at the dinner table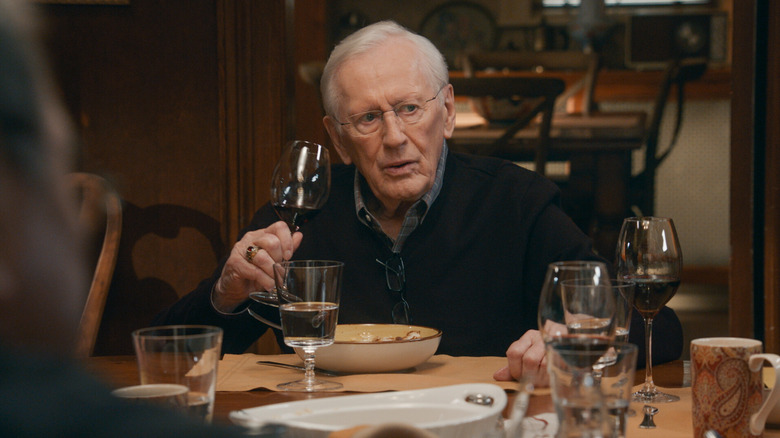 CBS ©2022 CBS Broadcasting, Inc.
One of the newer characters on "Blue Bloods" is Jamie's wife, Eddie Janko-Reagan, played by Vanessa Ray. When joining the cast, she was intimidated by the iconic dinner scenes and terrified of messing up. In a WFSB 3 interview with Ray and Will Estes, Estes tried to ease her anxiety.
"It's a scary room to forget a line at," Estes admits. "When you go up on a line at that table, it's a lot of people watching you mess up." He also added that, as patient as the cast is, they will call out mistakes — in an odd way. "They will snore at you," he said, giving an example. Fortunately, that hadn't happened to Ray ... yet.
It's not surprising that the cast would make mistakes during the dinner scenes, which notoriously take hours to shoot and can be grueling. "It's nice to spend time with the entire cast once an episode, but filming an eating scene is miserable," Tom Selleck told CinemaBlend. "We'll probably spend eight hours shooting this scene." That often means eating the same foods repeatedly, like pot roast or meatloaf, sometimes at 9 in the morning, per Country Living — or pretending to eat. Though apparently, Donnie Wahlberg's Danny doesn't pretend. "Danny probably eats the most because Donnie's the hungriest," Wahlberg joked to TV Insider. "Seriously though, Danny is kind of a bull in a china shop. The best way to play that at dinner is to talk a lot with his mouth full."