What The Cast Of American Psycho Is Doing Today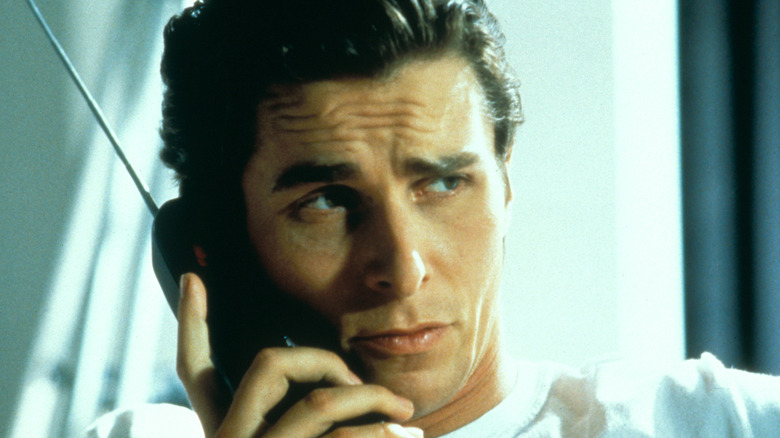 Lionsgate
"American Psycho" is a film teeming with intrigue, toxic masculinity, and a cast list that's as striking as the scene where a naked man chases a screaming prostitute with a chainsaw. The film was adapted from a novel written by Bret Easton Ellis, one of the best-known members of the "literary brat pack" whose books have spawned several films, also including "Less Than Zero" and "Rules of Attraction." "American Psycho" is about a New York financial executive whose soulless embrace of capitalism leads him to life as a murderous psychopath. It's about the sanitized narcissism that defined an era of corporate excess and moral ambiguity.
Gloria Steinem was an outspoken critic of the book and, subsequently, the movie (she was reportedly the reason Leonardo DiCaprio dropped out of the project). Yet, interestingly, her godson Christian Bale plays the main character.
Not all of the cast members have risen to the heights of Hollywood greatness (although some have), but most have continued to work steadily ever since. "American Psycho" came out in 2000, and despite the success of the film, you might still be surprised to see where many of their careers ended up over two decades later.
Justin Theroux - Timothy Bryce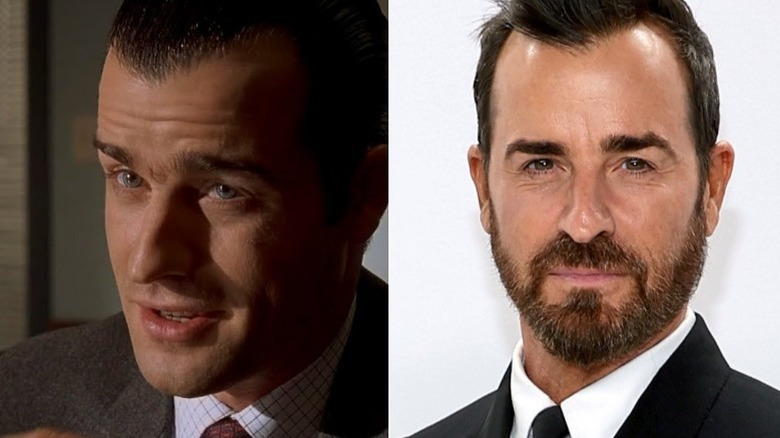 Dimitrios Kambouris/Getty & Lionsgate Films / Buena Vista
Justin Theroux plays Timothy Bryce, one of Patrick Bateman's fellow corporate lackeys. He's there during corporate dinners, nights out on the town, and business card comparisons around the office. Justin Theroux followed the film with a starring role in David Lynch's classic "Mulholland Drive." His wife cheats on him with Billy Ray Cyrus and he gets hamstrung by gangsters into casting his lead actress (who he eventually marries).
After that, Theroux went on to recurring roles in TV series like "Six Feet Under" and later "The Leftovers." Theroux even had a cameo in "Star Wars Episode VIII: The Last Jedi." And just to show the range of his skill set, he's also done voice work on films like "The Lego Ninjago Movie" and Disney's live-action "Lady and the Tramp." His most current credits are as the lead in "Mosquito Coast," the role of G. Gordon Liddy in "The White House Murders." Theroux has had a diverse and steady career ever since he slicked his hair to be one of the serial killer's best friends.
Josh Lucas - Craig McDermott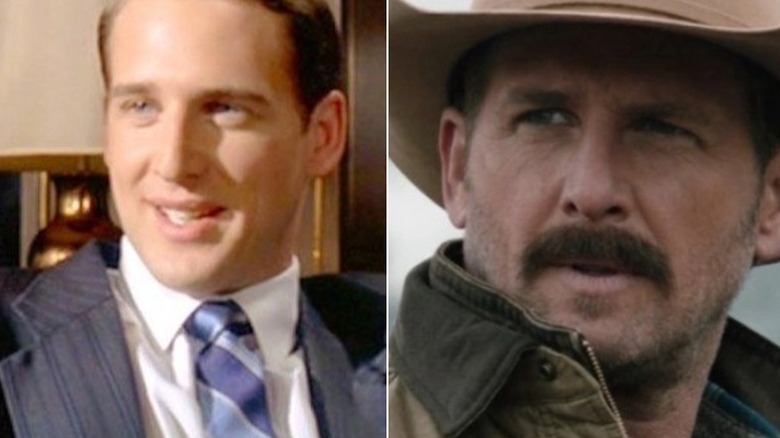 Lionsgate Films / Paramount
Josh Lucas plays another of Bateman's corporate friends, Craig McDermott. Craig is an almost-interchangeable slick-haired yuppie, though he can maybe be differentiated when he drops comments that are sometimes sexist or anti-semitic.
Josh Lucas went on to a career with steady roles in several A-list projects where he cleans up his act, playing (somewhat) less problematic men. Lucas played Ted Minton in "Lincoln Lawyer" alongside Matthew McConaughey, as well as starring in the romantic comedy "Sweet Home Alabama," which also featured fellow "American Psycho" alum Reese Witherspoon. In "Ford vs. Ferrari," not only did Lucas get a reunion with "American Psycho" star Christian Bale, but he also plays another corporate exec. To round out his resume, Josh Lucas has most recently been playing young John Dutton in flashbacks on the television series "Yellowstone." One could only imagine what the taciturn cowboy would have thought of the loudmouth idiot Craig McDermott.
Bill Sage - David Van Patten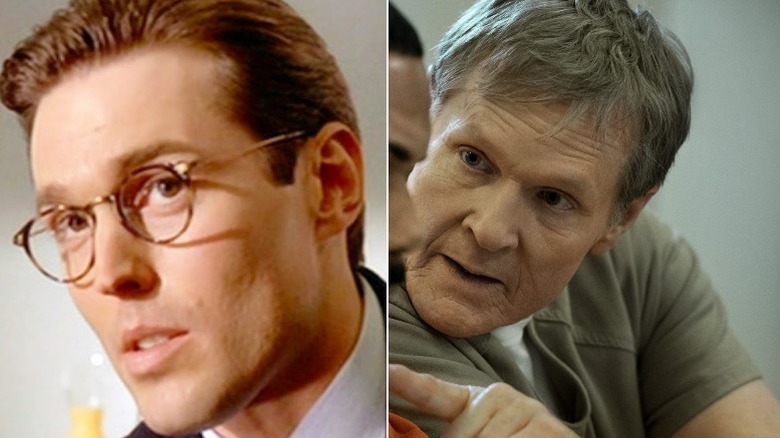 Lionsgate Films / Starz
David Van Patten rounds out Bateman's crew of cronies: Another sexist, fast-talking, cocaine-using Manhattan suit. Bill Sage plays David, and after "American Psycho" he went on to act in several other film projects, including "Glitter" and "Mysterious Skin." However, the majority of his credits came from television appearances. David Van Patten's role as a conflicted man in search of power, or at least his jollies, would seemingly play on through most of his subsequent roles.
He had recurring appearances on "Nurse Jackie," "Boardwalk Empire," and "Hap and Leonard." More recently, he appeared in several episodes of "Power." Sage currently has a few movies in the pipeline like "Hayseed" and "The Weight," which might very well end up being hits. One of his most unique credits, though, is voicing Pulitzer-winning writer Larry McMurtry in the acclaimed Hollywood history podcast "You Must Remember This." Obviously Sage has more depth and breadth than David Van Patten ever did.
Chloe Sevigny - Jean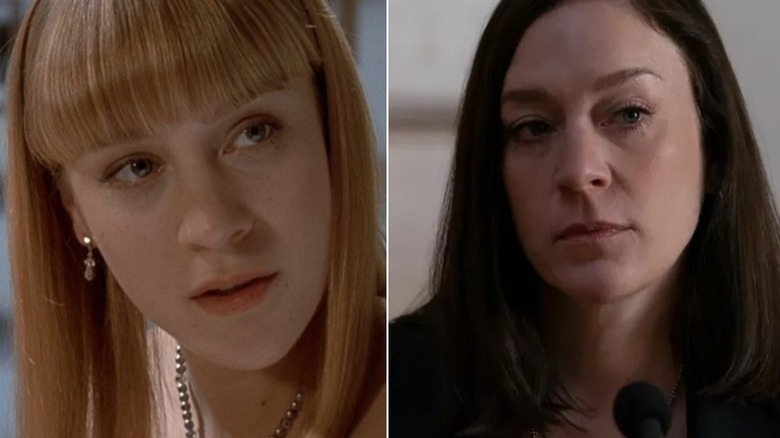 Lionsgate Films / Hulu
For a while, Chloe Sevigny was Hollywood's next great indie "it" girl. She exploded onto the screen as a streetwise partier in Larry Clark's "Kids" and Whit Stillman's "The Last Days of Disco." Then in 2000, she played a Manhattan wallflower impressed by Bateman's success and supposed limitless access in "American Psycho." That wasn't the end of her indie stardom, however; Sevigny went on to star in the infamous Vincent Gallo movie "The Brown Bunny."
Sevigny found even more mainstream success in several TV series. She starred in the HBO series "Big Love" and later "American Horror Story." More recently she acted in "Bloodline," "Russian Doll," and "The Girl from Plainville." Although she frequently works in television, she hasn't abandoned her love of independent film, recently starring in "Lizzie" with Kristen Stewart. Throughout her career, Sevigny has shown off her wit and talent so often that her naive Jean seems like quite a phenomenal outlier in her filmography.
Reese Witherspoon - Evelyn Williams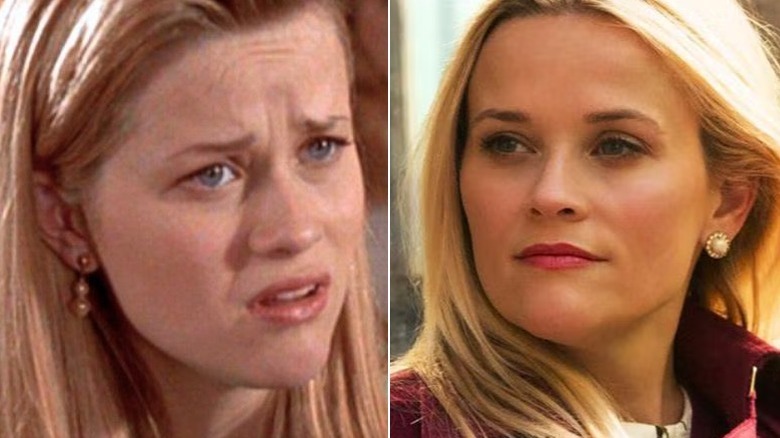 Lionsgate Films / HBO
Even a homicidal maniac needs a steady girlfriend, and Evelyn Williams is Patrick Bateman's. Reese Witherspoon plays her perfectly. Happy being the arm candy in a 1980s Wall Street power couple, she's so wrapped up in herself and her dreams of a perfect wedding that she completely misses the fact that her boyfriend is a serial killer.
Witherspoon has kept busy: She followed "American Psycho" up with the starring role of Elle Woods in "Legally Blonde" and hasn't looked back. Well, maybe she's looked back a little, as evidenced by "Legally Blonde 3" coming out in 2023. Since "American Psycho," she's appeared in movies ranging from rom-coms ("Sweet Home Alabama" and "Just Like Heaven") to her Oscar-winning turn in "Walk the Line." In 2014, she produced both "Wild" (for which she got another Oscar nod) and "Gone Girl." Not wanting to be restricted to just film, she has also produced and starred in series like "Big Little Lies" and "The Morning Show." It doesn't seem like she's slowing down anytime soon!
Samantha Mathis - Courtney Rawlinson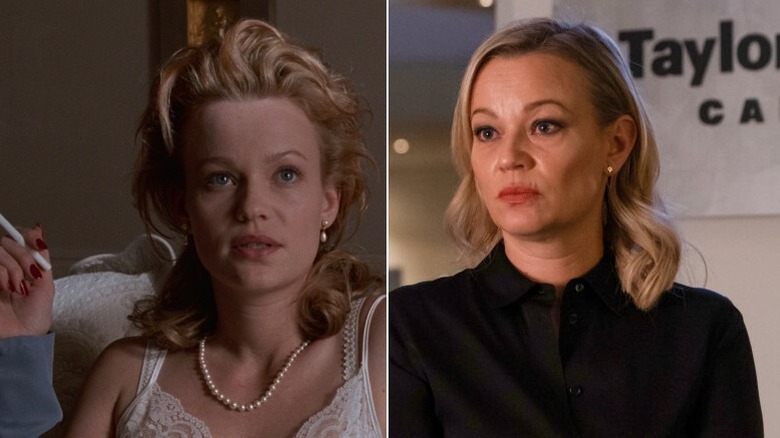 Lionsgate Films / Showtime
Courtney Rawlinson, in many ways, is in "American Psycho" to showcase Bateman's pettiness. He's having an affair with Courtney, played by Samantha Mathis, behind the backs of both his girlfriend and the co-worker he likes least: Luis Carruthers, who's engaged to Courtney. While things don't work out too well for Courtney in "American Psycho," in real life Mathis went on to have a successful career in both film and television.
Samantha Mathis has had cameos on shows like "Law and Order," "The Good Wife," "Curb Your Enthusiasm," and "Law and Order: SVU." Mathis has also had some longer runs on series like "The Strain" and, more recently, "Billions." While she seems to have worked steadily in TV ever since "American Psycho," Mathis does have a few films in the pipeline. "The Georgetown Project" and "Untitled Pet Sematary Project" both speak to Mathis' possible return to horror film magic.
Matt Ross - Luis Carruthers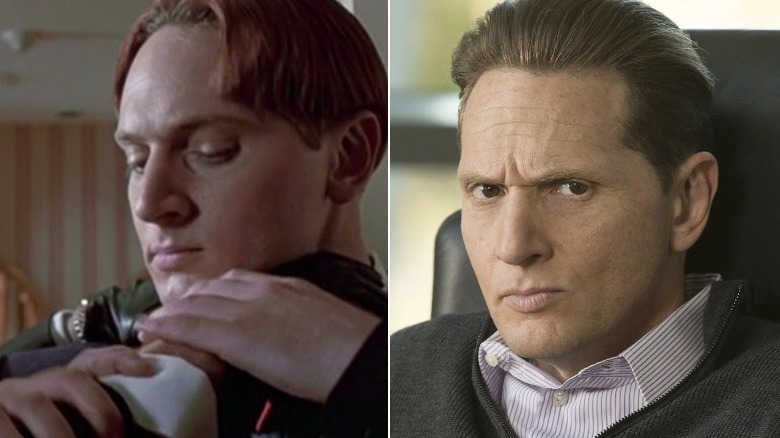 Lionsgate Films / HBO
Patrick Bateman hates Matt Ross's character Luis Carruthers, in part because Carruthers seems to be the sensitive one at the office. Whereas Patrick pays lip service to emotional depth, it's all just an act to him — Luis, on the other hand, seems largely genuine, something that irritates Patrick to no end. Even worse, when Patrick tries to strangle him, Luis turns around and kisses his hand, opening up for some sexual play Patrick did not expect. Patrick Bateman quickly leaves, his victim thinking he's just seducing him. While perhaps Bale and Ross had some chemistry in "American Psycho," it's actually his co-star Chloe Sevigny who Ross has crossed paths with most often professionally.
The two acted together in "Last Days of Disco," but more recently, they've shared the small screen together. They both had major recurring roles in "Big Love," and they also both appeared on "American Horror Story." In recent years, Ross left the heavier fare in favor of "Silicon Valley," one of the few actors to be credited in every episode. Good to see Luis making the move from playing one of the rich Wall Street execs of the '80s to playing one of the rich tech bros of today.
Jared Leto - Paul Allen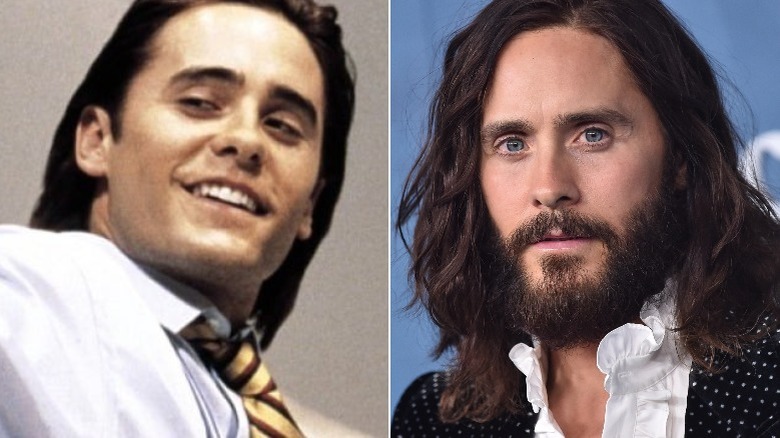 DFree/Shutterstock & Lionsgate Films / Columbia Pictures
Jared Leto's Paul Allen is kind of a classic Jared Leto character: good-looking, talented, and enigmatic. He's Patrick's biggest nemesis, the man he's most jealous of (he can't even talk about Allen's swanky new business cards without seeing red), and for that reason, Allen is his final victim. While Patrick may have killed Paul, the man who played Paul Allen has gone on to greatness.
From "Alexander" to "Suicide Squad," he plays action characters who steal the screen (and from fellow A-List stars, at that). He won an Oscar in 2014 for "Dallas Buyer's Club" and captained his own superhero movie in "Morbius." Leto's CV has veered from sci-fi to superhero, from serious drama to an upcoming movie based on a Disney ride. If nothing else, Leto seems to be having a ton of fun with his film choices. If Bale himself hadn't gone on to such an illustrious career, perhaps his off-screen envy could rival Patrick's onscreen jealousy of Paul.
Willem Dafoe - Donald Kimball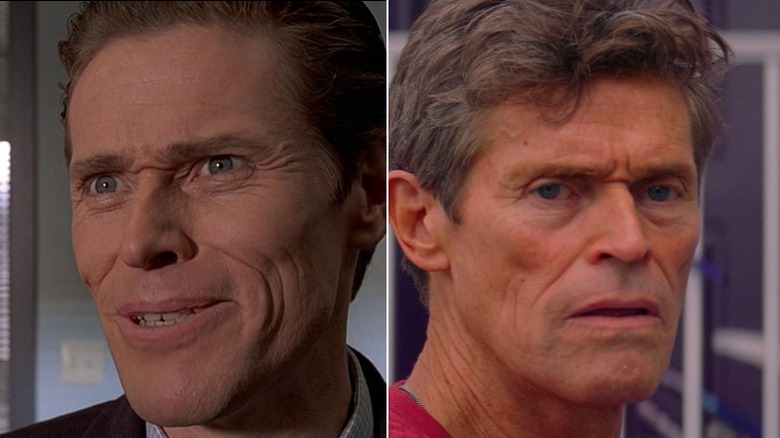 Lionsgate Films / A24
Willem Dafoe's Donald Kimball is one of the few characters who actually pay enough attention to suspect there's something seriously wrong with Patrick Bateman. Patrick's false veneer may hide his psychopathic tendencies from his colleagues because they've all accepted a certain level of fakeness in their lives, but Kimball doesn't seem to be fooled. By the time Dafoe worked on this film, he'd been acting professionally for 20 years, including starring in 1999's cult hit "The Boondock Saints." After "American Psycho," though, his career seems to have exploded.
Of course, many audiences probably know him as Norman Osborn aka the Green Goblin in the "Spider-Man" films. Comedy fans might recognize him from "The Life Aquatic with Steve Zissou," or from nearly any subsequent Wes Anderson film. Action fans might recognize him from "John Wick." Drama fans might've had their hearts broken by his turn in "The Florida Project." And with eight films in post-production as of late 2022, it's obvious that Dafoe will be around, jumping seamlessly from genre to genre for years to come.
Cara Seymour - Christie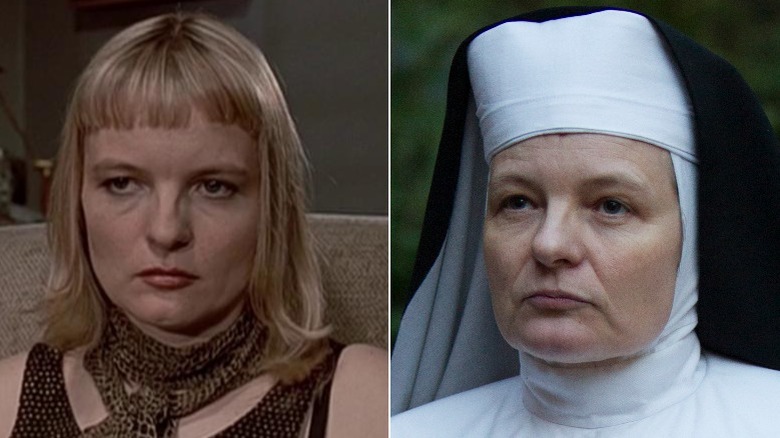 Lionsgate Films / Cinemax
In this film, Christie is the prostitute chased around by a naked chainsaw-wielding man, and perhaps that scene struck a chord with actress Cara Seymour. Ever since "American Psycho," her projects ever since have been mostly hard-hitting dramas about disenfranchised people.
She plays the legendary Hell-cat Maggie in "Gangs of New York" (about immigration and the birth of a city). She's in "The Notorious Bettie Page," about the real life of the maligned pinup girl, and notches a credit in "Hotel Rwanda" (about African genocide). Her most recognizable credit, though, may be her turn as a nun who performs abortions in the early 20th century around a "cutting edge" NYC hospital in "The Knick." This is given extra irony because her depiction of both the holy woman and "the whore" are striking depictions of how women are abused. In one of her most recent film credits, "Radium Girls," Seymour portrays one of the female factory workers who protested for safer work conditions after they fell ill from radium exposure.
While Seymour's filmography might not be as long as some of her co-stars', it seems to be centered on one focus: coming hard with it.
Guinevere Turner - Elizabeth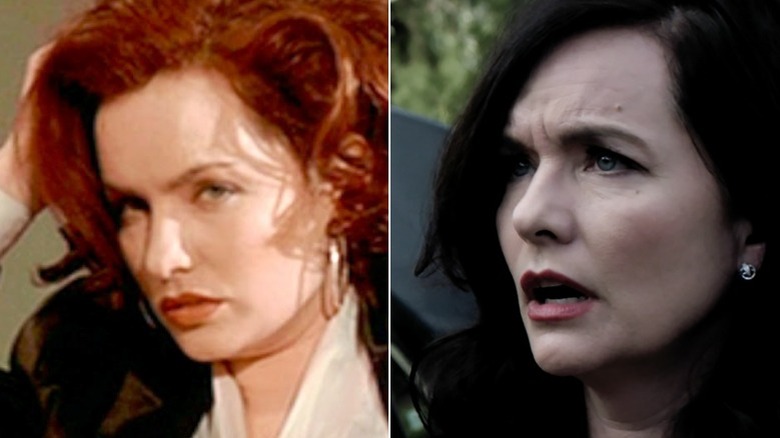 Lionsgate Films / Film McQueen
The other woman in the scene with Christie is Guinevere Turner, who Patrick tries to get to engage in a lesbian experience with the prostitute before killing them. Ironically Elizabeth shuts it down as a laughable proposition since she's played by Guinevere Turner, who in real life is a lesbian. Even more, Turner's filmography ever since seems to be directed at celebrating and casting a spotlight on women's and LGBTQ issues.
Guinevere actually wrote and produced "The Notorious Bettie Page" but some of her highest-profile acting work since "American Psycho" is her arc on "The L Word," about a group of lesbian women navigating relationships together. While Showtime's "The L Word" may be one of her most prominent post-"America Psycho" roles, the series she's acted in the most are "Different for Girls" and "Crazy B*****s." Both of those are also centered around gay and lesbian characters and issues. Though of course one of the more unique titles she starred is 2013's all-female romcom "Who's Afraid of Vagina Wolf."
Maybe Christie just wasn't her type?
Stephen Bogaert - Harold Carnes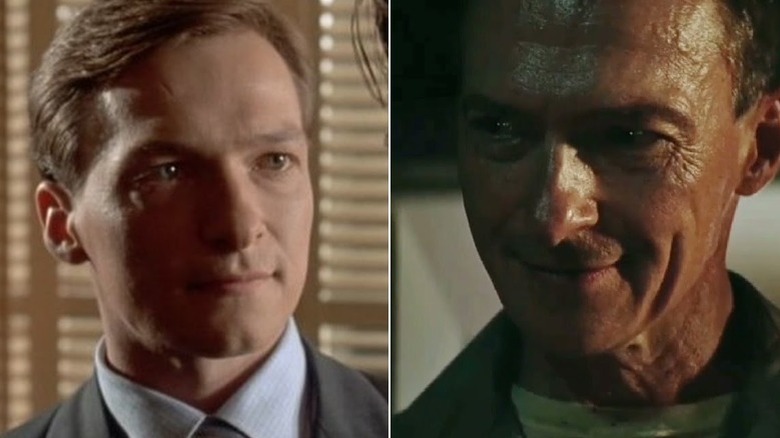 Lionsgate Films / New Line Films
Sure, perhaps you don't recognize the name Stephen Bogaert, nor can you place Harold Carnes. But you'll definitely recognize both of them. The fictional character Carnes has a pivotal role in the film: Patrick's attorney, to whom he confesses for all the murders including his murder of Allen. Carnes replies telling Patrick he just had lunch with Allen, confusing Patrick Bateman even more. Bogaert, the unforgettable character actor, slips into and out of films just as smoothly. One could say he leaves the kind of impact that makes all the difference, even if you don't necessarily remember his name.
Most recently Bogaert could be found playing Beverly Marsh's abusive father in the "It" movies. He often plays alpha males (or men trying to live up to their "alpha-ness"). Examples of the former are his roles as hardass military men in "X-Men: Apocalypse" and "Moonfall." Examples of the latter are his jealous antagonist in "The Umbrella Academy," the equipment manager in "Playmakers," and of course Mr. Marsh. Sure, he isn't the lead but his characters are the kind that stick with an audience long after the film is over. Once you actually watch him, Bogaert is tough to forget.
Reg E. Cathie - Homeless Man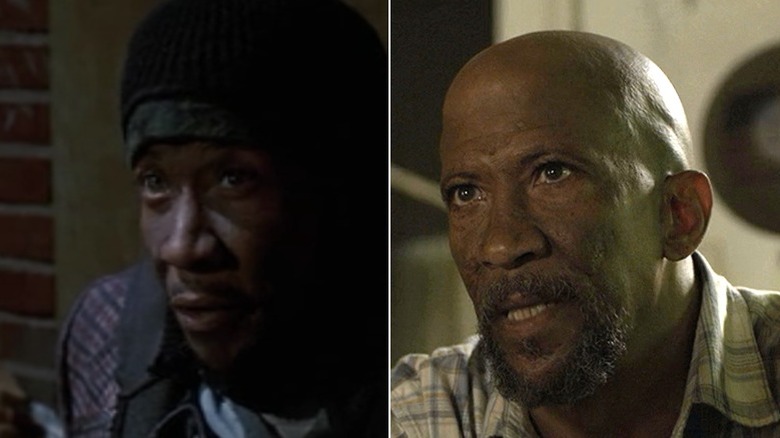 Lionsgate Films / Netflix
One of the few actual witnesses of Patrick Bateman's depravity is the Homeless Man played by Reg E. Cathie. He's also arguably the victim one can feel the most sympathy for given the fact that he just happened to be nearby and vulnerable when Patrick went into one of his homicidal episodes. While it might be a kind of tough scene to watch in a movie of tough scenes, Reg E. will likely be forever known by fans as Dirty Dee in 2001's underground comedy smash "Pootie Tang."
More recently, though, Cathie plays a barbeque man and Frank Underwood's only friend from the other side of the tracks in "House of Cards." Freddy is played to perfection by the man. His most recent role was in 2018's "Luke Cage" because unfortunately Reg E. Cathie died that year. His 35-year career as an actor, though, is full of unforgettable characters who swerve from funny to sad and often somewhere in between.
Christian Bale - Patrick Bateman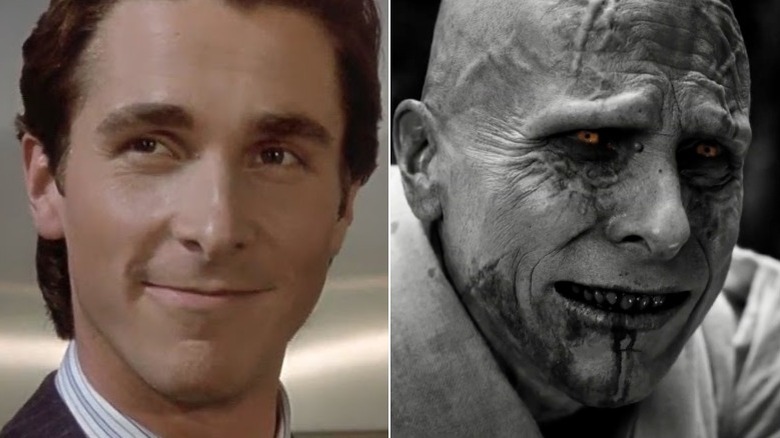 Lionsgate Films / Buena Vista
It doesn't always work out that the lead in a decades-old film is still at the top of the Hollywood pyramid but luckily for Bale (and thanks to his prodigious talent) his career has only grown since "American Psycho." He is lucky he wasn't typecast as a soulless corporate murderer because then the world never would have gotten his Batman in Christopher Nolan's gritty trilogy. Nor his bedraggled cowboy hero Dan in "3:10 to Yuma."
He won an Oscar for his tour de force performance in 2011's "The Fighter," and has been nominated for his performances in "American Hustle," "The Big Short," and "Vice." Bale's talent is such that he continues to land amazing roles despite his infamously abusive rant captured on the set of "Terminator Salvation." There's Ford's legendary driver in "Ford vs. Ferrari." Of course most recently he sent screens quaking with his Gorr in "Thor: Love and Thunder." He even played Moses, growled out the words of Bagheera in Disney's live-action "The Jungle Book," and voice the English version of Howl in the dubbed version of "Howl's Moving Castle."
He's so prolific that ranking his huge catalog is a challenging endeavor. One thing is obvious, though: the man loves his craft.