Whatever Happened To Andrew Keegan From 10 Things I Hate About You?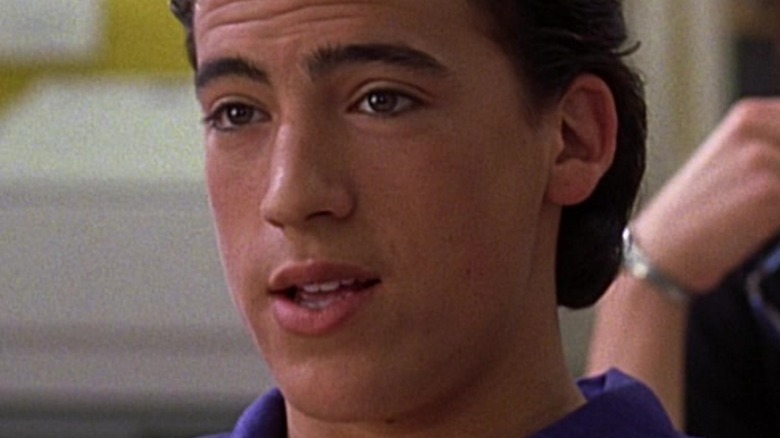 Buena Vista Pictures
Premiering in 1999, in a year dominated by teen comedies and dramas at the theater, "10 Things I Hate About You" managed to stand out thanks to its Shakespearean story. As a contemporary retelling of "The Taming of the Shrew," director Gil Junger's witty and romantic film earned critical praise, with The Hollywood Reporter's David Hunter calling it both "spirited and shameless" thanks to its inclusion of the late '90s, bawdy teen humor. The movie contained a wide array of young actors that would go on to become immensely popular in their field, including the late Heath Ledger (Patrick Verona), Julia Stiles (Kat Stratford), and Joseph Gordon-Levitt (Cameron James).
But the film also featured another familiar face to 1990s teen movie and TV fans, Andrew Keegan, who played the feature's primary antagonist Joey Donner. Keegan was a known name in teenage fandom circles during the Clinton Era, but as the 2000s dawned, the actor started to appear less and less in the spotlight. But despite his relative anonymity in the last 15 years or so, he still acts, and in fact, he never actually quit performing. Here is what Andrew Keegan has been up to since "10 Things I Hate About You."
Andrew Keegan has worked steadily in TV and film since 10 Things I Hate About You
After 1999's "10 Things I Hate About You," Andrew Keegan has continued to work in film and television. In 2000, the actor played a supporting role in writer-director Greg Berlanti's LGBTQ rom-com "The Broken Hearts Club: A Romantic Comedy." He starred as softball player Kevin, who forms a relationship with Cole (Dean Cain) despite harboring feelings for one of his partner's friends Dennis (Timothy Olyphant). The following year he was reunited with Julia Stiles in yet another movie inspired by the work of William Shakespeare, director Tim Blake Nelson's "O."
According to IMDb, he also continued a recurring role in the spiritual drama "7th Heaven" as Wilson West; the sometimes love interest of Mary Camden (Jessica Biel). His last appearance on The WB drama was in 2002. The actor has also been featured in numerous guest-starring roles in TV shows such as "House," "CSI: NY," and more recently, Netflix's teen drama "Trinkets." In a 2020 interview with E! News to promote "Trinkets," Keegan was asked if he would continue acting and replied, "That's the plan ... getting back to work after this COVID thing. It is going to be an interesting experience. I'm very much looking forward to it."