Chicago Fire Fans Are Not Holding Back On Evil Emma's Return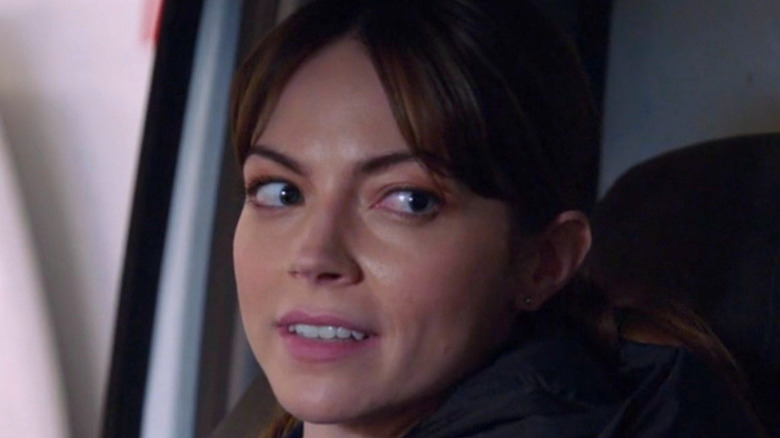 NBC
As the title indicates, "Chicago Fire" is a show about people who stop the Windy City from burning down. However, the rescue personnel, firefighters, and paramedics at Firehouse 51 might not be ready for the heat that Emma Jacobs (Caitlin Carver) has in store for them following the Season 11 mid-season finale.
In the 10th season, Jacobs made life hell for some of her former colleagues in the Chicago Fire Department, including Violet Mikami (Hanako Greensmith) and Evan Hawkins (Jimmy Nicholas). She tried blackmailing Evan over his relationship with Violet, almost costing both of them their careers in the process. On top of that, she left Violet inside a burning building to deliver a baby.
Despite her unprofessional behavior in the past, Emma now works for internal affairs — and she doesn't have many friends at Firehouse 51. Does that mean trouble lies ahead, or has she changed her tune? Regardless of her future plans, fans of "Chicago Fire" aren't too thrilled about Emma's return to the show.
Why has Emma Jacobs returned to Chicago Fire?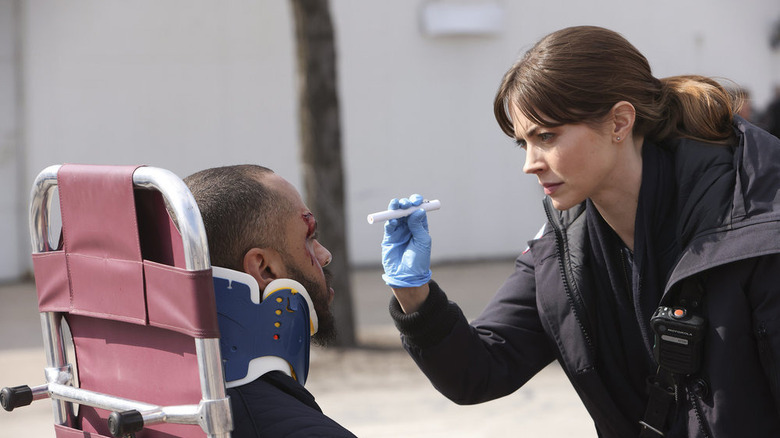 Adrian S. Burrows Sr./NBC
Emma Jacobs was fired for her actions in Season 10, but the latest episode clarifies that some people can fail upwards in the "Chicago Fire" universe. The actions that cost her job in Season 10 should have been enough to have her barred from the profession for life, and this illogical storytelling hasn't gone unnoticed by fans. "What is Emma doing back at the firehouse?!," @Ilse_TVShows tweeted. "They let her stay on in the department as someone from internal affairs?" This sentiment was echoed by @boopgirl78, who wondered why Jacobs managed to "land a job with IAD" at all.
Elsewhere, some fans just weren't happy about seeing an unpopular character return to the series. "I mean can't they just create a new nemesis? Bringing back Emma? Yuck," @acsrc_ wrote. This point was supported by @minnieswirl, who said, "Emma wasn't even a remotely likely character... why bring her back?"
Naturally, some "Chicago Fire" viewers are still mad at Emma for trying to destroy one of the show's most popular couples. For example, @it_carley413 wants to "haunt Emma for the rest of her life" as "payback for what she did to [Violet and Hawkins]." 
Expect Emma to wreck more lives on Chicago Fire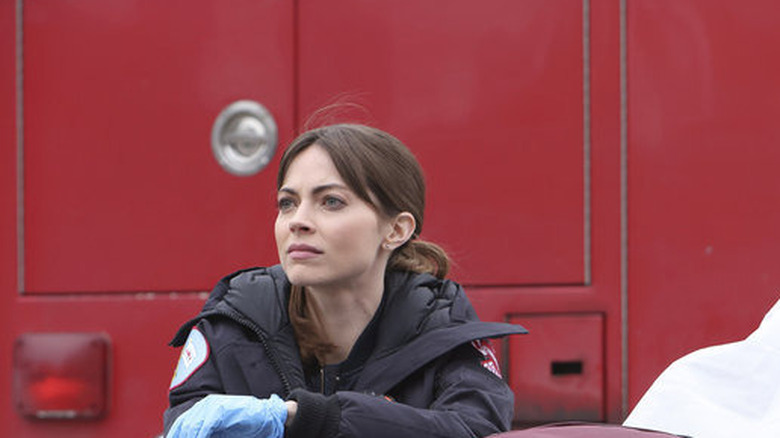 Adrian S. Burrows Sr./NBC
The reappearance of Emma Jacobs suggests that she has some unfinished business with her old colleagues. Furthermore, it seems that the show's creators want her stick around for a while.
In an interview with TV Line, showrunners Derek Haas and Andrea Newman explained their reasons for bringing the villain back into the fold. According to Haas, the pair fell in love with the character and knew that they had to bring her back at some point, despite not having any concrete plans following her exit. In the end, they decided that the mid-season finale was the perfect episode to reintroduce her. "[W]inter finales are always fun for these kinds of [obstacles], and we wanted it to be a big surprise, but not be the end of the episode, because sometimes you want people just going, 'Oh, God, what else is coming?'"
Newman, meanwhile, revealed why the creators are so fond of such an unlikable character. "We love our villains, but the character is so fun because she just does not see herself as a villain at all." And now that Emma has such a high-flying job, she has the power to cause some major headaches.