Matthew Perry Asked Friends' Creators If He Could Have The Final Line Of The Show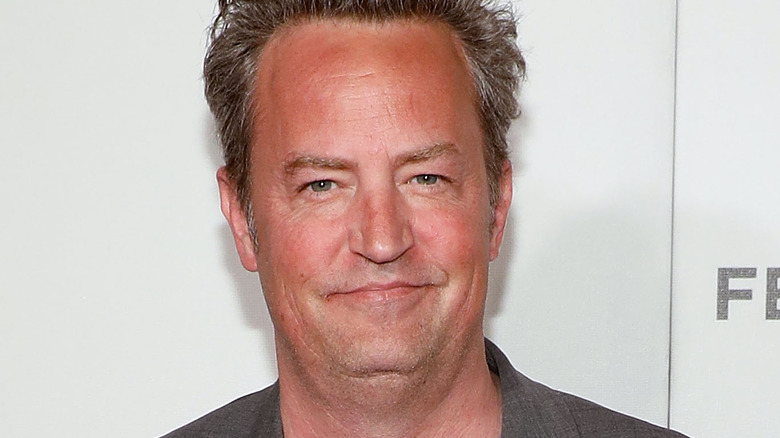 Taylor Hill/Getty Images
I'll be there for you, 'cause you're there for me too. "Friends" has captivated generations since the first episode aired in 1994 and as fans continue to watch reruns years on. It's relatable; how do you get through the tough stuff in life without your best friends at your side?
Matthew Perry, best known as Chandler Bing, the loveable and joke-cracking friend of the bunch, released a memoir in November 2022 – "Friends, Lovers, and the Big Terrible Thing" — which details his struggles with addiction and relapses, as well as his time on the iconic NBC sitcom. While audiences were previously aware of some of the issues in Perry's personal life, the memoir delves deeper and describes more of what he was going through that he was able to hide through Chandler's snarky laughs and punchlines.
While a lot of the memoir is saddening to reflect on some of the darker spots of Perry's life and career, it also pulls at your heartstrings and makes you feel good; especially knowing that co-star Jennifer Aniston was a helpful fixture for Perry throughout the series, (via Variety). One fact Perry shared centered around the show's finale; he asked co-creator Marta Kauffman to have the final line.
Sure. Where?
On May 6th, 2004, "Friends" aired its final episode ("The Last One"). Everyone in the group is transitioning into a new period of their life, meaning it's time to say goodbye — Monica (Courteney Cox) and Chandler are moving to the suburbs to raise their newly-adopted twin babies, Phoebe (Lisa Kudrow) is married to Mike (Paul Rudd), Ross (David Schwimmer) and Rachel (Jennifer Aniston), after endless anticipation, finally get back together for good, and Joey (Matt LeBlanc) is supportive of his friends, as always.  
It's a sad moment watching the purple-walled apartment completely empty, with just the friends standing in the middle of what used to be their living room, full of funny and sometimes sad memories. Cradling their babies, Monica and Chandler put their keys on the counter, and then the rest of the group dig out their own set. Placing them on the counter one by one, it almost seems that they're going to part ways right then and there until Rachel throws an offer out: "Should we get some coffee?" she asks.
"Sure. Where?" Chandler says, and then the group exits the apartment together. An obvious joke, because where else would they go other than Central Perk? The funny and touching last line helped lighten up the sadness of the show's ending; though audiences wouldn't be able to follow along anymore, Chandler's last line showed that while some things were changing with the friends, they weren't really.
So, why did Perry get the line?
In his memoir (via Insider), Perry gave a short and sweet tale of how he got the last line of "Friends." Before filming the final episode in January 2004, he told co-creator Marta Kaufman: "'Nobody else will care about this except me, so may I please have the last line?' That's why as we all troop out of the apartment, and Rachel has suggested one last coffee, I got to bring the curtain down on 'Friends.'"
Perry remarked further on the atmosphere after filming the show's final scene in the apartment. Though he watched other co-stars like LeBlanc and Aniston cry, he said he "felt nothing." However, he did share that he took a moment to reflect on the show's 10-year run while walking around the Warner Bros. studio lot with his then-girlfriend.
"'Friends' had been a safe place," he wrote. "A touchstone of calm for me; it had given me a reason to get out of bed every morning."  One can't help but tear up at that sentiment. While we love watching "Friends" on our screens with reruns or HBO's reunion special, we will never come close to knowing how special it was to be a part of it. Thankfully, Perry has this experience to remember.