Fans Told Looper Which House Of The Dragon Couple They Really Can't Stand - Exclusive Survey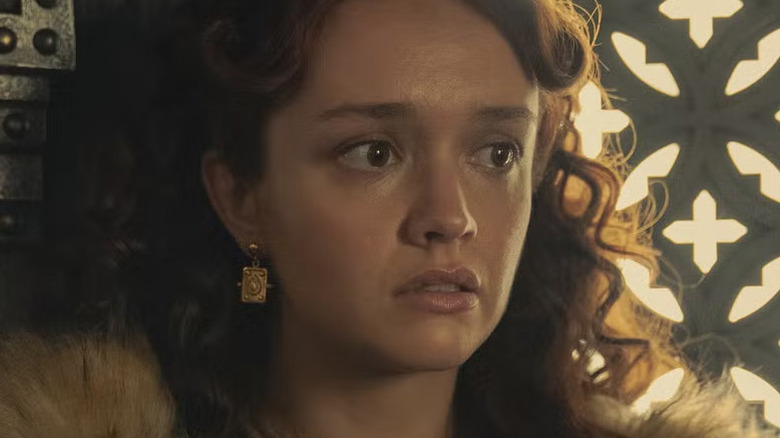 HBO
HBO's "House of the Dragon" might as well exist as a study on complicated relationships. This could be due to the nature of Westeros royalty since love is rarely a priority in this fantastic and brutal land. Even when one does choose love over duty, tragedy usually follows — just look at poor Rob Stark (Richard Madden) and Jon Snow (Kit Harington) in the original "Game of Thrones." On the flip side of that, marriages arranged purely on political means can also be erratic and unstable. However, some do result in a happy union.
Just think of Ned (Sean Bean) and Catelyn Stark (Michelle Fairley) or Myrcella Baratheon (Nell Tiger Free) and Trystane Martell (Toby Sebastian). These couplings were ordained by some external force and brought happiness to those involved. Had they not been in Westeros or connected to powerful families, they may have lived full and happy lives. Still, there are plenty of examples of marriages that cultivate sorrow and pain, and even weddings can be a deadly affair in Westeros. With both the Red and Purple Weddings in "Game of Thrones," and the savage beating delivered to Ser Joffrey Lonmouth before the wedding of young Rhaenyra (Milly Alcock) and young Laenor Velaryon (Theo Nate), relationships are quite precarious positions to be in on both hit shows. As such, Looper decided to ask fans which couple in "House of the Dragon" is the most painful to watch, and there was a resounding answer.
Fans can't stand Viserys and Alicent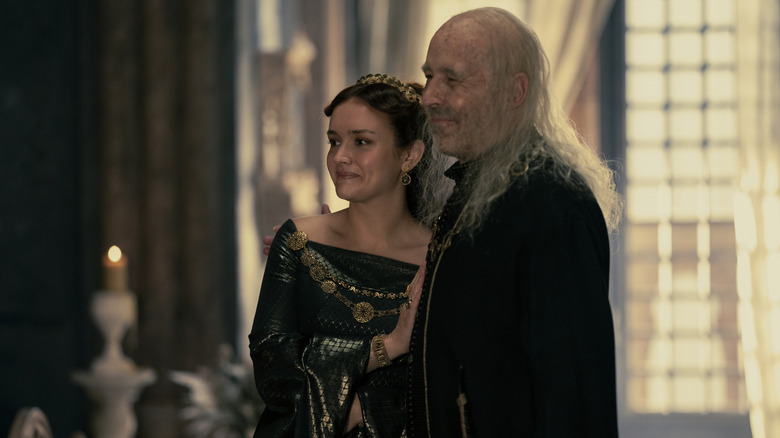 HBO
Polling a total of 607 people, the exclusive "House of the Dragon" survey asked fans to nominate the couple that they believe is the absolute worst. The options were between Daemon (Matt Smith) and Mysaria (Sonoya Mizuno), young Rhaenyra and Criston Cole (Fabian Frankel), Viserys (Paddy Considine) and Alicent (Olivia Cooke), Viserys and Aemma (Sian Brooke), and Lady Rhea Royce (Rachel Redford) and Daemon. After tallying the votes, one couple earned most of the fans' ire with 29.98% of the total, Viserys, and Alicent. The runners-up were Rhaenyra and Criston Cole with 24.38%, the short-lived Rhea and Daemon with 16.31%, and then tied in last place with 14.66% of the vote Viserys and his original wife of Aemma, and Daemon and his mistress Mysaria.
Considering the nature of "House of the Dragon" and its messy interpersonal relationships, it makes sense why most of our survey responses crowned Viserys and Alicent as the couple that they can't stand watching. This could be because Viserys appears warm and friendly most of the time, even when his body is rapidly decaying. At the same time, Alicent is thrust into the marriage through the influence of her father and Hand of the King Otto Hightower (Rhys Ifans). The coupling between Alicent and Viserys also threatens Rhaenyra's rightful succession. It sets the stage for the vast conflict that will tear Westeros apart and leave the Targaryens greatly diminished. Or perhaps fans were just grossed out at Viserys marrying Rhaenyra's childhood friend. Either way, fans have made their feelings known.