Judd Apatow Says A Freaks And Geeks Revival Is Unlikely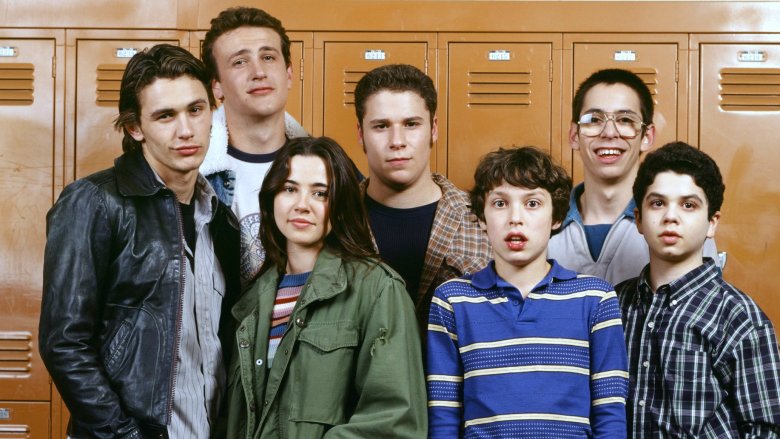 Paramount
Don't hold your breath for a 20-year reunion at William McKinley High School.
Although Hollywood is currently obsessed with reboots, Judd Apatow told UPROXX there's very little chance that his cult classic series Freaks and Geeks will be revived. The show, which is set in the '80s, centers on gifted high school student Lindsay Weir (Linda Cardellini) who befriends a gang of slacker "freaks" while her younger brother Sam (John Francis Daley) and his "geek" friends navigate adolescence.
"I only think we would ever be interested in revisiting it because we had an idea that we thought was as strong as the original idea," he said. "I don't think there is a number that would make us do it as a cash grab. But if [creator] Paul Feig woke up in the middle of night and said 'I've figured it out,' then something like that becomes real. I don't believe that has ever been his intention."
Apatow, who was an executive producer on the show that launched the careers of James Franco, Seth Rogen, Jason Segel, Martin Starr, and many more, said he's pretty happy with the way the series ended its one and only season in 2000. In the finale, cool guy Daniel Desario (Franco) is forced to join the AV Club and Lindsay decides to skip an academic summit over the summer and instead follow the Grateful Dead on tour. 
"We always felt like we ended on an oddly perfect, magical note," Apatow said. "And most of the ideas that Paul wanted to express, he got to express. You know, we were compressed in Freaks and Geeks because we thought we were gonna get canceled at any moment. So we used most of our great ideas. The next phase of the show would've been all of the geeks suddenly being six feet tall and how that would change their relationships. And so it probably would've ruined the show anyways."
Freaks and Geeks ran for 18 episodes, but three of them were unaired by NBC and not seen until Fox Family ran the show in 2000. The series was nominated for three Emmys and took home one for best casting.