Cobra Kai Was Almost Made Into A Movie Instead Of A Series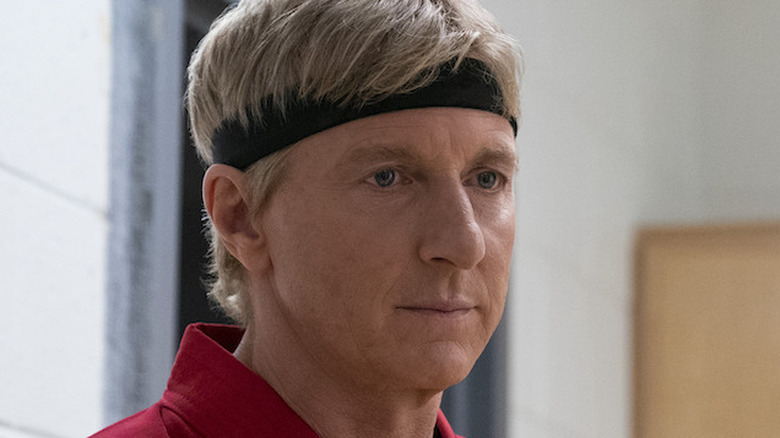 Curtis Bonds Baker/Netflix
When it comes to franchises getting a revival jolt, none have come back kicking harder than the wonderfully over-the-top return of "Cobra Kai." The risky move of reuniting Daniel LaRusso (Ralph Macchio) with Johnny Lawrence (William Zabka) initially aired on YouTube before being snatched up by Netflix, and it's become one of the streaming service's most popular shows ever since. Going from strength to board-breaking strength every season, incredibly, there was a time when the idea of catching up with the former MVP of Cobra Kai from "The Karate Kid" seemed bonkers to everyone, including its creators.
It's understandable to be in two minds about it, of course. The surge of '80s and '90s movies that saw youngsters learn how to hold their own ("Sidekicks," "3 Ninjas") had faded. Much like the show's initial leading man, time had moved on, and Johnny Lawrence, stuck in the past, was at risk of staying there. All it took was another not-so-loved attempt to rebuild "The Karate Kid" franchise before the minds behind "Cobra Kai" tagged themselves into claiming it themselves.
Cobra Kai had been in the works for almost two decades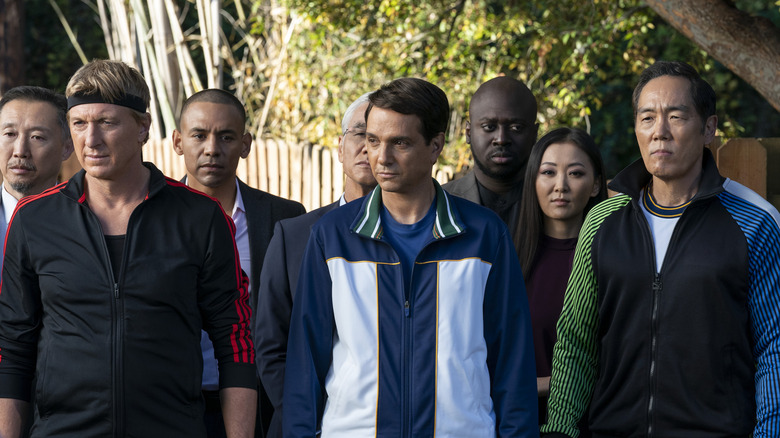 Netflix
In an interview with BuzzFeed, the creators of "Cobra Kai," Josh Heald, Jon Hurwitz, and Hayden Schlossberg, revealed that they'd been sitting on what would become a big binge-able success for years. The only difference was that they had their eyes on the big screen instead of the small one. "This was the early 2000s," explained Hurwitz. "We were talking about doing a movie, which would be called 'Cobra Kai,' and Johnny Lawrence would be the center character, and you get to see kind of what happens to a bully in their adult life. But it just never felt realistic to make."
Clearly, the brains behind the surprise hit didn't have a stoic sensei to put them on the right path and believe in themselves. Instead, they had to settle for seeing Jackie Chan teach Jaden Smith how to handle a fight in the Will Smith-produced reboot of "The Karate Kid" from 2010. "So fast-forward a bunch of years later, you know, 'The Karate Kid' remake came and went. And then here we were," said Hurwitz. 
The rest, as they say, is history, rife with school fights, Mohawks, and Eagle Fangs, and the world can't get enough of it. So much so that plans are in place to take "The Karate Kid" back to the big screen just how they considered it initially — the show's creators, however, just won't be a part of it.
A new Karate Kid film is in the works, probably thanks to Cobra Kai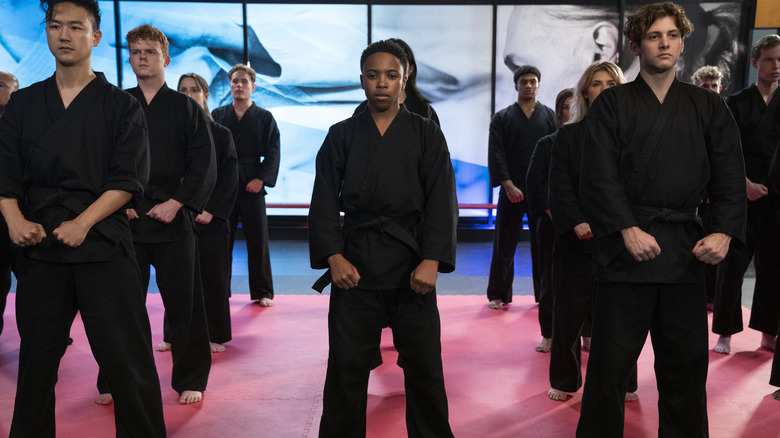 Netflix
In September 2022, Sony announced they were putting the work in to make a brand new film that will, according to the studio (via Variety), mark a return to the original "Karate Kid" franchise. Details on what the return will entail stop there, as with info on who the cast list will be comprised of. As for the "Cobra Kai" hive mind, they have absolutely no involvement in the project, either. Thankfully, their only contribution was by one-third of its creative trifecta, who had nothing but best wishes for the project and refrained from sweeping any legs.
Speaking to fans on Twitter, Jon Hurwitz said, "The guys and I would love to make 'Karate Kid' and 'Cobra Kai' movies and hope to someday. But this one isn't from us or focused on the Cobra Kai cast. Don't know much about it, but wish it well." Whatever comes, chances are the certainty is that it won't take the spotlight from a show that has taken a dated franchise in an unexpected but beloved direction that is verging on the karate-world-shattering scale. With that, "Cobra Kai" really is unbeatable.