American Pickers' Danielle Colby Had Some Serious Worries About Frank And Mike Being Out On The Road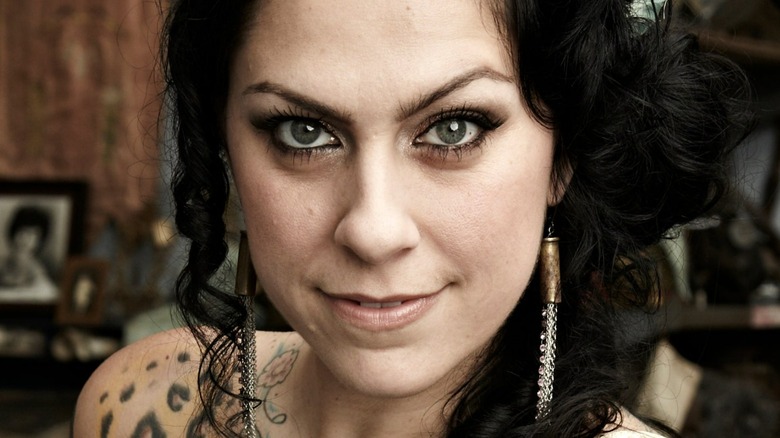 Zachary Maxwell Stertz/History
"American Pickers" has been a constant on History for over a decade, and there are two very good reasons for its longevity. First, folks around the world continue to watch it, and two, there's a lot of old and dilapidated yet fascinating and historically significant stuff out there. After all these years, the "Pickers" team is still able to scrounge up a bunch of trinkets, tools, and artifacts worthy of their television cameras as well as the Antique Archaeology store inventory. Of course, to acquire such remarkable pieces, they don't just twiddle their thumbs and wait around for them to pop up.
If the "American Pickers" crew wants to put together a pile of loot to show off to audiences at home and stock their shop, they have to go out and put it together themselves. This entails the program's hosts hitting the road to meet with private collectors, average folks with lots of stuff, and everyone in between with plans to sell off some of their wares. This pursuit of rusty gold has sent the expert pickers all over the continental United States — only skipping a small handful of states along the way. Suffice to say, the majority of their travels have been incredibly successful.
At the same time, the adventures of longtime "American Pickers" hosting duo Mike Wolfe and Frank Fritz didn't come without some stress. Fellow tenured host Daniel Colby had some worries about their long-distance trips, and here's why.
Colby worried Fritz and Wolfe would overwork themselves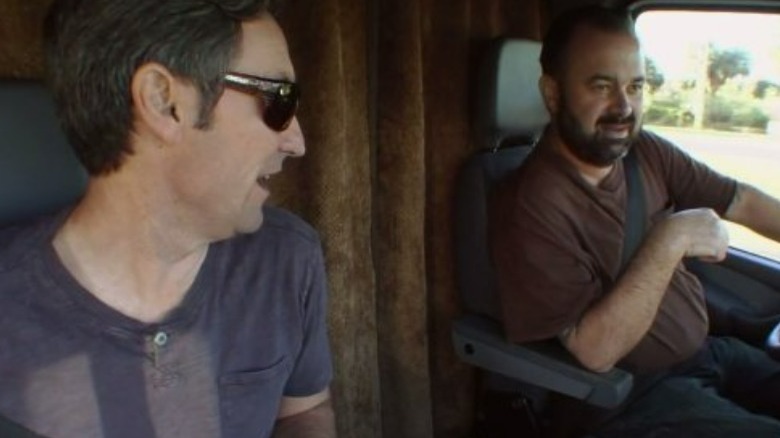 History
During a chat with FamousInterview.com, Danielle Colby shed some light on what it's like to be one of the individuals behind the incredible success of "American Pickers." She also talked a bit about what goes into making the show, including Mike Wolfe and Frank Fritz's long road trips to acquire new goodies. According to her, they would travel for around three weeks per month, take some brief time off, and get right back to it — a trend that worried her a bit. "They are so grateful to have this opportunity. They look past it all and just keep going. I worry about them just a little bit because they do work so hard. They're extremely driven men," she said.
Thankfully, for as much driving as Fritz and Wolfe did throughout their time working together on "American Pickers," they didn't seem to meet an open road they couldn't handle. With Fritz now gone from the series, Wolfe continues to embark on lengthy drives in hopes of finding unexpected treasures throughout the US. In fact, the ability to withstand long trips seems to be a family trait since his brother Robbie Wolfe now joins him for his long treks on the program. For further proof of this, Wolfe shared via an Instagram story that he even managed to get his mom in on the action via a restored 1934 Ford (via CinemaBlend).
While it may have made Danielle Colby worry for the health of Frank Fritz and Mike Wolfe, navigating the backroads of America is in the very DNA of "American Pickers." It stands to reason that won't change any time soon, so long as there are still antiques to unearth.