Star Wars: The Bad Batch Season 2 Trailer Has Fans Excited About Gungi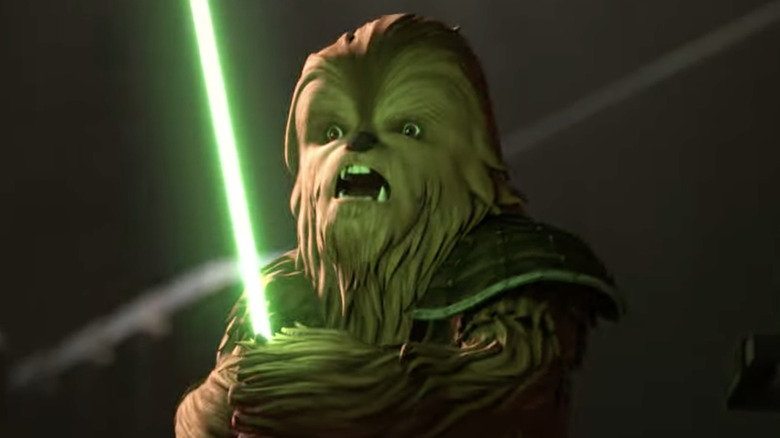 Disney+/YouTube
Disney and Lucasfilm shocked "Star Wars" fans today when they finally publicly released the trailer for Season 2 of "The Bad Batch." The animated series, which stars Dee Bradley Baker in an ever-growing roster of distinct and fascinating Clone Troopers, is a direct spin-off from the highly popular 2008 series, "Star Wars: The Clone Wars." In addition to carrying over several themes and storylines first introduced in the original show, "The Bad Batch" Season 2 will also be re-introducing a number of fan-favorite "Clone Wars" characters.
Arguably the most notable among them is Gungi, a five-foot-nothing Wookie Jedi, who first appeared in "The Clone Wars" Season 5, Episode 6, "The Gathering." Gungi is said to have been one of Master Yoda's top students before the fall of the Jedi Order. Until now, his post-Order 66 fate has remained unknown. However, since the trailer revealed him in all his shaggy glory, brandishing his uniquely designed lightsaber, fans can't contain their joy and relief. After several years of waiting, they finally know Gungi is okay — at least for now, that is.
Twitter is ablaze with the name Gungi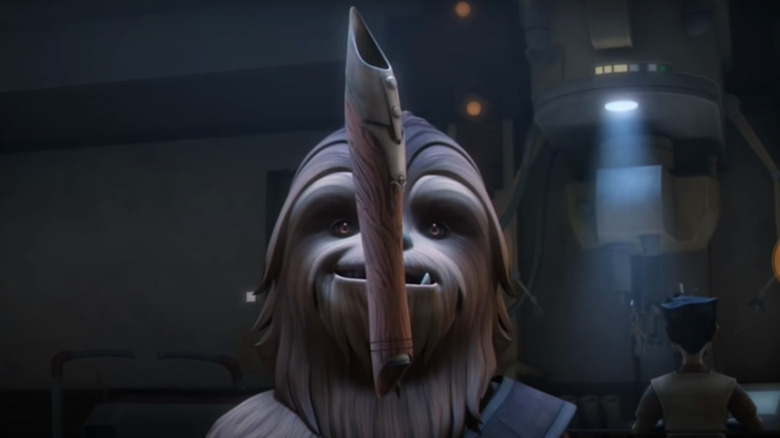 Cartoon Network/YouTube
"Beyond stoked to see Gungi again," wrote @DylynW on Twitter. Meanwhile, "The Witcher's" Matt D'Ambrosio (@drmattdambrosio) simply exclaimed "GUNGI." The character's appearance in the trailer is instantly triumphant and exciting, so much so that @Zett_Jukassa is already worried they'll use his status with fans against him. "They better not kill Gungi," they wrote. "[Not gonna lie] he's my reason for the season, and I'll be unconsolable if they plot point him." "Plot point" presumably means killing the character for the sake of quick and/or easy story-character development.
Gungi was one of many returning characters to be revealed during the jam-packed trailer. Captain Rex appears via hologram looking to enlist the services of the Bad Batch on a mission, while Commander Cody (Obi-Wan Kenobi's former right-hand clone) is heard spreading threatening propaganda for the Empire. Most fans celebrated their return right alongside that of the Wookie Jedi.
@TheEmeraldDawn was surprised and elated, writing, "ACTUALLY SCREAMING ON MY LUNCH BREAK! CODY! MORE REX! GUNGI!!!! GIVE IT TO MEEEE." They continued in the same tweet, "Waiting for the eventual addition of Hondo tho. It's gotta happen." In the "Clone Wars," Gungi and Hondo — an intergalactic outlaw — strike a brief, but unlikely friendship. 
To see if this theory comes to pass, fans will have to wait until January 4th when Season 2 of "Star Wars: The Bad Batch" begins streaming on Disney+.