Mindy Kaling Doesn't Think Today's Audiences Could Handle The Office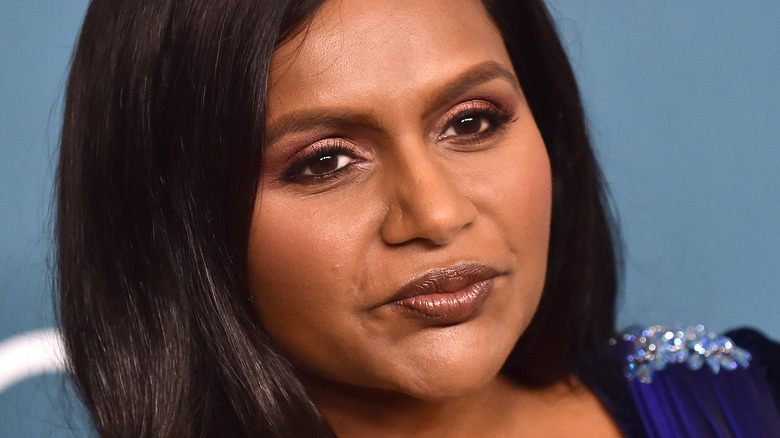 DFree/Shutterstock
In 2004, when Mindy Kaling was 24 years old, she was hired as a staff writer on an American adaptation of the BBC series "The Office." In the years since Kaling has been on an unstoppable television tear. In 2012, she created, produced, and starred in "The Mindy Project," followed by Netflix's "Never Have I Ever" in 2020 and HBO Max's "The Sex Lives of College Girls" in 2021. She also has the animated Scooby-Doo series "Velma" in the works.
Still, for a certain subset of comedy fans, Kaling will always be most closely associated with "The Office," both as a writer and performer (and later executive producer and director). She's earned her stripes for it. Kaling penned some of the show's most beloved episodes, including "The Injury" and "The Dundies," and earned six Primetime Emmy Award nominations (via IMDb).
"The Office" remains a staple of aughts-era comedy. For Kaling, sometimes it's difficult to translate to the present day.
Mindy Kaling thinks The Office couldn't be made today
In an appearance on "Good Morning America," Mindy Kaling asserted that "The Office" couldn't be made in today's climate. "That show is so inappropriate now," Kaling said. "I mean, the writers [and I] talk about how so much of that show we probably couldn't make now. Tastes have changed, and honestly, what offends people has changed so much now."
Indeed, many moments in "The Office" didn't age well and might be axed in a modern writer's room. In one episode, Michael dresses up in a racist caricature of an Asian man. In another that's since been scrubbed from streamers, a character is seen in blackface.
Later, Kaling predicted what would have happened to her character, Kelly Kapoor, in real life. "I think she probably would've quit Dunder Mifflin to become an influencer and then probably be canceled almost immediately," Kaling said. "Actually, most of the characters on that show would be canceled by now."
Even if "The Office" couldn't be made today, it still remains wildly popular. Per Variety, it was the most-streamed show of 2020, clocking in at more than 57 billion minutes. And there's still a market for workplace mockumentaries; just ask fans of "Abbott Elementary."