Booster Gold Movie Still In The Works, Says Greg Berlanti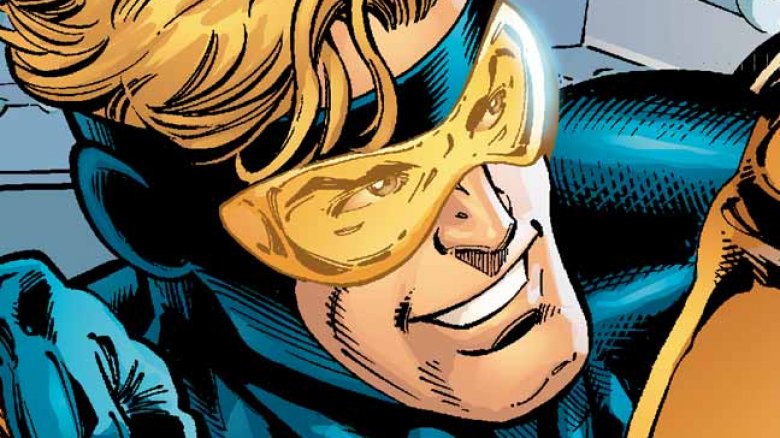 DC Comics
Booster Gold is still a go at Warner Bros., though it may need a boost to make it into theaters. 
Despite not hearing much about Booster Gold, which adapts the DC Comics character of the same name for the big screen, Arrowverse creative and all-around DC icon Greg Berlanti has revealed that the project is very much alive. 
"It's still in development with DC," Berlanti told TheWrap. "I wrote a draft. They're trying to figure out both the distance that we still have to travel and how we want to execute it."
Berlanti mentioned that he wrote the current script draft with a writer that he "liked very much." He didn't pony up a name or a hint at the scribe's identity, but the fact that X-Men: First Class and Thor writer Zack Stent was previously credited on the film could indicate he's the one who partnered up with Berlanti. 
Booster Gold, whose real name is Michael Jon Carter, was born to a poor family in a future Gotham City, grew up to attend Gotham University (only to be expelled after his father convinced him to lose his football matches for gambling purposes), and later worked at the Metropolis Space Museum, where he learns about the 20th century. Using stolen devices from the museum, Michael (whose nickname is Booster) travels back in time to carry out bets, stage rescue missions, and take home tons of cash after manipulating outcomes in his favor. 
He earned the name "Booster Gold" when he met former U.S. president Ronald Reagan and planned to introduce himself as "Goldstar." However, because he was nervous about the meeting, he mashed up his nickname "Booster" and his intended superhero moniker and blurted out "Booster ... Gold." Reagan ran with the name, and the rest was history.
Booster Gold is quite popular amongst readers, but his quirkiness and campy tone clashes against the darker and more serious disposition of the DC Films slate — and that's something Berlanti brought up in conversation. He noted that one of the blocks in the project's development is "how it's going to fit into [DC's] greater landscape." The conundrum is made all the more complex when remembering that everyday moviegoers might not recognize Booster Gold and perhaps wouldn't invest in seeing a movie about him.
Even with the news that Booster Gold hasn't been shelved, it remains a mystery when the movie may actually move forward. However, Berlanti tossed his hat in the ring of consideration to be tapped as director. 
"We finished all the work we need to do on the draft, [and] I would love to do something in that space," Berlanti said of potentially taking the reins for Booster Gold. He then confessed, "I'm still a little clueless on how movies come together. I show up to work every day and make the work as good as I can, but then they call me and say, 'We're making it!'"
Until more information on Booster Gold is revealed, fans can look forward to seeing Berlanti's recent directorial effort, Love, Simon, in theaters on March 16.