Hilary Duff Thinks How I Met Your Father's Laugh Track Is An Asset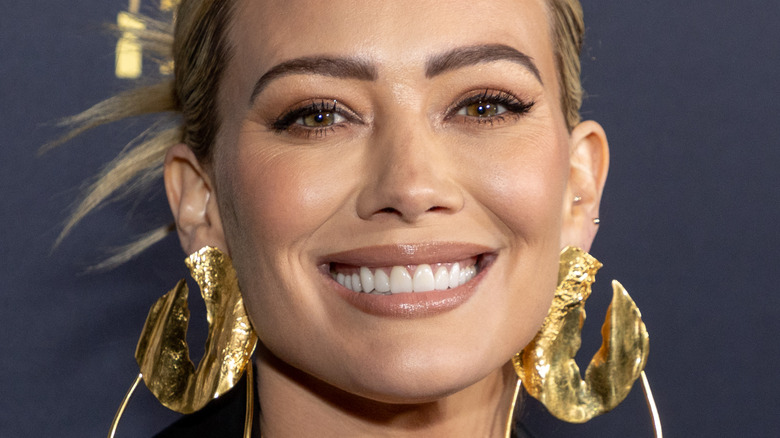 Emma Mcintyre/Getty Images
"How I Met Your Father" — the spin-off series to one of the most popular sitcoms of recent years, "How I Met Your Mother" — premiered on Hulu in January of 2022. Created by Isaac Aptaker & Elizabeth Berger, the series follows Sophie (Hilary Duff), a 29-year-old woman living in New York looking for her soul mate. An older Sophie (Kim Cattrall) narrates the series from the year 2050, telling her adult son how she met his father. Additionally, Sophie's friend group is made up of best friend Valentina (Francia Raisa); Valentina's new boyfriend, the Brit ex-pat Charlie (Tom Ainsley); Sophie's will-they-won't-they counterpart Jesse (Chris Lowell); Jesse's roommate and local bar owner Sid (Suraj Sharma); and Sid's adoptive sister Ellen (Tien Tran).
Despite the appeal of an updated version of a beloved sitcom, the critical response to "How I Met Your Father" wasn't fantastic — it currently holds just a 38% Tomatometer score on Rotten Tomatoes (next to a marginally higher 51% audience score). One of the show's details that received the most criticism was the laugh track, which some critics saw as being too dated for a modern sitcom. For example, Emily Kavanagh of Collider wrote in the review, "Hearing a laugh track at this point feels old-fashioned and forced. They can seem like a crutch, a 'please laugh now' sign that audiences can be resistant to."
Duff, the show's star, has since responded to the criticism — and, from her perspective, the laugh track is an asset.
Duff says the laugh track helps carry the show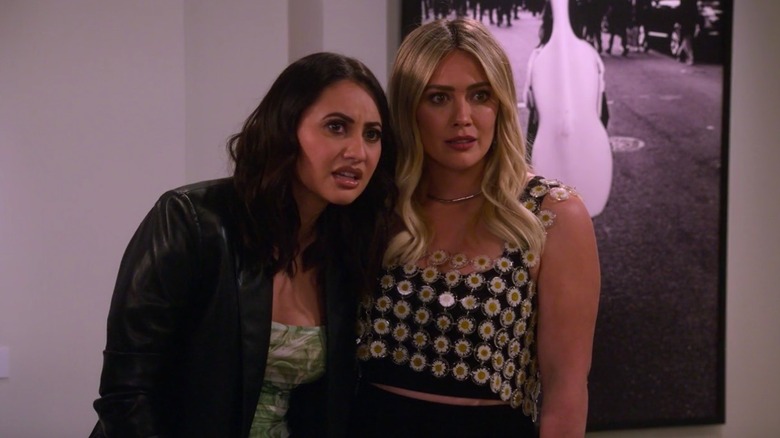 Hulu
In a May 2022 interview with RadioTimes, "How I Met Your Father" star Hilary Duff addressed the laugh track criticisms — and admitted that she wasn't always entirely on board with it either. Duff told the outlet that she was a bit intimidated by the laugh track — and she wasn't the only one. The actress added, "I think all of us [in the cast] was like, 'I can't deal with this laugh track.'"
However, the showrunners Isaac Aptaker and Elizabeth Berger convinced Duff and her castmates otherwise. Duff continued, "Isaac and Elizabeth and [executive producer] Pam [Fryman] were like: 'The show calls for a laugh track. We are a sitcom, and sitcoms are coming back.'"
Duff also noted that it took her watching a few episodes to get used to the laugh track, but now she sees it as a positive — and essential to the show. She concluded, "The format of the show is a sitcom, and I think that the laugh track they use is very conscious – and not over the top like some sitcoms – but it is needed. And it does help carry the show along at some points."
Showrunner Aptaker knew the show needed a laugh track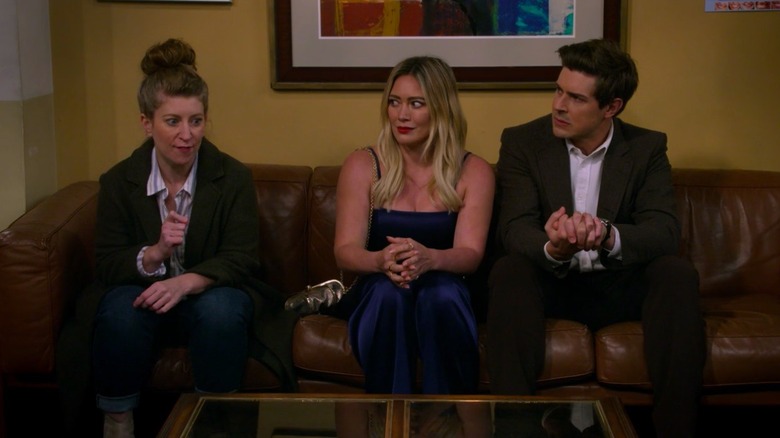 Hulu
Also speaking to RadioTimes, co-showrunner Isaac Aptaker talked about their decision to include a laugh track, beginning by pointing to the fact that the show's predecessor, "How I Met Your Mother," also had a laugh track.
Aptaker explained, "It feels like if you're doing 'How I Met Your Father,' it should feel like you're in the same world as 'How I Met Your Mother.' So it should look the same and have the same vibe to it, and that does include the laugh track." He went on to acknowledge that he knows that some viewers find it dated or even corny but that he thinks others would disagree.
Aptaker continued, "I think a lot of people find it really comforting and familiar, and like the TV that they grew up loving."
"How I Met Your Father" Season 2 will likely premiere sometime in 2023.