Why Sean Bean Thinks Game Of Thrones Was Such A Hit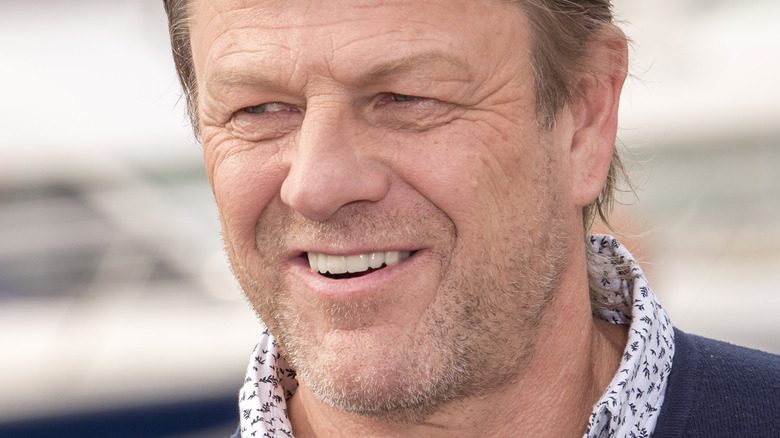 Arnold Jerocki/Getty Images
George R.R. Martin's "A Song of Ice and Fire" book series welcomed readers into a world of political intrigue, intense violence, magic, and some pretty colorful language. Nevertheless, at a time when fantasy was far from the most popular genre out there, it carved out a following for itself and really picked up steam heading into the 2010s. That's because HBO got in on the action, adapting the existing books in the series into "Game of Thrones": a fantasy drama that swiftly took the television world by storm upon its debut in 2011.
When "Game of Thrones" debuted, it appeared that Eddard "Ned" Stark (Sean Bean) of Winterfell, leader of House Stark, would be the show's main protagonist. However, his unexpected execution proved that idea woefully wrong before the first batch of episodes even concluded. Without him, the program continued on and became more and more prosperous as time went on. Sure, it may not have ended on the most positive of notes with fans, but the ratings, award wins, and heaps of praise don't lie: "Game of Thrones" was a massive success.
Despite spending a mere handful of episodes in the "Game of Thrones" spotlight, Ned Stark himself, Sean Bean, has declared why he feels the George R.R. Martin adaptation went on to become a television phenomenon.
Bean attributes Game of Thrones' success to its boldness and engaging storytelling
HBO
Years after his "Game of Thrones" run came to a harrowing end with Ned Stark's decapitation, Sean Bean spoke to Vulture about his experience in the show's early days. Looking at the program as a whole, he also revealed the reason why he feels the title became such an unparalleled hit. "Anything can happen. When you can kill the main character in the first series, everybody's in danger," he told the publication, noting that "Game of Thrones" did a great job blending the tenets of the fantasy genre with those of dramas. Bean also credits the show with creating engaging, relatable characters as well.
Still, at the end of the day, it's hard to ignore the fact that Sean Bean didn't last long on "Game of Thrones" — a trend that many of his on-screen roles have in common. In fact, Bean is considered a Hollywood icon in large part because of how often his characters die off. While he's done his best to curb this phenomenon as the years have gone on, he's not heartbroken over how Ned Stark's story came to an end. He told The Guardian, "They told me, 'You die, but you're in it for nearly the full season.' But he was a great character, and it was a good death, so I didn't mind."
Several factors worked in unison to make "Game of Thrones" a television favorite, and though he didn't stick around for the long haul, Sean Bean's take on Ned Stark certainly had a hand in it reaching such a status.