Whatever Happened To Amanda Walsh, The Original Female Lead On The Big Bang Theory?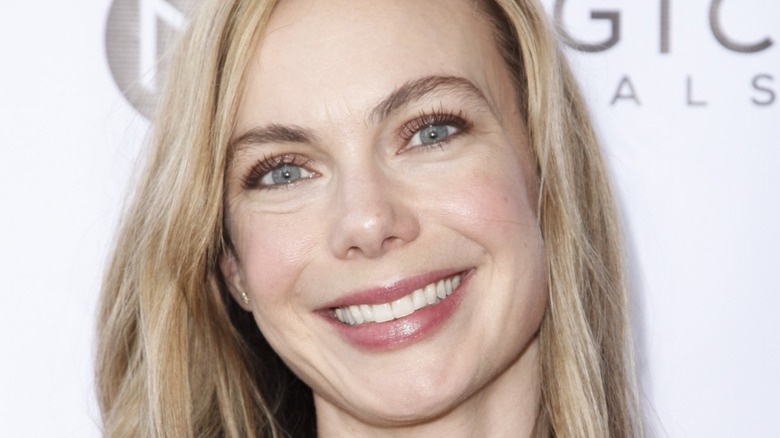 Tibrina Hobson/Getty Images
There's a chance many "Big Bang Theory" fans have stumbled on the series' disastrous unaired pilot, which would've changed the fabric of the show as we know it. Instead, it was somewhat scrapped and retooled into the pilot that we all know and love today, in which Sheldon (Jim Parsons) and Leonard (Johnny Galecki) enter and immediately exit the genius sperm bank, after which they meet Penny (Kaley Cuoco), their new neighbor. Leonard awkwardly invites her to lunch against Sheldon's wishes, and boom, the iconic show was born.
In that first pilot, things were pretty different. The biggest difference? There was no Penny. Instead of Penny was Katie, played by Amanda Walsh. While Penny wasn't always the perfect partner for Leonard, she's certainly better than Katie would have been. In an interview with Entertainment Weekly, co-creator Bill Prady described Katie's character as "dangerous in a way and wasn't very nice to the guys." The two scientists invite Katie to dinner and then back to their apartment after finding her crying over a breakup, and their invitation leads to disastrous results, including Katie deciding she wants to stay with them. 
Test audiences didn't react well to Katie's character, finding her to be too mean to Leonard and Sheldon, so her personality was re-created to be Penny. What happened to Walsh, though?
A diverse career in both films and TV
While the character of Katie was ultimately cut from "The Big Bang Theory," Amanda Walsh has been an up-and-coming star in many different television shows since that ill-fated pilot. Between guest appearances, recurring roles, and taking a turn in the writing and editing chair, Walsh has been busy.
The same year Walsh taped the unaired pilot, she joined the cast of the short-lived ABC television series "Sons & Daughters" as Jenna Halbert, Cameron's (Fred Goss) half sister, who is a single mom with a thing for bad boys. Fortunately, Walsh found herself starring alongside Hilary Duff a few years later in "Beauty & the Briefcase" as Joanne, the friend of Duff's character, Lane.
From 2014 to 2015, Walsh appeared in nine episodes of the series "Lost Girl" as the Ancient Zee, who possesses the human Elizabeth Helm. After that, she became a story editor for "Schitt's Creek," even writing an episode in Season 1 titled "The Cabin," which follows Johnny (Eugene Levy) and Moira (Catherine O'Hara) becoming accustomed to having privacy as a privilege. A few years later, Walsh was in the film "Doula" and joined the TV series "Pretty Hard Cases" as the character Ro Wells for the show's third season.
Despite the failure of the unaired "Big Bang Theory" pilot, Amanda Walsh has become a talented and successful actor.